Here we are, at the conclusion of the NHL All-Star weekend, sitting through yet another break in the action for the Chicago Blackhawks. It's unfortunate that this break and the team's five-day mandated break came with only four games in-between. All this waiting is getting frustrating, because, for better or for worse, everyone is anxious to see what this final homestretch of the season will bring. In the meantime, let's look back at this past week's games to see what we can glean from them.
The Hawks came out of their last hiatus much the way they went into it. A 4-0 shutout loss to the Detroit Red Wings before and a 7-3 defeat to the New York Islanders after did nothing to boost anyone's confidence. The Hawks looked flat and disinterested. They were thoroughly outplayed in both games, and the scores were reflective of that.
But in the last three games, they've shown signs of life. They lost to the Tampa Bay Lightning 2-0 early in the week, but were in the hunt for most of the game. A few bounces here and there could have brought a completely different outcome. They made some lineup changes and battled back, but still fell to the Toronto Maple Leafs 3-2 in overtime Wednesday night. Things finally paid off Thursday, when the Hawks defeated the Detroit Red Wings 5-1. Here's our breakdown of the week.
Winner of the Week: Alex DeBrincat
After spending time on the first line earlier in the season, DeBrincat was waiting for another chance. He's getting it now. Instead of his usual spot on the third line, the 20-year-old rookie has found himself on the top line with Jonathan Toews and Anthony Duclair for the last two games. He's seen his ice time and chances to make something happen increase accordingly. Against Toronto on Wednesday, he recorded five shots on goal. Fittingly, it was in his hometown area of Detroit that DeBrincat really turned it on. He picked up the second hat trick of his short NHL career, and added an assist for good measure.
DeBrincat had an excellent stretch back in November (also the time of his first hat trick), where he earned 10 goals and four assists. Since then he hasn't made much of an impact, until recently. It appears Coach Quenneville might be on to something with this combination of DeBrincat, Toews, and Duclair. Let's see if they can continue their success.
Related – Jonathan Toews: Beyond the Glory
Loser of the Week: Brandon Saad
This has been building for a while, and it's time to finally call attention to it. Saad is supposed to be providing more than this. He doesn't have a single point to show for himself in the last eight games. As a matter of fact, in 49 games played, he's had 33 pointless games. That's a lot. There are times when he's really good at creating chances, but just doesn't have the finish.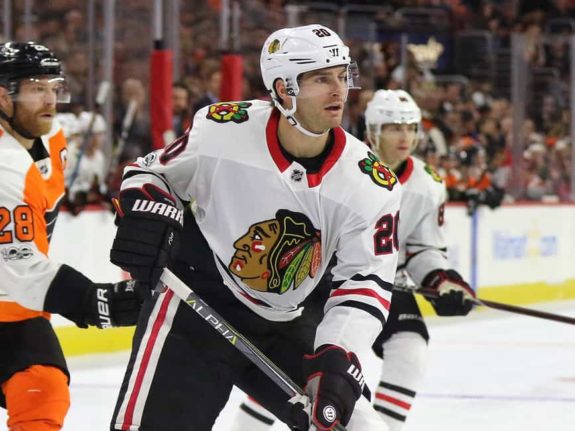 Now, he's been moved to the second line and played alongside Nick Schmaltz and Patrick Kane for the last two tilts. He's only managed one shot on goal in both matchups. There was a stint in early November where Saad and Kane played together, but they didn't click then either. Nothing is going right for this power forward. For his sake and that of the Hawks, he must find a way to produce soon.
What Went Right for the Blackhawks: Defense Getting it Done
The defense for the Hawks has seen a new look this past week. The only thing that has remained the same is Duncan Keith and Jordan Oesterle as the top pairing. Erik Gustafsson is now playing with Brent Seabrook. Connor Murphy, who was playing his off-side with Seabrook, is back on the right side next to Michal Kempny. Gustav Forsling has been sent to Rockford, and Jan Rutta has been a healthy scratch.
So far so good. The younger Oesterle is being tasked with more minutes, while Keith is seeing less. Seabrook is being sheltered in his ice time and matchups, so he can focus on his strengths. Shucks, he even scored a power-play goal against the Maple Leafs! Gustafsson and Kempny, the relative newcomers to the bunch, aren't making any glaring mistakes. They're finding their comfort zones. Murphy is providing a nice balance between contributing offensively and being responsible defensively.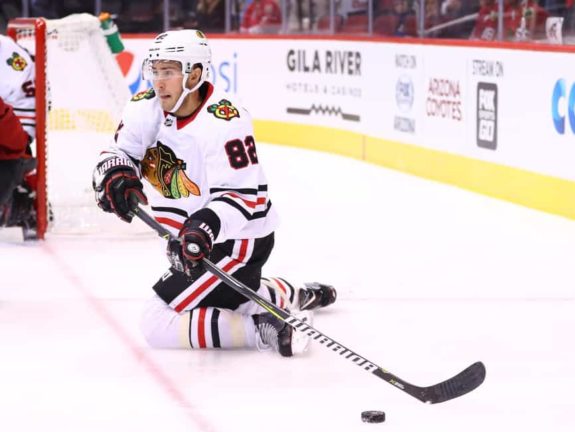 Have the Hawks finally found their defensive pairings for the rest of the season? Probably not. Forsling is lighting it up in the AHL; he's hungry to return. And Rutta will get his chance again, presumably when someone else messes up. But for now, things look more stable than they did. It's progress.
What Went Wrong for the Blackhawks: Power Play Woes Continue
Yes, the Hawks did score twice on the man advantage against Toronto. They were 0-for-16 before that, so they'll take it. But they couldn't deliver on two other chances that night. They went a whopping 0-for-6 on the power play against Tampa and missed out on two other opportunities in Detroit.
The Hawks know the power play is a big problem with their game, and they're working hard to address it. After all, a few more power-play goals could have led to a few more wins. A few more wins might not have them so far behind in the standings. If they can score more on the man advantage going forward, perhaps there's a chance they can climb out of their current hole.
Food for Thought: Line-Blending Fun
As addressed above, the first line of DeBrincat-Toews-Duclair is currently looking dangerous for the Hawks. But is this at the expense of the other lines? Regarding the second line, Saad and Kane have never had the greatest chemistry. Can they turn that around? Schmaltz and Kane work well together, but Schmaltz struggles at the faceoff circle. Perhaps it's time to move Anisimov back to second line center and put Schmaltz on the wing.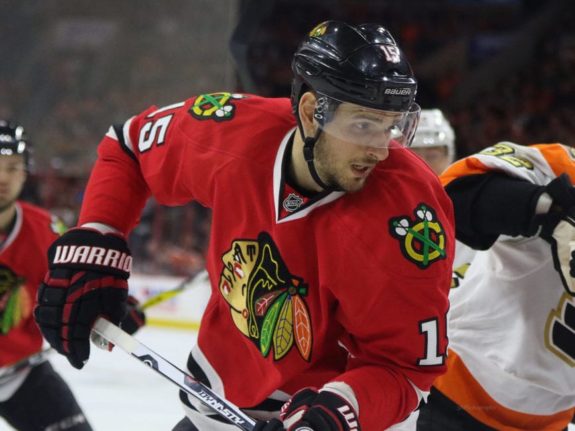 Schmaltz-Anisimov-Kane
But where would Saad go? Well, remember when Marian Hossa found his niche on the third line? Saad could easily do some damage in that role, and get his groove back in the progress.
Saad-Kampf-Hinostroza
Hartman-Wingels/Sharp-Hayden
Yes, this scenario moves Vinnie Hinostroza up from the fourth line to the third, putting him back into more of a skill role. This could be to his advantage, especially working with Saad. And Ryan Hartman returns to the gritty agitator he is on the fourth line. Perhaps not right away, but bring back John Hayden from the AHL sooner rather than later. He has more upside and potential than Tomas Jurco or Lance Bouma. And see who clicks better (Tommy Wingels or Patrick Sharp) at center.
Do you think this is all pure craziness? Well, it's just food for thought.
Wrapping It Up
It's finally here. The home stretch! No more huge breaks. Except for four days off twice, a span of three days, and then two days, the Hawks have a matchup at least every other night until the end of the season. They have seven(!) back-to-backs. It all starts this Tuesday, when they take on the division rival Nashville Predators. For die-hard Blackhawks' fans, this is a must-see game. They continue their mini-road trip in Vancouver on Thursday night and Calgary on Saturday. Their current record of 23-19-7 (53 points) has them four points behind four other teams for a wild-card spot. Can they make something happen, or will the Hawks miss the playoffs for the first time in nine years? Never a dull moment!
Gail Kauchak has covered the Chicago Blackhawks as a content writer since 2014. She previously wrote for Fansided's Blackhawk Up, and has been part of The Hockey Writer's team since 2017. It's not always easy to balance life's responsibility's with one's passion, but Gail's doing her best to make it happen. Quote to live by, "Follow your dreams, and good things will happen." Wait, maybe it's "Good things happen when you shoot the puck!" You get the idea.
Follow Gail for her unique commentary about this storied franchise. And be sure to catch her and the rest of the Blackhawks' crew on their weekly Blackhawks Banter show, as well as follow her on Twitter.