The Arizona Coyotes have earned points in seven of nine games since the calendar flipped to 2018, and they've lost by multiple goals only once (a 4-2 loss to the Edmonton Oilers on Jan. 12, when an empty-netter provided the final margin). That's called progress, folks – this team is on the up-and-up.
Coyotes Continue Competitive Play
After their blowout victory over the St. Louis Blues on Jan. 20, the Coyotes returned home and started their week against John Tavares and the New York Islanders on Monday night in Glendale. Nick Cousins and Brendan Perlini both scored to give Arizona the lead in the game, but Isles forward Anthony Beauvillier answered on both occasions. Ultimately, 60 minutes wasn't enough to decide this one, and the game headed to overtime, where Cousins sent the fans home happy with his second goal (and third point) of the night:
The Coyotes were back in action on Thursday against the Columbus Blue Jackets, and were looking to extend their season-high point streak to six games on the night. Perlini scored a third-period power-play goal (his fourth tally in as many games) to erase an earlier Alexander Wennberg power-play marker, but Cam Atkinson scored with 3:03 remaining to give Columbus a 2-1 lead they would never relinquish.
Coyotes Can Play Spoiler
After enjoying the All-Star break, the Coyotes will get back to work on Thursday night as they'll wrap up a three-game homestand against the Dallas Stars. The Stars got off to a slow start to the season, but they're 19-9-3 since Nov. 16 and enter the second half as one of the league's hottest teams. However, they've only been an average road team this season, with a record of just 11-11-3 away from the American Airlines Center. Puck drop is scheduled for 7:00 P.M. at Gila River Arena.
Related: Stars' Klingberg a Legitimate Norris Candidate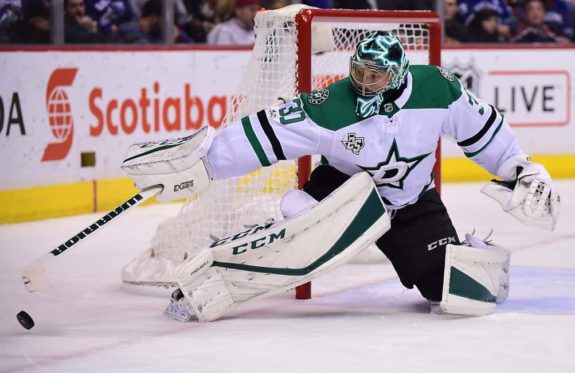 The Coyotes will then head out to Downtown Los Angeles for a Saturday night matchup against the Kings. It's been a struggle for Los Angeles lately – they're 2-7-0 since Jan. 2 and have fallen out of a playoff spot as a result of their recent six-game losing streak. Puck drop is scheduled for 7:30 P.M. local time (8:30 P.M. in Arizona) at the Staples Center.
Pacific Division Roundup
At the All-Star break, the Vegas Golden Knights, San Jose Sharks and Calgary Flames are your three playoff teams in the Pacific Division. Here's how Arizona's other division rivals fared last week:
Anaheim Ducks (24-17-9, 57 points)
Last week: 2-0-0 (6-3 W vs NYR, 4-3 SOW vs WPG)
Analysis: Don't look now, but the Ducks have wins in 10 of their last 15 games (including five of their last seven) and are steadily climbing up the standings in the Western Conference. They're already tied for the eighth spot in the West despite their injury woes in the first half, and will be a team to keep an eye on in the second half.
Player of the week: Ryan Miller: Win, 0 saves on 0 shots, 5-for-5 on shootout attempts
This week: Tue at BOS, Thu at OTT, Sat at MTL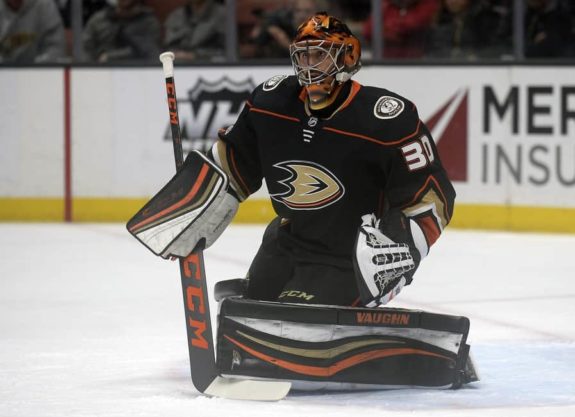 Calgary Flames (25-16-8, 58 points)
Last week: 0-0-3 (2-1 OTL vs BUF, 2-1 OTL vs LA, 4-3 SOL at EDM)
Analysis: Calgary's point streak has now reached 11 games, but the four most recent contests have all been overtime losses. The Flames scored one goal or fewer in three of those four, ruining a solid effort from Mike Smith on each occasion. Will they find their offensive rhythm again after the All-Star break?
Player of the week: Matthew Tkachuk – 3 goals, shootout goal, +2, 10 shots
This week: Tue vs VGK, Thu vs BUF, Sat vs CHI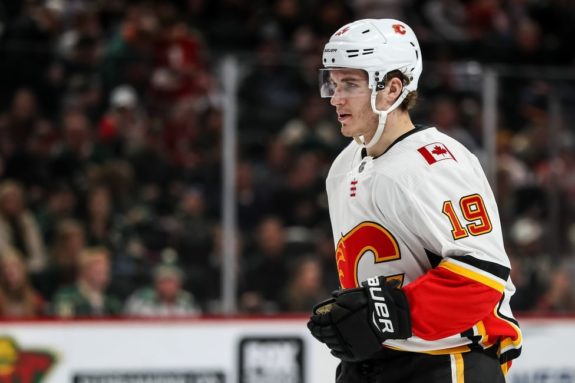 Edmonton Oilers (22-24-3, 47 points)
Last week: 1-1-0 (5-0 L vs BUF, 4-3 SOW vs CGY)
Analysis: The Oilers followed up a brutal 5-0 shutout loss to the bottom-feeding Buffalo Sabres on Tuesday with a 4-3 shootout victory over the rival Flames on Thursday, and now have won four of their last five. Despite their recent uptick in play, you have to think they'll still need to go on a big-time winning streak soon to have any real chance at the postseason.
Player of the week: Brandon Davidson – 2 goals, +1
This week: Thu vs COL
Los Angeles Kings (26-18-5, 57 points)
Last week: 1-1-0 (6-2 L at VAN, 2-1 OTW at CGY)
Analysis: The Kings opened the week with an embarrassing 6-2 loss to the Vancouver Canucks, but they bounced back with an overtime victory over the Flames on Wednesday to close out the first half of the season. They're still out of the playoffs after being comfortably in the postseason as little as a month ago, though, so it'll take a better effort in the second half for Los Angeles to return to the top eight.
Player of the week: Anze Kopitar – Goal, 2 assists, +1
This week: Thu at NSH, Sat vs AZ
San Jose Sharks (26-15-7, 59 points)
Last week: 0-1-1 (5-4 OTL vs WPG, 6-5 L vs NYR)
Analysis: San Jose scored nine goals last week, but they failed to win either of their games, as some porous defense allowed the Jets and Rangers to escape from the Shark Tank with victories. Martin Jones' return likely can't come soon enough, as Aaron Dell has been shaky in his last two appearances.
Player of the week: Logan Couture – 3 goals, +2
This week: Tue at PIT, Wed at DET, Fri at CBJ, Sun at CAR
Related: Small Silver Linings in Thornton's Injury
Vancouver Canucks (19-24-6, 44 points)
Last week: 1-1-0 (6-2 W vs LA, 4-0 L vs BUF)
Analysis: Last week was a microcosm of what the season has been like in Vancouver – the Canucks picked up a big 6-2 victory over the playoff-contending Kings on Tuesday, but were shut out 4-0 by the bottom-feeding Sabres on Thursday. Injuries haven't helped matters for Travis Green this season, but his squad has been among the most inconsistent from game-to-game in the entire league.
Player of the week: Brock Boeser – 2 goals, All-Star Game MVP, $560,000 in bonuses
This week: Tue vs COL, Thu vs CHI, Sat vs TB
Brock Boeser's week

$212,500 for ASG invite
$212,500 for ASG MVP
$100K for winning ASG
$25K for winning accuracy
$10K all ASG players get
A new 🚘
Adopted a 🐕

"He's hitting his bonuses pretty well." — Duke Boeser
"I am so thrilled for him." — a tear-filled Laurie Boeser

— Michael Russo (@RussoHockey) January 29, 2018
Vegas Golden Knights (32-12-4, 68 points)
Last week: 1-1-0 (6-3 W vs CBJ, 2-1 L vs NYI)
Analysis: The Golden Knights are looking a little less invincible these days than they were at this time a month ago, but they're still riding high at the All-Star break. They've got a comfortable nine-point cushion in the Pacific, while San Jose and Calgary are hanging on by the skin of their teeth as Los Angeles and Anaheim attempt to climb into the West's top eight.
Player of the week: Erik Haula – 2 goals, assist, 9 shots
This week: Tue at CGY, Thu at WPG, Fri at MIN, Sun at WSH
With 32 games remaining, can the Coyotes continue to make progress in the second half of the season?
A lifelong Phoenix resident, Louis has been following hockey since 2010, has covered the Arizona Coyotes since 2015, and has been playing hockey since 2020. So far, Louis has visited eight NHL cities, and one of his personal goals is to eventually make it to all 31 NHL arenas. For any questions or concerns, contact the writer via Twitter @LouisPannone.