This was originally going to be a piece about how the Chicago Blackhawks could make the playoffs. But after a 7-3 loss to the New York Islanders on Saturday night, I no longer have any faith that can happen. I guess anything's possible, but it's not very likely. Instead, it might be time to focus on the bigger picture. How can the Hawks use the rest of the season to grow and progress for the future?
It's been a rough road for the Blackhawks thus far. They're now 46 games into an 82-game season, with a record of 22-18-6, for 50 points. This puts them dead last in their division and well outside of a wild-card spot. It's a major disappointment for a club and fanbase that's used to so much more.
After all, the Hawks have made the playoffs for the last nine years in a row. In that span, they've won three Stanley Cups, advanced to the Conference Final twice, the quarterfinals twice, and been eliminated in the first round twice. Players, fans, and coaches alike are all spoiled. With that kind of past, it's a given for the Hawks to make the playoffs every year, right? Well, probably not this year.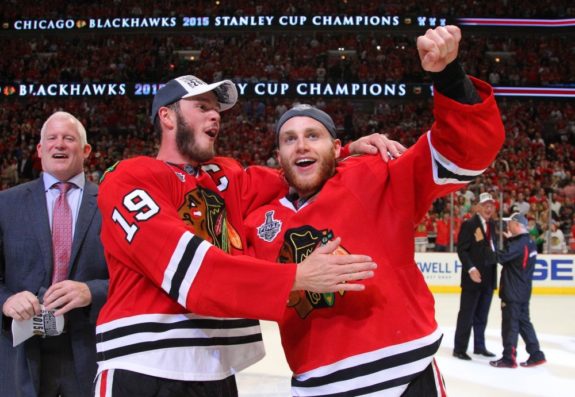 The Hawks have dealt with salary cap purges, changes, and injuries before, but this past year was especially tough. Most notably, they lost Artemi Panarin, Niklas Hjalmarsson, Marcus Kruger, Trevor van Riemsdyk, and Scott Darling to trades. They also said goodbye to Marian Hossa because of a skin disorder, and Brian Campbell to retirement. Now they're dealing with the absence of their star goaltender, Corey Crawford, due to a mysterious upper-body injury.
So, instead of wallowing in the Hawks' disappointing season thus far, perhaps it's time to discuss how they can cut their losses and regroup for next year. Let's break this down accordingly.
Offense: Find Balance
The problem here is not a lack of offensive talent for the Blackhawks. According to Mark Lazerus of the Chicago Sun Times, the Hawks "are among the top 10 in the league in goals per game (3.02) and shots per game." Patrick Kane leads the charge with 48 points in 46 games. He just reached a milestone of 800 NHL points. He continues to be one of the most dynamic and dangerous players in the league.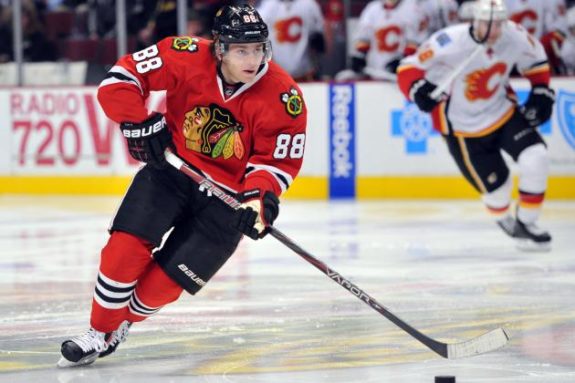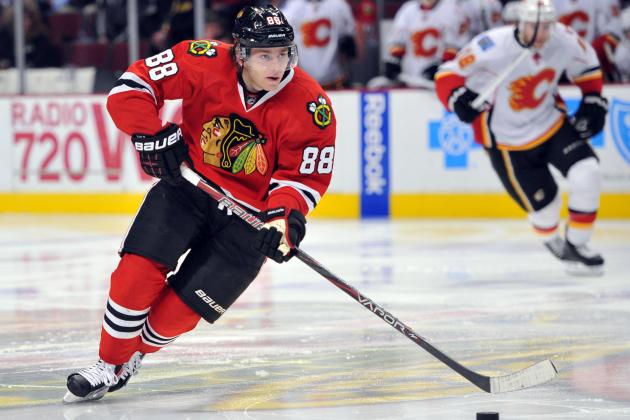 Although many think he's past his prime, Jonathan Toews is third on the team in points with 31. Nick Schmaltz takes second place (33 points). Youngsters such as Alex DeBrincat, Vinnie Hinostroza, Ryan Hartman, and David Kampf are all showing potential in their respective roles. Newly acquired Anthony Duclair is already being deployed on the first line, trying to find chemistry with Brandon Saad and Toews. Artem Anisimov is on his way back from injury, and John Hayden is gaining confidence in Rockford. All in all, there's plenty to work with.
It might be time to take a long look at veterans such as Patrick Sharp, Tommy Wingels, and Lance Bouma. Are any of them part of the long-term picture? At this point, all they're doing is taking time away from the youngsters playing and progressing. From lineups in practice, it looks like recently recalled Tomas Jurco is going to get his chance to play. Why not? The Hawks should see if he can be a part of the future. Let the kids play. See how they can fit in and take on more prominent roles alongside the core of Toews, Kane, Saad, and Anisimov.   
Defense: Stand Pat
Where to start? Duncan Keith and Brent Seabrook are simply not who they used to be. But like the core offensive group mentioned above, the team has committed to them with their hefty contracts and no-movement clauses. Essentially, all parties involved must find a way to make it work. Keith is no longer playing a shutdown role. Others take on that burden, so he can attempt to contribute offensively. For the most part, it's his new partner Jordan Oesterle that's getting the credit for this right now, although Keith is still the man behind the scenes. The two make up a decent first pairing. Not great, but not horrendous.
Connor Murphy and Seabs are managing on the third pairing, with limited minutes and easier competition. The expectation was higher for both players at the beginning of the season, but this is where they're at right now. Erik Gustafsson was recently recalled from the IceHogs and earned an assist and his first NHL goal Saturday night playing alongside Seabrook. Perhaps more success here could lead to a different role for Murphy.
Jan Rutta and Gustav Forsling have been the shutdown pairing. Apart from the Islanders game, they've held their own. But they arguably shouldn't be put in a situation of so much pressure this early in their careers. Forsling was sent down to the AHL on Sunday. This is a sign the team is looking to develop him further, like they are with Hayden. Again, this lends towards the future instead of the present.
And then you have Michal Kempny, who usually plays well when Coach Q lets him out of the doghouse. And Cody Franson, the reliable but skill-limited veteran that was basically demoted to the AHL upon the emergence of Oesterle. The long and the short of it remains that the Hawks have potential on the blue line, but few who can make it happen right now.
They have cap money to spare because of Marian Hossa being on long-term injured reserve, as well as the trade of Richard Panik. Should they acquire someone at the trade deadline? At this point, it doesn't make a whole lot of sense. They would have to give up someone else of value, arguably for a rental player. Let the playoffs go, and ride it out with what you have.
Goaltending: Wait for Crawford
Ah, the Corey Crawford saga. Why is there always so much drama revolving around this dynamic netminder? Whatever his injury, Coach Q still insists he will be back this season. If this is truly the case, the Hawks should stick with backups Anton Forsberg and Jeff Glass. This tandem is doing just as well as any goalie available on the open market. Let them gain some experience. Don't waste the money for a rental. Get well, Corey! And for goodness' sake, don't rush back too soon.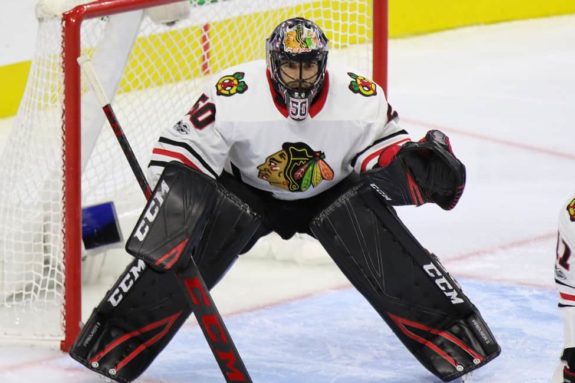 Coaching: Keep Quenneville
Joel Quenneville has been the head coach of the Hawks since 2008. He's led them to three Stanley Cups. He's the second-winningest coach in NHL history. But with the team in disarray, many are calling for Coach Q to be replaced. Can you imagine the Blackhawks without Q at the helm? I certainly can't. And I don't particularly want to.
Sure, it's infuriating to see the line blender in full puree. It's difficult to watch the young guys make mistakes and get benched while the veterans still play. These are things Quenneville is known for.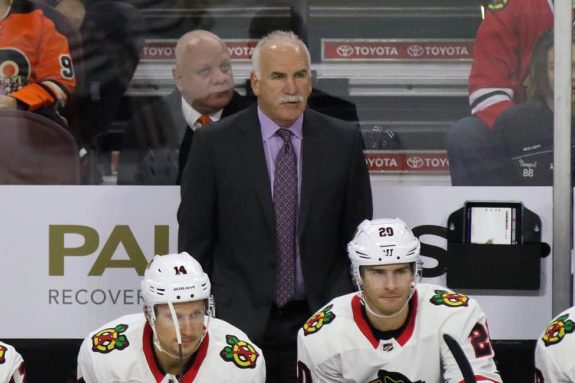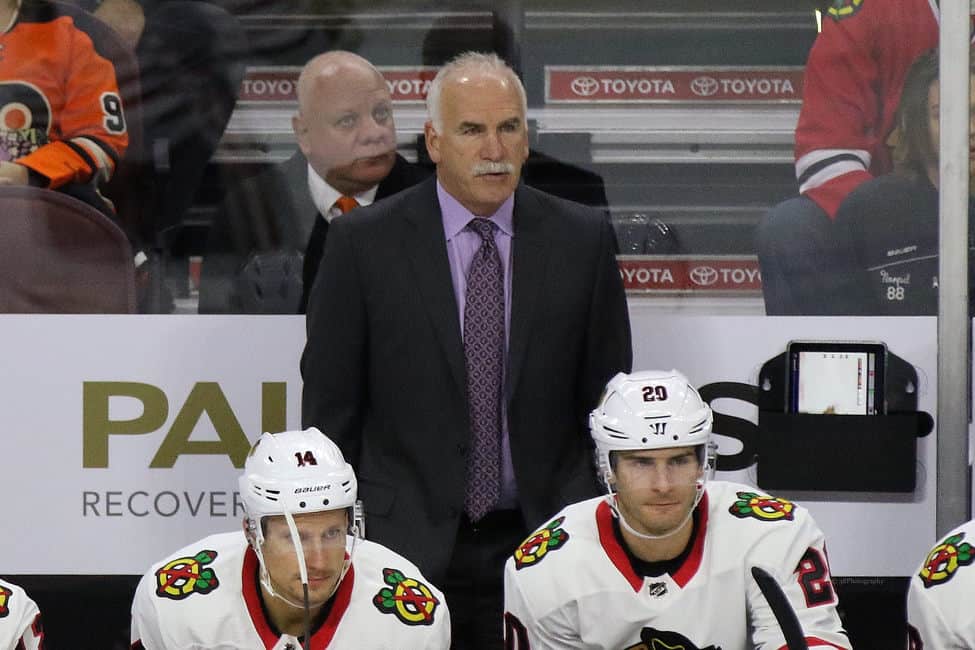 There's the theory that Coach Q has lost the locker room; that his players don't respect and trust him anymore. Perhaps this is the case. Maybe it is time for a change. I just have a hard time believing it. Let's see what he does with the remaining 36 games before we throw him to the curb.
Related – Jonathan Toews: Beyond the Glory
Intangibles: Find Your Identity
The Hawks need to start believing in themselves again. They must find an identity. This identity should be a team that isn't going to make the playoffs. Instead, it should be a team that is learning and growing and making the pieces fit for a run in the future.
Take it game by game, shift by shift. Put together a winning streak, build some confidence. Have fun. Enjoy what you do accomplish, and stop dwelling on what could have been. Play with passion and determination. Work hard. Find your mojo again.
---
There you have it. This isn't what we want to hear, but it's the harsh reality. The Hawks probably aren't going to make the playoffs this season. Even if they do make it, do they have the tools to progress very far in the postseason? Doubtful.
There are 36 games left to work with. Make the most of them. Learn, progress, grow. Perhaps in hindsight, we can look back and say it was a stepping stone for better things to come.