Don't look now, but with points in six of their last seven games, the Arizona Coyotes are one of the hottest teams in the Western Conference.
Four Points for Coyotes
The Coyotes entered last week fresh off of a disappointing 6-5 overtime loss to the San Jose Sharks on Jan. 13, and began their slate of three games against those same Sharks, this time at Gila River Arena in Glendale. It looked like the Sharks were on their way to an easy victory, but the Coyotes came roaring back from an early 2-0 deficit and tied the game in the third period to send the game to overtime. Despite a 4-on-3 power play chance in the extra frame, the Coyotes were unable to score, and the game moved to a shootout, where Joe Pavelski scored the only goal to give San Jose a 3-2 victory.
After their one-game "homestand" against the Sharks, the Coyotes hit the road once again and began a short two-game road trip against the Nashville Predators. The Coyotes nearly earned a regulation win in this one, but a late goal by the Predators was upheld despite a seemingly clear case of goaltender interference and the game headed to overtime, and, eventually, a shootout. Kyle Turris broke the ice with a goal in round No. 1, but Nick Cousins tied things up in round No. 3 to send things to sudden death. However, the Coyotes could extend the shootout no further, as Craig Smith beat Antti Raanta to give Nashville a hard-fought 3-2 win.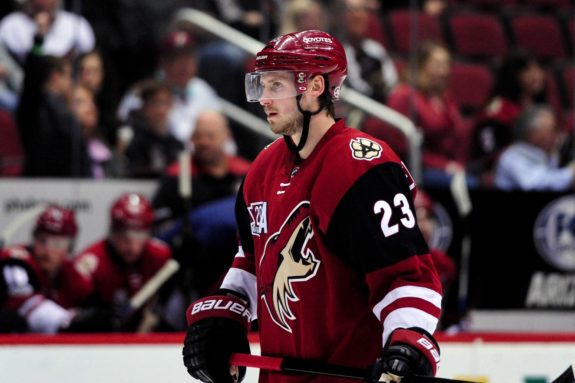 On Saturday, the Coyotes traveled to the Show Me State and wrapped up their week with a matchup against the St. Louis Blues. In what was arguably the team's best game of the season, the Coyotes exploded for four goals in the first period and added a fifth goal in the second period before going on to win a 5-2 decision. The win ended a lengthy streak of futility against the Blues – it was Arizona's first win over St. Louis since Nov. 12, 2013, and was the team's first regulation win over the Notes since Apr. 6, 2012.
Can Coyotes Sustain Momentum?
After blowing St. Louis off of the ice on Saturday in the Gateway City, the Coyotes returned home and will begin a three-game homestand on Monday night against the New York Islanders. The Isles boast five of the league's better forwards, as John Tavares, Josh Bailey, Mathew Barzal, Anders Lee and Jordan Eberle all have at least 38 points this year. However, depth scoring has been an issue this season in Brooklyn and has prevented the Isles from ascending up the standings in the Eastern Conference. Puck drop is scheduled for 7:00 P.M. at Gila River Arena.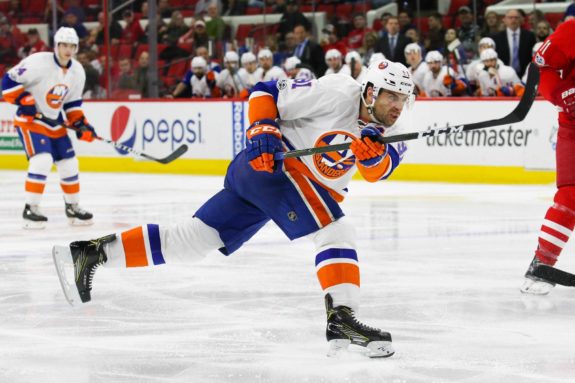 The Coyotes will then welcome the Columbus Blue Jackets to Gila River Arena on Thursday night in their final game before the All-Star Break. As of this writing, the Blue Jackets are a playoff team in the East, but their hold on a postseason spot can be described as tenuous at best, as the Philadelphia Flyers, New York Rangers, Pittsburgh Penguins and Islanders are all within three points in the Metropolitan Division. Puck drop is scheduled for 7:00 P.M. in the Valley of the Sun.
Raanta Standing on His Head
The Coyotes have earned points in six of their seven games so far in 2018, and the play of goaltender Antti Raanta has been a big reason for their vastly improved play on the ice. Since Jan. 1, among goaltenders with at least five games played, Raanta is sixth in save percentage at .932 and fifth in goals-against average at 1.91.
According to Elias, Antti Raanta's .933 SV% ranks 5th among NHL goaltenders with at least 5 games played since Jan. 1… The #Coyotes have recorded a point in 4 of the 5 games Raanta has started during that span.

— Jeffrey Sanders (@JeSanders11) January 19, 2018
Simply put, Raanta is carrying the Coyotes on his back right now. He's giving them a chance to win every night, which is something the team has lacked for most of the season. Raanta missed significant time earlier in the season due to injuries, while Scott Wedgewood has been largely ineffective in his backup role as of late.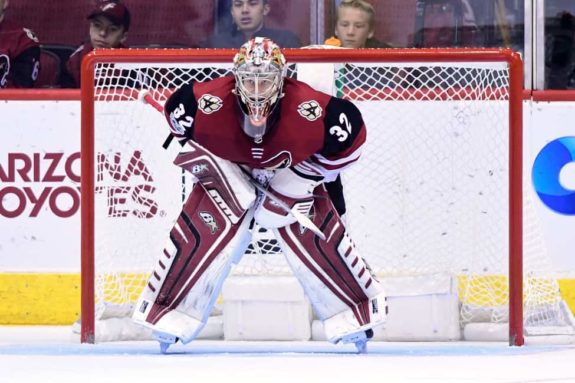 Now, with Raanta healthy, the Coyotes are rolling. They're competitive night in and night out and have gone toe-to-toe with some of the best teams in the Western Conference during the last few weeks. As long as Raanta continues to play well, the Coyotes should continue to have chances to win every time they take the ice.
Pacific Division Roundup
As improbable as it seems, the Vegas Golden Knights are now the best team in the National Hockey League, and boast an eight-point lead in the Pacific Division. Here's how Arizona's other division rivals fared last week:
Anaheim Ducks (22-17-9, 53 points)
Last week: 2-2-0 (3-1 L at COL, 5-3 W vs PIT, 2-1 W vs LA, 6-2 L vs SJ)
Analysis: It was looking like the Ducks were moving in the right direction with wins over the defending Stanley Cup champion Penguins and rival Los Angeles Kings last week, but a 6-2 blowout on home ice against the Sharks on Sunday put a bit of a damper on things. Anaheim will need to get back on track this week before the All-Star Break begins on Friday.
Player of the week: Ondrej Kase – Goal, 3 assists, +4
This week: Tue vs NYR, Thu vs WPG
Calgary Flames (25-16-5, 55 points)
Last week: 0-0-1 (2-1 SOL vs WPG)
Analysis: The Flames' seven-game losing streak came to an end on Saturday night against the Winnipeg Jets, but Calgary extended their point streak to eight by extending things to a shootout. Up next: three games in four nights – can Calgary carry their positive momentum into the All-Star Break?
Player of the week: Mike Smith – Shootout loss, 34 saves on 35 shots (.971 SV%)
This week: Mon vs BUF, Wed vs LA, Thu at EDM
Edmonton Oilers (21-23-3, 45 points)
Last week: 1-0-0 (5-2 W vs VAN)
Analysis: The Oilers returned from the bye week on Saturday and picked up a big 5-2 win over the Vancouver Canucks for their third consecutive victory. They're still 10 points out of a playoff spot with five teams in their way, but it's a start.
Player of the week: Jesse Puljujarvi – Goal, 2 assists, +3, 6 shots
This week: Tue vs BUF, Thu vs CGY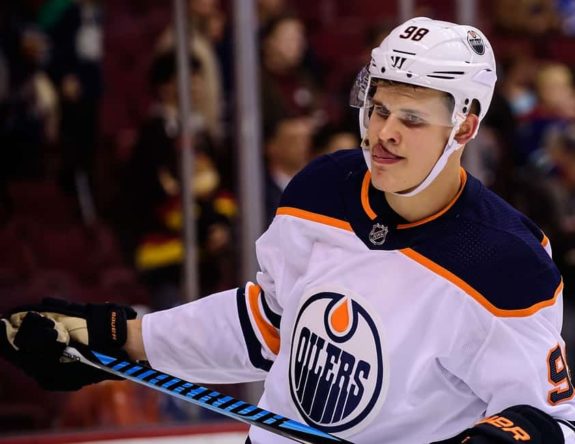 Los Angeles Kings (25-17-5, 55 points)
Last week: 1-3-0 (4-1 L vs SJ, 3-1 L vs PIT, 2-1 L at ANA, 4-2 W vs NYR)
Analysis: The Kings scored just a single goal in each of their first three games last week, and, unsurprisingly, lost all three in regulation. Things turned around late on Sunday night against the Rangers, though, as a three-goal second period helped Los Angeles turn an early 2-0 deficit into a 4-2 victory which snapped the team's six-game losing streak.
Player of the week: Jake Muzzin – Goal, 2 assists, +1
This week: Tue at VAN, Wed at CGY
San Jose Sharks (26-14-6, 58 points)
Last week: 4-1-0 (4-1 W at LA, 3-2 SOW at AZ, 5-3 L at COL, 2-1 W vs PIT, 6-2 W at ANA)
Analysis: It was a brutal week for the Sharks from a travel standpoint – they played five games in seven nights in five different cities – but the team emerged in good shape. They picked up eight of 10 possible points, with their only loss coming against the red-hot Colorado Avalanche, who have won nine straight games entering Monday.
Player of the week: Mikkel Boedker – 4 goals, assist, +2
This week: Tue vs WPG, Thu vs NYR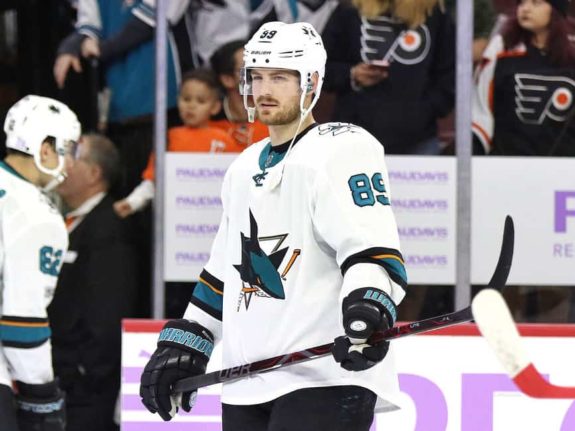 Vancouver Canucks (18-23-6, 42 points)
Last week: 0-2-0 (5-2 L at EDM, 1-0 L at WPG)
Analysis: Vancouver dropped both of their games in regulation last week after returning from their bye week, and have now fallen to five games below the .500 mark. Sunday's loss was especially disappointing, as the Canucks failed to score on a late 6-on-4 empty-net power play opportunity and were shut out by the Jets as a result.
Player of the week: Anders Nilsson – Loss, 35 saves on 36 shots (.972 SV%)
This week: Tue vs LA, Thu vs BUF
Vegas Golden Knights (31-11-4, 66 points)
Last week: 2-1-1 (1-0 L at NSH, 4-1 W at TBL, 4-3 OTL at FLA, 5-1 W at CAR)
Analysis: Another week, another five points for the Vegas Golden Knights, who now sit atop the league standings with 66 points in 46 games. Don't try and understand this, folks. Just sit back and enjoy the ride. And try to get out to T-Mobile Arena for a game, if you can.
Player of the week: Marc-Andre Fleury – 2-1-0 record, 81 saves on 84 shots, (.964 SV%)
This week: Tue vs CBJ, Thu vs NYI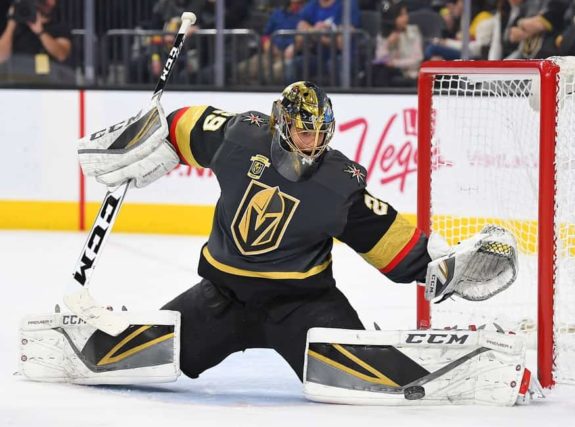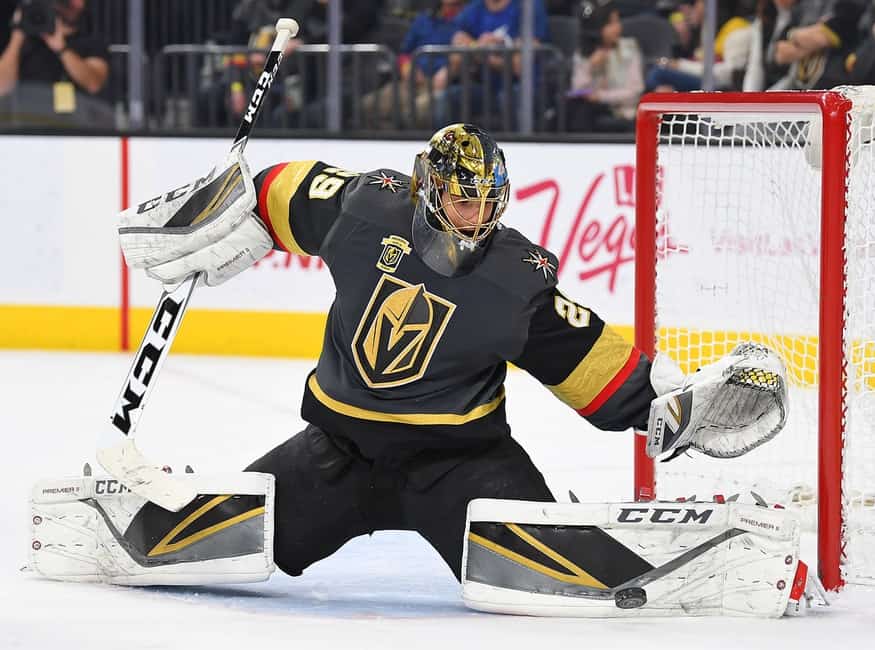 With two home games this week prior to the league's All-Star Break, will the Coyotes continue to build momentum and end the first half of the season on a high note?
A lifelong Phoenix resident, Louis has been following hockey since 2010, has covered the Arizona Coyotes since 2015, and has been playing hockey since 2020. So far, Louis has visited eight NHL cities, and one of his personal goals is to eventually make it to all 31 NHL arenas. For any questions or concerns, contact the writer via Twitter @LouisPannone.