Define irony. A metro train heading into downtown Buffalo with a few hundred people getting off at the same stop. There are two professional hockey league games across the street from one another scheduled at just about the same time. For one team, it's their "Kids' Day Game" (Jan. 20) and if you buy a full priced ticket up in the 300 level you can get additional tickets for kids 15 and under for just $15.00. The problem is that the product you will see on the ice is a disaster. Since the first day of 2018, this team has lost six games and has won one. Their record on the year prior to the "Kids' Day Game" was 11-25-9. Abysmal to say the least. This first team is the NHL's Buffalo Sabres.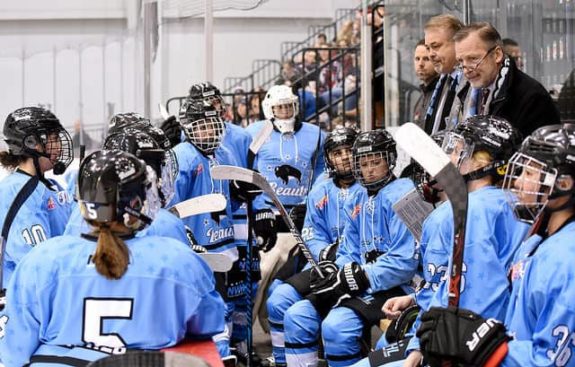 Across the street from the Sabres home rink, the KeyBank Center, is the HarborCenter. Housed within its walls is the reigning Isobel Cup champions of the National Women's Hockey League, the Buffalo Beauts. Their tickets are already $15.00 as is, and there is not a bad seat in the building. Their game is scheduled to start 30 minutes after the Sabres game. For the Beauts, they are hosting a "Strides for the Cure" game and the team will be playing in pink jerseys in allegiance with the battle against breast cancer. This team won three games in a row prior to their matinee showdown with the Connecticut Whale. Their record for the season up to this point was 5-4.
Which Fans Got the Better Bargain
The train stops and hundreds of people, most of them adults taking young children, head in the direction of the KeyBank Center. Less than a dozen pause, look back for a moment, and make their way into the HarborCenter to cheer on the Beauts. For a moment – just a brief moment – the handful of Beauts faithful appears tempted to shout "You're going the wrong way!" But alas.
You be the judge. When all was said and done for the games on Jan. 20, the Sabres were shellacked by the Dallas Stars, 7-1. The Beauts won a stunner 2-1 in a shootout off of a Hayley Scamurra goal as Buffalo and Connecticut combined for more than 60 shots in the game. Which fans got the better deal? Whose kids had more fun?
Victory Sunday! #DefendTheCrown

Game recap 👉 https://t.co/Fa6uWLNoeO pic.twitter.com/EJrzEUmsy7

— Buffalo Beauts (@BuffaloBeauts) January 21, 2018
After the Beauts 2-1 victory, THW joined in the media scrum to talk with players and one of the co-coaches. Not to be cheeky or unkind, but this Beauts' writer likely had a more enjoyable experience than any writer covering the Sabres on this day. Here is an assessment as to why Buffalo hockey fans should take in Beauts games first and foremost, at least until Sabres general manager Jason Botterill can perform a major overhaul of his hockey club and straighten them out.
The Men at the Helm – Seiling and Housley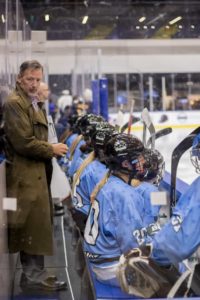 Beauts co-coach Ric Seiling and Sabres head coach Phil Housley were teammates during their playing days for the Sabres from 1982-83 through 1985-86. One might think that Housley could call up his ol' teammate and bend his ear a bit about winning recipes for hockey teams.
In the Beauts win over the Whale, the score was kept close all throughout. That's how it ended up going to a shootout after being tied 1-1 after both regulation and OT. According to Seiling's assessment and the previous box scores, this minimal distance in goal differential was to be expected.
"If you also look at what our games have been like – they've always been one-goal games," Seiling pointed out. "They're (Connecticut) a team that doesn't quit. You can't count them out. And they just kept coming and coming. Now this time, it took us to a shootout to get an outcome."
The three previous games that were played between Buffalo and Connecticut were all wins for the Beauts, and ended up with scores of 3-2, 3-1 and 4-3. Housley's and the Sabres' losses since the start of the year, including the loss to Dallas, have been by scores of 3-2, 6-2, 4-3, 4-1, 7-4, 4-3 and now 7-1.
Beauts Have an Abundance of Players Who Pull Their Weight
Part of the disparity that presently separates the squads of Seiling and Housley is that the Beauts have an abundance of players who are pulling their weight. At times, it is awfully difficult for Seiling and co-coach Craig Muni to find a spot for all of the deserving players in their lineup. Meanwhile, Housley has his hands in the air trying to find players that are willing to make an effort. In the 7-1 loss to Dallas, one of just a few players who were trying was defenseman Justin Falk and he more so functions as Buffalo's seventh or eighth man on defense. Seiling and Muni have the luxury of a roster chock-full of players who care.
"We played this team (the Whale) three previous games, they haven't been the same lines in each game," Seiling said, referring to his changing of Beauts line combinations. "I keep a record of those games, those lines and every game the lines have been different there. When you have extra players and you're trying to give other players an opportunity to play – you've got over 17 players – you're obviously going have to make some lineup changes. We're trying to be fair to all of our players so that they can all get opportunity, and that's what happens when you try to give them that opportunity."
Each coach has a different set of problems on his hands. It would be fair to surmise that Housley wishes his problems were more in line with those of Seiling's – find ice time and roster spots for deserving players.
Captain Buie Weighs in on the Win
Beauts team captain Corinne Buie met with the media after the game as well. While she was exuberant about the outcome, she still spoke of improvements that could be taken away from throughout the 2-1 win.
"It wasn't consistent," said Buie. "We need to have a better effort. The first period was sloppy in the D-zone. The second period we really pulled it together and got a lot of shots and opportunities. Then the third period it was gritty. We found a way to make it out of there alive, and we won in a shootout. We need to be more consistent and pull together for a full 60 minutes, but we came out with the win so can't complain."
Buie's captaincy is one of the most deserving for any professional hockey team, and that is globally speaking. Going back to her time spent in the Canadian Women's Hockey League (CWHL), she has won three championships in a row – one CWHL Clarkson Cup and two straight Isobel Cups in the NWHL. Buie has two goals and five assists for seven points in nine games. That places her at third in Beauts team scoring behind Kourtney Kunichika (9) and a tie between Maddie Elia and Taylor Accursi (8 each). Buie's 28 shots are second most on the team.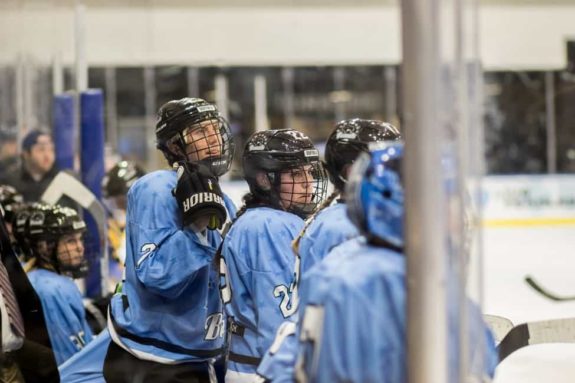 Separately, the Beauts captained was very upbeat about the turnout among the fans in the HarborCenter and the performance that she and her teammates provided for the Buffalo faithful. Keep in mind that this was while the Sabres "Kids Day Game" was taking place, and there was still a decent sized turnout for the Beauts.
"I'm so happy that we were able to give the fans a good show today. We had a really good crowd, and I hope that we gave them their money's worth. I think we did with the overtime and the shootout," Buie grinned.
Edney Talks Defense and Comfort With One Another
Just moments into the game Beauts defender Sarah Edney registered the first shot on goal. She weaved her way through the Connecticut defense and ended up smack dab in front of the Whale's net. Edney looked a bit like Paul Coffey out there. However, the Beauts alternate captain recognized that the almost instinctual move of hers in joining the rush is a rapidly growing necessity of NWHL play.
"Well that was an out of body experience," Edney smiled, shook her head and laughed when asked about the early opportunity. "I was surprised when I got to the net. I think it's good. Everyone is so good now that you can't really just attack 3-on-2 or 3-on-3. The D really just have to jump up into the rush to create odd-man rushes, and that's kind of how goals are scored. Off the rush at least. So we're trying to be really active so we can help the forwards out and get the best opportunity to score."
Beauts' D Better Than Their Brothers
Point of comparison. On the season Edney has a goal and three assists in nine games. That is more points than the Sabres' Josh Gorges (two points in 22 games), Zach Bogosian (one in 18 games), or Justin Falk (one in 23). It also ties Edney with the Sabres' Nathan Beaulieu (four points in 32 games) and Victor Antipin (four in 24).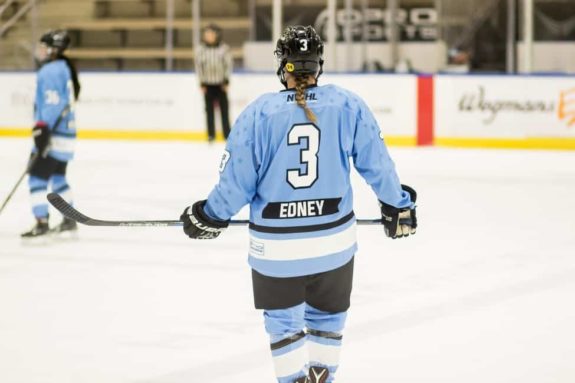 There is also more cohesiveness and fluidity among Beauts' defenders. Seiling and Muni utilize their defense corps interchangeably. The defenders themselves do not mind it in the least and seem to feed off of playing as a unit rather than as individuals or partners.
Edney explained, "I think it's exciting because I've played with every single other defenseman, which is nice. Just being able to swap sides even if we both have the same shot is very helpful. There's no stuttering. We just kind of jump into the play no matter who is thrown together or what happens in the game. I think it gives the D some confidence too because we're just comfortable with whoever."
We Know It Is "One Buffalo" But….
Yes, the Sabres, Beauts, Buffalo Bills and Buffalo Bandits are all a part of the "One Buffalo" initiative. They are each belonging to the same ownership. No one is trying to pit brother against sister here. We are simply talking what is good hockey and what isn't, and where you are getting the most bang for your buck.
Answer yourself these three questions:
One – do you want to take in an affordable pro hockey game?
Two – do you want it to be a fun time for any member of your family?
Three – do you want to watch a hockey team play that is giving it their all? And doing so to the point where they would risk life and limb for their teammates and their community?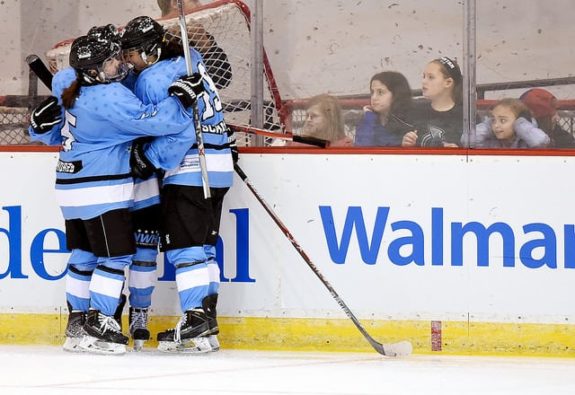 Well, those are each major components to what Buffalo Beauts hockey games are all about. If you answered yes to one or more of those questions, then feel free to continue riding the metro train down the entire length parallel to Washington Street in Buffalo. Just make sure that as you exit the train you collect all of your belongings. More importantly, that you proceed in the right direction upon exiting so that you are watching the hockey game on the correct side of the street.
General Manager of the Buffalo Beauts (NWHL). Hockey history writer "The Hockey Writers". Credentialed media for the NHL Combine and 2018 IIHF World Junior Championships in Buffalo, NY, USA. Born and raised in Buffalo, NY. Lifelong hockey fan for over 40 years. Proponent of the women's game.