We didn't get enough. The women's hockey tournament of the 2018 PyeongChang Winter Games was one that you wish could have lasted just one more round – just one more week, tops. The hockey was agonizingly thrilling and captured the attention of seemingly a few million more fans than before. Even the most casual sport spectators took notice of how admirably these athletes waged war on the ice. Women's hockey did not disappoint and will go down as the most exciting competition of the '18 Winter Games.
As is always the case for the major global hockey tournaments, the International Ice Hockey Federation (IIHF) released its recipients of the "best of the best" in PyeongChang. The media in attendance voted on the tournament All-Stars and Most Valuable Player (MVP), while the IIHF determined who the Best Goaltender, Best Defender, and Best Forward all were. Each tournament's winners can often bring about a spirited debate, but in this case the selections made were spot-on.
THW recaps who was named as the crème de la crème in PyeongChang, and what made each a deserving recipient.
Best Goaltender: Shannon Szabados, Canada
Playing in her third Winter Olympics, Canada's Shannon Szabados was absolutely brilliant in net, as per usual. In the gold medal game against the United States, she played at her finest. Szabados made 39 saves between regulation and the overtime period before the game went to a shootout. Some of the stops she made were just head shaking to behold. Szabados also made three saves on USA skaters during the shootout itself, despite the eventual 3-2 loss.
Thank you Canada for allowing me to represent our great Country. I couldn't be more proud. Thank you for the outpouring support of our girls pic.twitter.com/hEDB3qQHyZ

— Shannon Szabados (@ShannonSzabados) February 22, 2018
Winning her first silver medal, Szabados' numbers from PyeongChang are very much worthy of Best Goaltender honors. In the three games in which she played Szabados turned aside 75 of the 79 shots that she faced. That gave her a whopping .949 save percentage at the tournament to go with a 1.20 goals-against average. It is difficult to believe that even such stellar numbers such as those were still her most modest numbers of her three Olympics.
Szabados is 31 years old – she'll turn 32 in August. While obviously she has shown no signs of slowing down, one has to wonder how many more years she will desire to play. If PyeongChang ends up being Szabados' final Olympics, then it is even more special for her to have been named the Best Goaltender winner, and deservedly so.
Best Defender: Jenni Hiirikoski, Finland
Truly no surprise with Jenni Hiirikoski being named Best Defender. No blueliner in PyeongChang was more of a workhorse for her hockey club and put forth more effort than Hiirikoski. That is why she was Finland's team captain.
She played the most minutes of any skater for the Finns in each of their six games. When it mattered most, Hiirikoski could not be fatigued. During the bronze medal game against the Olympic Athletes from Russia, she played a total of 33:08 minutes – more than half of the game. Just huge numbers of minutes for any defender at any level of hockey to eat up.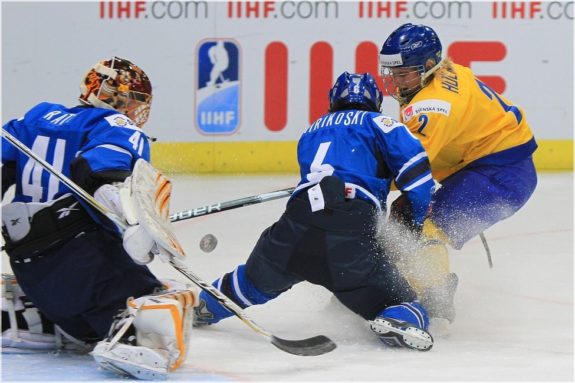 To further distinguish Hiirikoski's play at the tournament, she led her entire team in shots on goal. Through six games she peppered 21 shots on net. How exceptionally rare for a defender to lead a team in that particular category. Hiirikoski's heftiest amount came during Finland's prelim game against the Olympic Athletes from Russia when she put seven on net in one game.
Additionally she picked up two assists and out of seven Finnish defenders was one of only three to be a plus-player. You would be hard-pressed to find a better all-around performance at an Olympics than the one Hiirikoski turned in. This is the second time too that she received this honor, having been named Best Defender in Sochi '14 too.
Best Forward: Alina Müller, Switzerland
Perhaps no one player meant more for her team than this one. Switzerland's Alina Müller was the only player at the PyeongChang women's tournament to score double digits in points. She was also good for more than a goal a game as she put home seven of them in six games. Adding on three assists, Müller's 10 points led all players in the tournament. Her 28 shots on goal were the second most generated of any skater.
Looking more closely at her numbers, Müller was the only player in the women's tournament to score a power play goal, a shorthanded one, and a game-winner. Her seven goals were easily the most of any player in these Games too. The next highest total that any other player generated was four, and only two players (Riikka Välilä and Jocelyne Lamoureux-Davidson) were able to generate that amount.
Deux honneurs olympiques pour Alina Muller https://t.co/5sOn2VWAK2 pic.twitter.com/7sSCwBeIYE

— SwissHabs (@SwissHabs) February 22, 2018
It is easy to forget that Müller did all of this at just 19 years old. That in and of itself is practically unfathomable, considering the many other high-scoring forwards at this event who are much older. PyeongChang was also Müller's second Winter Olympics. It would not be out of the question for her to finish her hockey career by having played in five or six Winter Games in total.
MVP: Mélodie Daoust, Canada
Canada's Mélodie Daoust was named the Most Valuable Player of the women's tournament, and if you watched her play the decision was quite obvious. Daoust was a factor in every game that Canada played, and was clearly their best player from game to game. With Canadian teams being so heavily laden in talent, it is difficult for one particular player to distinguish themselves from the rest of the pack. Daoust was able to do that here, and it was truly enjoyable to see her game come through so clearly.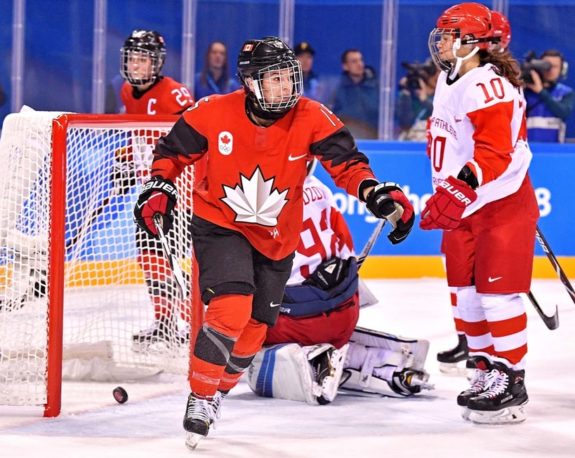 She was Canada's leading point scorer with seven points in five games. Daoust's four assists were the most on the team, and her three goals were tied for first as well. As a plus-seven, she was again tied for Canada's best in plus/minus and was also tied for second best among all skaters in PyeongChang. The regularity with which Daoust won face-offs was incredible. 77.42% of the time she won the draw for her team.
Daoust did it all at these Games and that is why she was named MVP. No player contributed a more complete game to her hockey club than what she did.
All-Star Goaltender: Noora Räty, Finland
PyeongChang was Noora Räty's fourth straight Olympics. She has competed in the Winter Games since she was 16 years old. Räty is easily the best European goaltender of all time in women's hockey, and is arguably the best female goaltender to have ever played. Backstopping the Finns to her second bronze medal and the country's third for women's hockey, she turned in a typical Räty-esque performance in PyeongChang.
Räty played the most minutes in net of any goaltender by far – 355:25 of them. The next closest number was Florence Schelling's 298:19. She also faced the second most shots on goal (179) throughout the tournament, and steered aside the second most as well too – 163 saves total. That gave Räty a .911 SV% and a 2.70 GAA when all was said and done.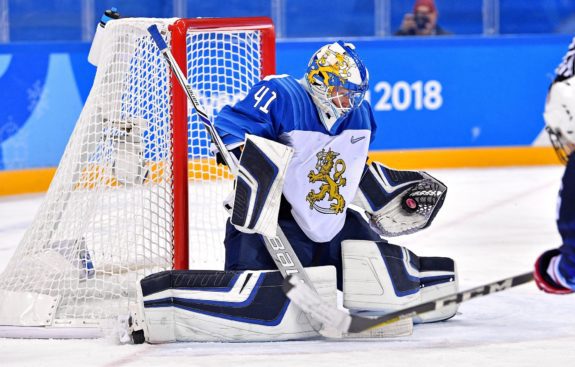 Being named a tournament All-Star is just one more in the amazing number of accolades that this goaltender has received in her career. One that is worthy of eventual Hockey Hall of Fame induction someday. Shockingly, this is the first time that Räty has been voted an All-Star or been any sort of an award recipient at a Winter Olympics. She has however been named an All-Star at three IIHF Women's World Championships and Best Goaltender at four of them too.
All-Star Defender: Jenni Hiirikoski, Finland
Hiirikoski makes our list for a second time, getting the nod as one of All-Stars on defense too. Just like the Best Defender award, Hiirikoski was also a tournament All-Star at the Sochi Games of '14 too. There she led all defenders in goals scored with three tallies in six games, and tied for the points lead with USA's Megan Bozek with each having five.
At 30 years of age, it is wonderful to see no signs of Hiirikoski slowing down. Not to mention how strongly it speaks to her value and skill set the way that she has put forth a monopoly of sorts on the post-tournament awards at the Winter Olympics. There are not enough great things that can be said about Hiirikoski.
All-Star Defender: Laura Fortino, Canada
Laura Fortino was not only Canada's best defender, but with this All-Star selection she gets rightfully noticed as one of the best D for any nation. Canada's blueliners did not generate much in the way of offense. They came with more of a rugged, shutdown approach. Fortino was the top scorer among the Canadian defense corps with two assists in five games. Her 14 shots on goal tied her for third most of all defenders in PyeongChang.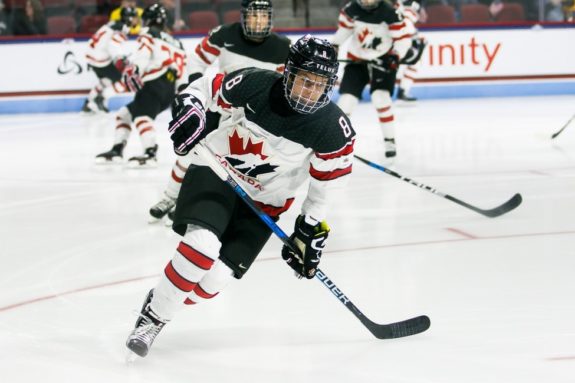 But like Hiirikoski, Fortino just never stopped working out on the ice and logged major minutes. In each of Canada's five games, she played more minutes than any other skater on the squad. This was never more apparent than in the gold medal game when Fortino played what appeared to be a lifetime's worth of minutes. Her 35:52 was the most of any skater in the game – either for Canada or USA.
Fortino played as the epitome of Canadian hockey pride, and did her best when the gold was on the line.
All-Star Forward: Alina Müller, Switzerland
Alina Müller makes the list again too, and for all of the aforementioned reasons. She led all players in goals and points, and was the only player to have scored on the power play, the penalty kill and to nab a game-winning goal too. The shorthanded goal and the game-winner both came against Korea during Switzerland's ginormous 8-0 win. This was Switzerland's first game of the tournament. The power play goal came in the prelims as well when the Swiss defeated Sweden 2-1.
Müller's performance from the start is why Switzerland went with a record of 3-0-0-0 during the preliminary portion of the Games. Through those three games was when she did the majority of her scoring. Six of her seven goals and all three of her assists.
All-Star Forward: Jocelyne Lamoureux-Davidson, USA
The hero of the gold medal game was Jocelyne Lamoureux-Davidson. Her game-winning goal put past Shannon Szabados in the shootout will never be forgotten. Truly a highlight reel tally that will live on in Olympic lore. But it was not just that beautiful score that led to Lamoureux-Davidson's All-Star selection. The game-winner was icing on the cake to some extent, because she put forth a marvelous Olympics regardless.
Lamoureux-Davidson's four goals in five games was immediately behind Müller's seven. Riikka Välilä also scored four goals but did so in six games, as opposed to Lamoureux-Davidson's four in five.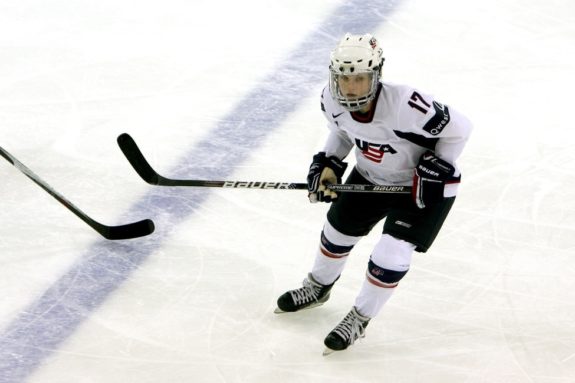 You also have to look at the gold medal winning team as a whole. USA was comprised of an exorbitant amount of talent on one roster. Even within all of that, Lamoureux-Davidson led the team in goals, tied for the team lead in points (five), was third in shots on goal (19), and had the second best shooting percentage with a 21.05%.
While she may become forever remembered for the most important goal that she scored, Lamoureux-Davidson played an overall Olympics worthy of All-Star selection.
All-Star Forward: Mélodie Daoust, Canada
Daoust is the third and final player to receive two post-tournament honors at the PyeongChang Games. The right decision to be tournament MVP, it would make sense that Daoust would also be an All-Star selection too. Though Canada would come away with silver, Daoust's goal in the shootout was one of the "sickest" individual efforts ever demonstrated in women's hockey. Truth be told, her shootout tally outdid Lamoureux-Davidson's maneuver.
Congratulations to FACE™ athlete (2011) Mélodie Daoust and her teammates on their silver medal performance in PyeongChang. Special congrats to Mélodie for being named MVP of the 2018 Olympic Winter Games women's ice hockey tournament! Outstanding! #TeamCanada pic.twitter.com/u8lRIDy70z

— Petro-Canada (@petrocanada) February 23, 2018
At 26 years old, these were Daoust's second Olympics. She is still likely to have at least one more after this one. While much has been made over Canada's disappointment in coming away with silver, no one can be disappointed in Daoust's performance. She is every bit an MVP and every bit an All-Star.
So Long Until Beijing 2022
And there you have it, folks. The award recipients and All-Stars of the 2018 PyeongChang Games. After such a satisfying tournament, it is difficult to accept that the next Olympic women's hockey games will not be played until the Games of Beijing 2022.
How many of these incredible athletes will be there? How many of them will put forth repeat performances? It is enjoyable to contemplate and agonizing that it is so far away. Still, be satisfied in knowing that you witnessed some of the finest hockey in PyeongChang, played by each of these exceptional players. The best of the best.