Let the show begin – we've been ready.
For the fifth time in six Winter Olympics, the two superpowers of women's hockey shall meet in the gold medal game. The usual prediction is that for women's hockey at any Winter Games, it will come down to Canada and USA as the two teams to remain standing. They have not disappointed in the '18 PyeongChang Games. No one needs a crystal ball or any sort of divining ability to have reached this conclusion either.
While Finland, Russia, Sweden, and Switzerland certainly have their fair share of star players, there are no pools of talent that run deeper than the rosters from North America. USA reached the final first by defeating Finland 5-0 in the semifinals on Monday Feb. 19. Eight hours later the Canadian squad defeated the Olympic Athletes from Russia by the exact same score.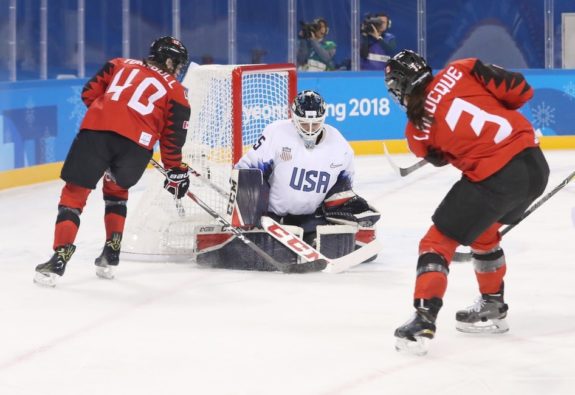 While Canada may have gotten a 2-1 win over USA in their lone meeting of the prelims, the two teams have been very evenly matched. So much so that it can be incredibly mind-wracking to hazard a guess on the ultimate winner.
We will give you our best insight into the matter, but ultimately it will be up to the players themselves to decide the outcome. Trust one thing for certain – there is no finer collection of talent in one place than on the rink of  Gangneung Hockey Centre for this gold medal matchup.
THW compares the two teams.
Swift Moving Defense on Both Sides
Both sets of defense corps have skaters that can wheel and deal the puck. They jump into the play so well that oftentimes it seems that both USA and Canada are skating with four forwards and two defenders on the ice at one time.
USA's Emily Pfalzer has appeared to do this the best of all. That has not yet translated into any points for her thus far, but she should get onto the score sheet at least with an assist by the time this is over. Pfalzer is a plus-four through four tournament games, which is presently second best for all USA defenders. No game has gone by without Pfalzer putting at least two shots on goal. Her 11 total shots at these Olympics tie her for most among USA defenders with Kacey Bellamy and in the top-five for all blueliners at this tournament.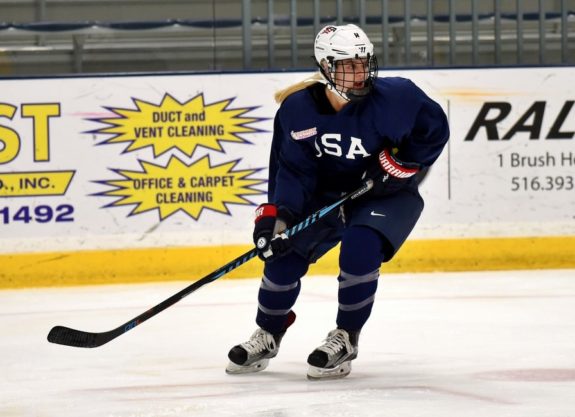 Lee Stecklein is an absolute workhorse on defense for USA. She was the team leader in ice time both in the prelim game against Russia and the semis against Finland. Stecklein's 21:21 minutes of ice time on Feb. 13 against the Russians has been the highest total for any American skater thus far.
Laura Fortino's two assists lead Canada for points by a defender. She plays a similar game to Pflazer, but is a tad larger at 5-foot-5 and 137 pounds. Fortino has also out-shot all USA defenders throughout the tournament. Her 12 shots are third most at the Olympics and it is rather surprising she has not gotten one in yet. That could change in the gold medal game. Keep your eyes peeled on Fortino should she sneak in and pot one herself.
Fortino has also been Canada's leader in minutes played and outdoes Stecklein in this category. In all four of Canada's games she has been the leader in ice time for all of their defenders. Her 24:22 minutes of play against OAR squashes any other skater from Canada or the USA.
Every Goalie Tells a Story
So who are the goaltenders going to be in the gold medal game? It is not as easy to distinguish as one might think, but for good reasons mostly.
The Canadians are one of just two teams in PyeongChang to have played all three of their goaltenders. Star goaltender Shannon Szabados has seen the most action of the three. She has dressed for four games and played in two, including the semifinal victory over the Russians. Within that pair of games Szabados allowed just one goal on 37 shots to give her a .973 save percentage. Furthermore, she is the true bell-weathered veteran in net. The 31-year-old Szabados has already backstopped Canada to two Olympic gold medals, and would be the most logical decision for the big game.
That being said, the only reason why Szabados may not get the start is because Genevieve Lacasse was between the pipes during the prelim game against USA. On top of that, Lacasse was simply brilliant in that game. She got Canada the win, and did so by turning aside a whopping 44 of 45 shots. Neither Lacasse nor Ann-Renée Desbiens had played in an Olympic game until PyeongChang. Lacasse was the tertiary goalie for the Sochi but did not see any action.
"To play in the gold medal game is what you work the entire season for."

🗯 @ShannonSzabados after Canada's semi-final win. #PyeongChang2018 pic.twitter.com/fdPgsLlTlG

— IIHF (@IIHFHockey) February 19, 2018
Still, Szabados seems the safer and wiser decision.
USA should continue to utilize Maddie Rooney in their goal crease. This surprised us at first, as many felt (including this THW writer) that these were Nicole Hensley's Games. Hensley did however see one game in net and shutout the Russians in the process. Otherwise, it has been all about the 20-year-old Rooney. In three games of action she has made 58 saves off of 61 shots. That gives Rooney a .951 SV% and a 1.01 goals against average. This is the goalie USA definitely wants to stick with for the big game.
What the Top Players Are Doing
It would not seem right for USA's Hilary Knight to go without at least one Olympic gold in her career. The hockey gods would not and should not allow it. Knight is the most recognizable player in women's hockey and arguably its best player too. Since Cammi Granato retired, no American player stepped into the forefront of the game more than what Knight has done.
PyeongChang has been a bit of an off-Olympics for Knight in terms of offense. The 2010 Vancouver Games were her first Olympics, and she finished with a goal and seven assists for eight points in five games. At Sochi in 2014 Knight scored three goals and three assists in five games as well. Yet here in PyeongChang she has a single goal and a lone assist through four games. Knight is 28 years old. When the 2022 Winter Games take place in Beijing, China, she will be 32. Not to say that age is catching up with Knight, but this may be the best of her remaining chances to become a gold medalist. She has met every challenge that has been put her way to up this point. If any athlete could will themselves a gold medal, it would be Hilary Knight. She will score at least one more goal before this is over.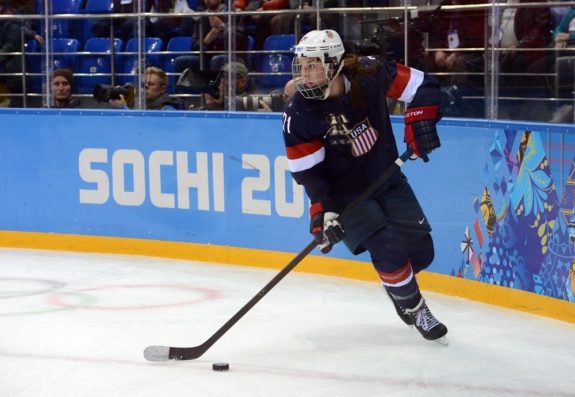 Which brings us to our top scorer for Canada, Mélodie Daoust. She is presently the team leader in points for Canada with six points (3G, 3A) in four games. Daoust is not just the point leader though. She holds first place either individually or tied in a wide variety of statistical categories. Daoust is tied for most goals, most assists, and best plus/minus (plus-six). Outright she holds first place on the team in points, shooting percentage (25%), and face-off winning percentage (84%). In a way, Daoust may be a bit of an unsung hero. She leads in all of these key aspects, but when people think of the Canadian women's team they usually think of Marie-Philip Poulin or Natalie Spooner instead.
The Best of the Rest
We also want to take a look at some important tidbits for each team that we feel could be deciding factors in the outcome of this game. Accouterments to the meat and potatoes of these two squads. These additional items of note would include the following:
Canada: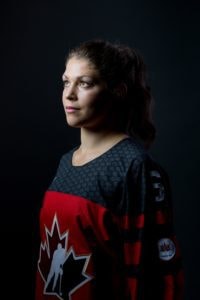 Rebecca Johnston is doing exactly what Canada needs her to do. She is the prototypical power forward for women's hockey. Not only did she open the scoring for Canada in PyeongChang but she is tied with Daoust for Canada's lead in goals with three. Additionally, she leads the team in shots by a large margin with 22. Johnston is the only Canadian to have more than one power play goal.
Right behind Johnston is Jennifer Wakefield. There are large numbers of hockey aficionados who are guilty of forgetting just how good Wakefield is. The 5-foot-10, 170-pound forward has scored two goals of her own, including a game-winner. Depending on how you look at it, Wakefield gives Canada two Rebecca Johnstons on one team. Or spin it the other way – Johnston gives you two Jennifer Wakefields. Either way, Wakefield is far better than what she gets credit for.
Natalie Spooner and Brianne Jenner are third for Canada in shots on goal, yet neither has potted one yet. All other Canadian forwards with at least five shots on goal have scored at least one – there are nine of them total. Look for either Spooner and/or Jenner to score one during the gold medal showdown.
USA:
At 30 years old Gigi Marvin is the oldest player on team USA, but she puts more effort in than some Olympic athletes 10 years her junior. Interchangeable between forward or defense, Marvin has played these Games up front and it has paid major dividends for the United States. Marvin has two goals and an assist in four games. She has made her shots count too. Having taken only five of them, Marvin is able to boast a 40% for her shooting percentage.
One of the best forward lines in PyeongChang, and certainly the best for Team USA, has been Kelly Pannek centering the Lamoureux twins of Monique Lamoureux-Morando and Jocelyne Lamoureux-Davidson. The trio can be used as both a checking-line and a scoring-line. With the twins the concept of chemistry is not surprising, but adding Pannek into the mix has just made them triplets – they are that good together. Lamoureux-Davidson is tied for the team lead in goals with three in four games. She also has an excellent shooting percentage of 21.43%.
The stalwart defender Megan Keller leads all American players with a plus-five for plus/minus. At 5-foot-11 and 161 pounds, she has played incredibly well on USA's blue line and has quietly done so. In four games she has a pair of assists and has put four shots on goal. This 21-year-old will be in USA's Olympic fold for more years to come.
Ready as We'll Ever Be
This one is too close to call. While both Canada and USA have their own advantages, neither possesses a trump card for this game. It could come down to goaltending. As skillful as Maddie Rooney is and as enjoyable as it has been to watch her, this is her first Olympic gold medal game. The same would be for Hensley or Alex Rigsby if USA coach Robb Stauber inserted one of them into the net instead. Szabados has been here before and has won. She is also one of the best goaltenders in the world. When skill is evenly matched, then experience is quite often the deciding factor.
Both teams also have some excellent hockey players that have not been a factor yet, or at least not much of one. Spooner, Knight, Jenner, Brianna Decker, Amanda Kessel. Whichever team has one of these stars step up when it is all on the line will be the team to take home the gold. One of these players needs to take the reigns and bring it home with a timely performance. Who will it be? Our guess would be Kessel. It is amazing that she has not scored a goal yet in PyeongChang.
Team Canada has shutout the Olympic Athletes from Russia 5-0 in the semifinals at #PyeongChang2018.

Jennifer Wakefield (2, GWG), Marie-Philip Poulin, Emily Clark and Rebecca Johnston scored for #CAN.

Shannon Szabados made 14-saves to pick up the shutout and the win. pic.twitter.com/z5RHzfyZXR

— Complete Hockey News (@CompleteHkyNews) February 19, 2018
We are ready, folks. Ready as we will ever be. Are you? If you want to see what women's hockey is all about, this is the game to tune into. You will not come away disappointed. One of these titans will skate away with gold draped over their shoulders.
General Manager of the Buffalo Beauts (NWHL). Hockey history writer "The Hockey Writers". Credentialed media for the NHL Combine and 2018 IIHF World Junior Championships in Buffalo, NY, USA. Born and raised in Buffalo, NY. Lifelong hockey fan for over 40 years. Proponent of the women's game.