Since being drafted second overall by the Pittsburgh Penguins in the 2004 Entry Draft, Evgeni Malkin has done nothing but meet expectations. He has averaged 1.18 points-per-game (PPG) in his 12 seasons and has three 100-point campaigns. He has won two Art Ross Trophies, the 2012 Hart Trophy as MVP, and won the 2007 Calder Trophy as rookie of the year. He has been an All-Star three times and finished runner-up in MVP voting twice.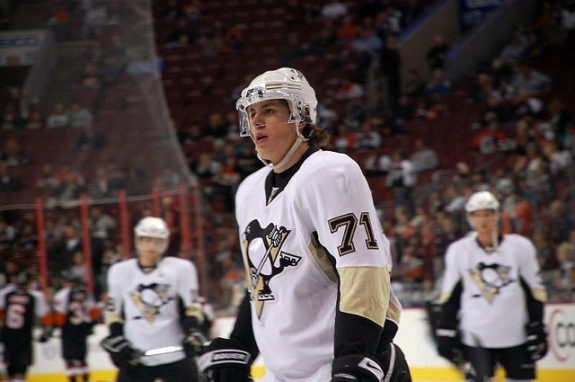 In the playoffs, Malkin has stepped up his game, also averaging more than a point-per-game. He was at his best during the 2009 playoffs when the Penguins won the Stanley Cup and he had 14 goals and 36 points in 24 games.
Last season, in 62 games, Malkin was great with 33 goals and 72 points. He added another 28 points in 25 playoff games as the Penguins won their second straight Stanley Cup. For as good as he was last season, this season he has been much better. He already has 33 goals and 70 points in five fewer games.
Simultaneous Surges of Malkin and Penguins
In the last 11 games, Malkin has 12 goals and 21 points and the team has a 9-1-1 record. He also has points in 12 of his past 15 games and has registered at least one point in 72 percent of his 57 games. In fact, Malkin has more multi-point games (17) than he has pointless games (16).
As Malkin has heated up, so have the Penguins, earning at least a point in 10 of their last 11 games and winners in 16 of their last 21. Their surge is evident in the standings. On Jan. 15, the Penguins were in seventh place in the Eastern Conference and 14 points back of first. Today, Feb. 19, they are fourth in the conference and just seven points back of the top spot.
The simultaneous results have led to Malkin emerging as an MVP contender and the Penguins looking poised to go on a third deep playoff run.
The Numbers Behind Malkin's Surge
Although only 57 games into the season, Malkin is closing in on or has already surpassed career highs. His 33 goals tie for fourth most and his shooting percentage of 18.9 and 1.85 goals per 60 minutes (G/60) are both career highs. Furthermore, his recent uptick in play has propelled him to lead the Penguins in goals, points, and shooting percentage. Additionally, his 3.92 points per 60 minutes (P/60) and G/60 lead both the Penguins and the NHL.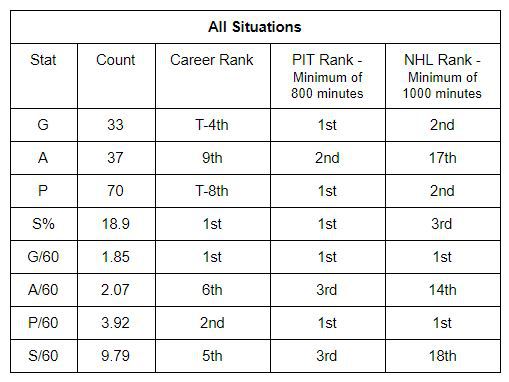 Taking Advantage of the Man Advantage
Like the Penguins, Malkin's best game is on the power play where 39.4 percent of his goals and 41.4 percent of points have come. His 13 power-play goals rank tied for third in his career and his 29 points are fifth. His career-high in power-play goals is 17 and he is all but certain to surpass that number by season's end.
A reason for his high goal total is his shooting percentage of 22.4 while on the man advantage. It has resulted in 3.66 G/60 while attempting 16.34 shots per 60 minutes (S/60) of power play time. Additionally, he is tallying 8.17 P/60 on the power play. This success has come while only playing 3 minutes, 44 seconds per game on the power play.
Malkin has been the main trigger man on a league-leading Penguins power play that is converting 26.5 percent of opportunities. His 13 power play goals are tops on the team and he is third in assists and points, behind Phil Kessel and Sidney Crosby. Of Penguins players with at least 50 minutes of power play ice time, Malkin leads all in G/60 and S/60.
Compared to the league, Malkin is third in power play goals. He is tied for third in points, again behind Kessel and Crosby, further indicating how lethal the team's power play has been. His G/60 is fourth in the league among players with at least 150 minutes of power play ice time.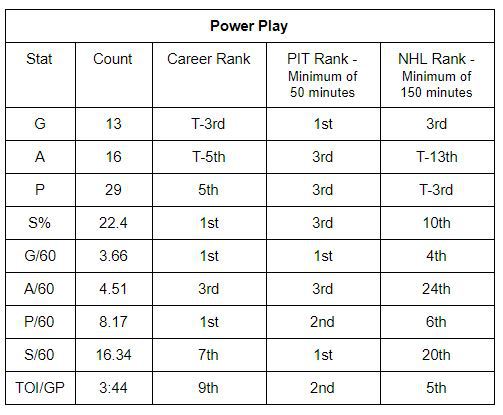 So, although Malkin's power-play stats are among his career best and rank highly on the Penguins, his production isn't outlandish compared to the league. Patrik Laine, for instance, leads the league with 15 power play goals, scoring 55.6 percent of his goals on the man advantage. Steven Stamkos is second in power play goals with 14. This mark equals 58.3 percent of his total goals.
An Improvement in 5-on-5 Scoring
The Penguins have been playing better of late at 5-on-5, improving from 22nd in goal control to 16th over the past two games. Still, of Penguins players with at least 500 5-on-5 minutes, only four have positive Goals For percentages. This includes Malkin, who ranks third on the team at 50.7 percent.
Of Malkin's 33 goals, 15 have come at 5-on-5, tops on the Penguins but only tied for 14th in the league. It is a similar case with points. His 31 5-on-5 points lead the team but are only tied for 25th in the league. Malkin also leads Pittsburgh in 5-on-5 shooting percentage, G/60, and P/60 but is no better than 15th among NHL players with at least 700 minutes of 5-on-5 ice time. This is not to downgrade Malkin's play which has been stellar but to show the difficult time Pittsburgh has had at 5-on-5.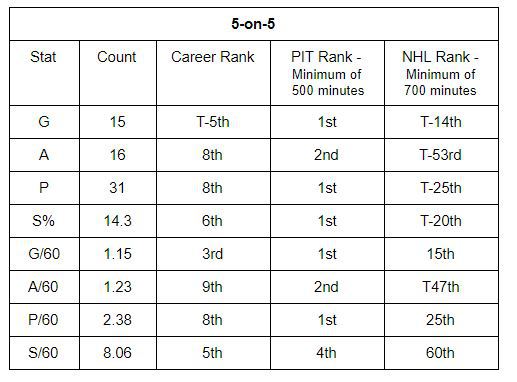 The positive is that Malkin has been producing better at 5-on-5 recently. In his past 10 games, dating back to Jan. 30, he has 18 points, with 11 or 61.1 percent occurring at 5-on-5. This is significantly higher than his 44.3 percent for the season. His point-per-game (PPG) rate during this time also reflects his improved production, with 1.10 PPG in the past 10 games when he was averaging .43 PPG prior to Jan. 30. The same goes for Malkin's linemates Kessel and Carl Hagelin with whom he has played the majority of his 5-on-5 ice time.
In the past 10 games, Kessel has seven 5-on-5 points and Hagelin has six. During that stretch, both scored better than 25 percent of their total 5-on-5 points for the season. The "HBK Line" may have ended when Nick Bonino departed via free agency but perhaps the new "HMK Line" is more potent.
Forecasting the Rest of the Season
If Malkin continues to produce at the same 1.91 PPG rate he has over the past 11 games, he will likely run away with the scoring title and be a finalist for the Hart Trophy. Additionally, with Malkin leading the way, the Penguins have made up a lot of ground in the Metropolitan Division in recent weeks. If their play continues, they could win the division and have home-ice advantage until the Conference Finals.
A positive regression to the mean for Pittsburgh bodes well for them come playoff time based on recent history. Although it is important to have a good power play that can score timely goals, there is the accepted belief that a referee's whistle quiets in the playoffs and fewer penalties are called.
If that is the case, a team relying so heavily on power-play scoring, like the Penguins were earlier in the season, could mean an early exit in the postseason. Of the past 10 Stanley Cup winners dating back to the 2007-08 Detroit Red Wings, just two finished the regular season in the top five in power-play percentage. One was the 2007-08 Red Wings and the other was last year's Penguins.
Conversely, of those same 10 Cup winners, all but one team finished outside the top 10 in control of goals at 5-on-5. That team was the 2011-12 Los Angeles Kings, which ranked 16th in the category. Each of the past two Stanley Cup-winning Penguins teams ranked fourth. Though the Penguins are ranked 6th, they have climbed recently and will continue to climb if they carry on their elite 5-on-5 play.
Of course, with any player, injuries are taken into account when predicting his impact. This is a too-frequent reality for Malkin who has played just two full seasons in his career. He scored more than 100 points in both. In two other seasons, he played at least 70 games, once when he posted 109 points and won MVP and the other was his rookie campaign when he finished with 85 points.
Malkin may be the ultimate case of "what if?" in regards to his health. He has played in at least 70 games just four times, most recently in the 2011-12 season. His last full season came during the 2008-09 season, his third in the league. Since then, he has missed 162 regular season games or nearly two seasons of play. Yet, even through injuries, he remained a point-per-game player in all but one of those shortened seasons.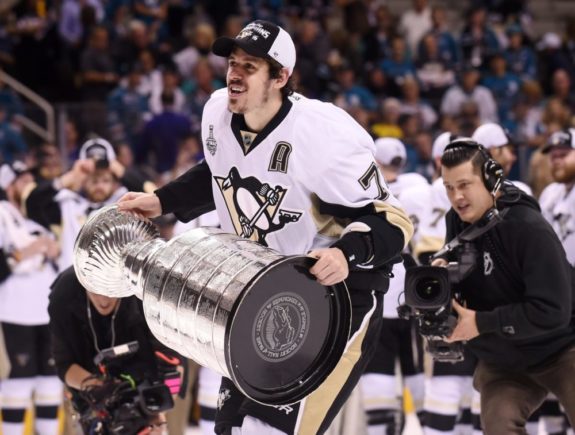 Right now, he looks healthy. He missed four games in November with an upper-body injury but returned with points in six straight and nine of 10 games. When healthy, few in the league are better. This is evident by how he has helped carry the Penguins in recent weeks.
While he is healthy, hockey fans should sit back and marvel as Malkin attempts to lead his team to a third consecutive Stanley Cup. If that feat is accomplished, the Penguins would be the first team since the 1980-83 New York Islanders to three-peat. It may seem like a long shot but when Malkin is playing at this level, anything is possible.
*All stats came from Natural Stat Trick and Hockey-Reference
My name is Kyle, and I'm the managing editor of The Hockey Writers. I joined THW in Oct. 2017 and am always striving to bring you the best hockey coverage possible. You can email me directly at kyle@thehockeywriters.com.