Montreal Canadiens forward Andrew Shaw returned to practice on Monday in Philadelphia. Shaw, who was injured versus the Boston Bruins on Jan 13, has missed the past 15 games with an undisclosed lower-body injury. He was placed on the injured-reserved list on Jan 30 and was expected to miss four to six weeks.
Claude Julien confirmed after practice that he would not be in the lineup against the Flyers on Tuesday but did not rule out a possible return on Thursday in Montreal versus the New York Rangers.
"He doesn't have the green light yet," said Julien following practice. "It was only Shaw's first practice, so he's definitely out tomorrow."
Shaw's Strong Play This Season
In 43 games this season, Shaw, who scored 10 goals and 19 points, has proven to be a valuable asset for Julien. Able to play right-wing and centre, the Canadiens head coach has not hesitated to move Shaw around the lineup. With a lack of depth down the middle, Shaw's versatility would come in handy, made evident during his absence.
Without Shaw and Phillip Danualt, who was also injured versus the Bruins, Julien has been forced to use Paul Byron and Charles Hudon at centre, which has not worked out in the Canadiens' favor. In the 15 games since the Bruins matchup, Byron and Hudon have won just 36 and 31 percent of their faceoffs, far off from Shaw's 55 percent efficiency rating on draws this season.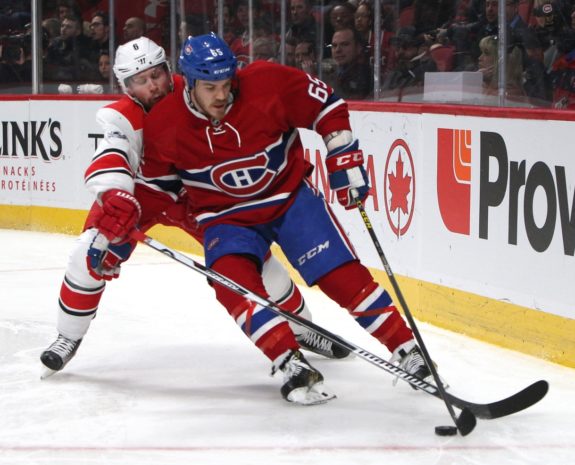 As one of Montreal's most efficient centres, Shaw has been counted on in numerous crucial situations, with 44.5 percent of his faceoffs coming in the defensive zone.
Typically, this season, Shaw has played on a line with Danault and Max Pacioretty. While Danault, a left-handed centreman, has taken most of the faceoffs, Shaw's assignments down the middle have come on draws on the right-side of the ice, his strong-side as a right-handed shooter.
"It's a lot easier winning [the faceoff] on your backhand than your forehand," said Shaw. "I played with [Marcus] Kruger in Chicago. Every time the faceoff was on the right dot, I would take them. I just kind of got into that rhythm, and coming here, I said I'd do the same thing.
Winning faceoffs are important. You want to control the puck, not be chasing it," added Shaw.
Shaw has been effective in other aspects of the game this season, as well. With a shooting percentage of 12.5%, he has registered 88 scoring chances and 52 high dangerous chances. His Corsi-for percentage of 57.79% in all situations is third-highest on the team, and 11 of his 19 points have come at 5v5.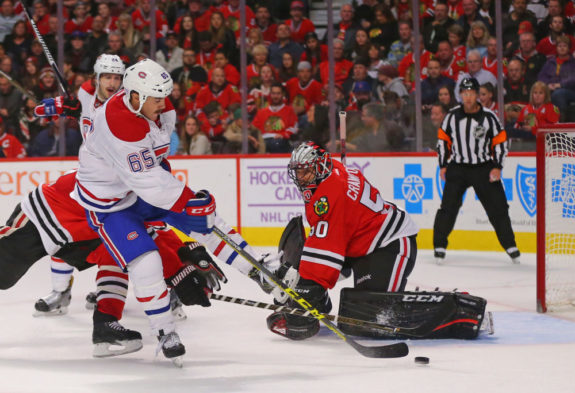 Trade Speculation
Shaw's inevitable return to the lineup comes at an ideal time for general manager Marc Bergevin. With the trade deadline only a week away, a healthy Shaw is much more valuable in a transaction. While Bergevin has reportedly stated that the 26-year-old will not be made available for a trade before next Monday's deadline, things could change quickly if the right deal comes along.
Shaw has been rumoured to be on the trading block for most of the season and with a cap hit of $3.9 million over the next four seasons, it would be wise for Bergevin to consider moving him before the re-tooling of the roster begins.
Losers of their last five game, the Canadiens visit the Flyers who acquired goaltender Petr Mrazek from the Detroit Red Wings on Monday night. With Brian Elliott and Michael Neuvirth sidelined with long-term injuries, Mrazek is expected to be in goal versus Montreal. The Canadiens rank 29th in the NHL with 51 points and a goal different of minus-36.
I cover the Montreal Canadiens and Laval Rocket for The Hockey Writers. I am currently a student at the University of Concordia studying journalism in the hopes of one day becoming a full-time sports reporter. I have previously covered the Indianapolis Colts of the National Football League for Pro Football Spot.