Following Game 1 of the 2017 Stanley Cup Final, Nashville Predators goaltender Pekka Rinne's stat line—four goals against, .636 save percentage—did not look pretty. But if you add context to his numbers, it wouldn't be a stretch to say that Rinne played fine, not horribly as his numbers would indicate.
Hockey is an odd game and goaltenders are often at the mercy of the sport's idiosyncrasies. Rinne certainly deserved better than the brutal hand he was dealt in Game 1. Let's examine.
Goal 1: Malkin Blast
Malkin goal pic.twitter.com/zpcJxKWVXH

— steph (@myregularface) May 30, 2017
On Pittsburgh's first goal, Evgeni Malkin launched a howitzer through a double screen past Rinne on a five-on-three power play. Not too many NHL goalies could have stopped the shot if the exact circumstances were replicated. The interference run on Predators defenseman Mattias Ekholm just prior to the goal didn't help matters either. Then again, Nashville shouldn't have put themselves in a five-on-three shorthanded situation to begin with.
Goal 2: Sheary Wide Open
a couple more angles pic.twitter.com/J7lIvs9AVk

— steph (@myregularface) May 30, 2017
Typically, when there's a two-on-one, the usual preference of a goalie is to have the defenseman back cover a potential pass and leave the puck carrier to the goalie. When Chris Kunitz collected the puck, he had two lanes in front of him: a shot on net or a pass over to Conor Sheary. Unfortunately for Rinne, multiple players made the wrong choice and played the shot, rather than the pass. There's nothing he could have done to prevent that goal from happening.
Goal 3: Bonino Bounce
Bonino gets credit for the 3rd goal pic.twitter.com/XLY62FE13f

— steph (@myregularface) May 30, 2017
Let's be honest here: there's no way anyone can blame Rinne for this goal. It was terrible luck that the puck bounced off Mattias Ekholm and into the net.
In fact, Rinne even made the right decision on the play. When there's a centering pass, the goalie's job is to cut it off completely or steer it into the corner. Rinne did the latter, even elevating the puck to avoid a tap-in from a forward was cutting in in the direction of the pass. Ekholm was just in the wrong place at the wrong time.
Goal 4: Guentzel Snipe
Guentzel goal. 1st shot on net for Pens in Patrice Bergeron minutes pic.twitter.com/QvlhoLk3PW

— steph (@myregularface) May 30, 2017
Thirty-seven (!) minutes later, Rinne faced the Penguins' next shot of the game. And, to his luck, it was a spectacular shot off the stick of Jake Guentzel. Rinne picked up the shot late after Guentzel initially used defenseman Ryan Ellis as a screen, and Pittsburgh's rookie placed the wrister in that awkward spot between the goalie's head and shoulder.
But what was Ellis doing on the play? It was a one-on-one and Ellis continued to back up the entire time instead of challenging the shooter. He had the angle and position to close the gap on Guentzel but kept skating backwards toward Rinne, giving Guentzel a close-range shot.
Rinne Not to Blame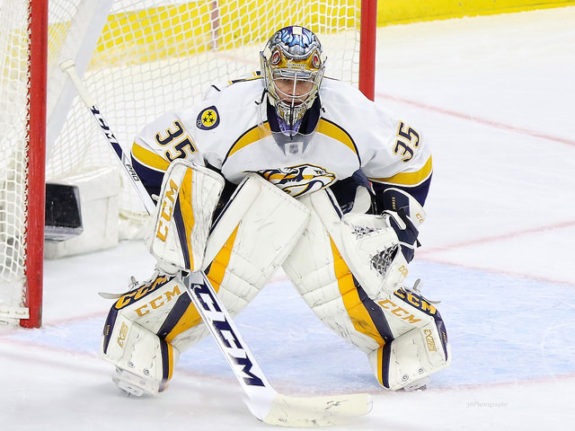 Rinne deserved better than how the events of Game 1 transpired. You can expect the Finnish All-Star to rebound (figuratively) in Game 2. More so, if Nashville's team defense can continue to stymy the Penguins' high-octane offense, the Predators will be as golden as their helmets going forward.