The Providence Bruins have hockey fans in Boston optimistic about the club's future. Youngsters like David Pastrnak, Frank Vatrano and Brandon Carlo already find themselves with the club. Meanwhile, prospects like Zane McIntyre and Charlie McAvoy have gotten a taste of NHL action and want more. Accompanying them are players in their prime like 28-year-old Brad Marchand and 25-year-old Torey Krug.
While the future looks bright for the Bruins, the present is daunting, as many questions remain unanswered. One question is how management will address the apparent age gap on the Bruins' roster.
Bergeron, Krejci and the Veterans
Currently, the Bruins have 25 players under the age of 30 who have appeared in an NHL game. Comparing this to just nine players over the age of 30, one can recognize that the next decade of Bruins hockey will be a good one. Unfortunately, those nine veterans are responsible for a load of Boston's production.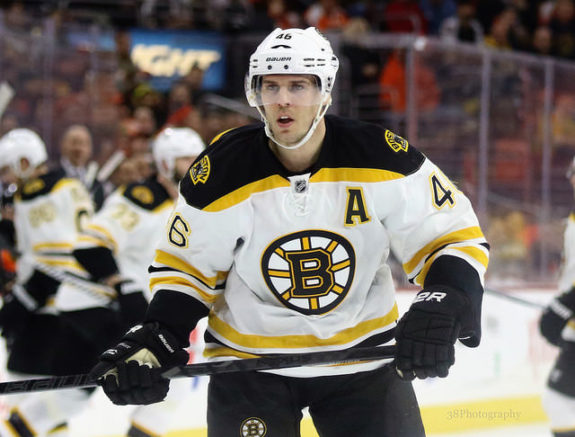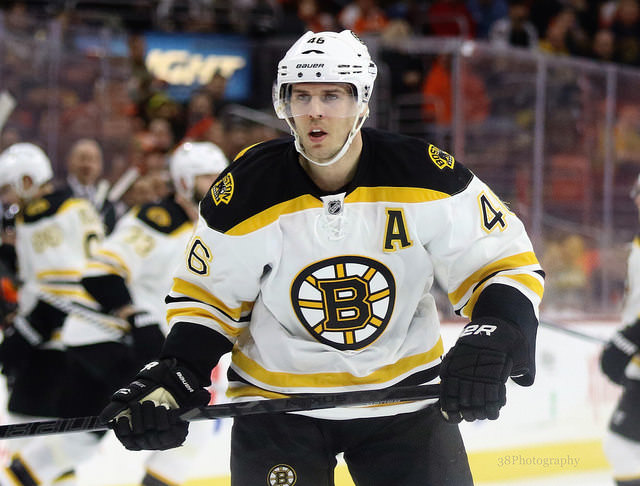 For example, out of the top ten point producers during the 2016-17 season, half of them had passed the 30-year marker. This includes veterans like 39-year-old Zdeno Chara with 29 points and 36-year-old Dominic Moore with 25 points. David Backes (32), Patrice Bergeron (31) and David Krejci (30) are also members of that group.
Even starting goaltender Tuukka Rask is 29 years old. Though he has at least five or six good seasons left in him, it puts pressure on prospects to fill the cracks sooner rather than later. Guys like Anton Blidh, Peter Cehlarik, Danton Heinen and Jakob Forsbacka-Karlsson, all under the age of 22, need to contribute now – not five years down the line.
Related: Bruins Full Salary Cap Info, All Roster Players and Prospects
Sure, the Bruins will still be a competitive team with Marchand and Krug bearing leadership responsibilities. However, the Bruins' best chance at a Stanley Cup lies in the hands of Bergeron, Backes and Krejci. While Krejci is the best playmaker on the Bruins, Backes can play the role of a power forward while Bergeron is one of the best all-around players in the league. Together, they will be responsible for leading the Bruins through the next five years.
By the 2022-23 season, these players will be starting to decline, while Rask will only have another season or two of good hockey. That same season, Krug will turn 30 and Marchand will turn 33. Management has done a tremendous job preparing for Chara's likely retirement after the 2017-18 campaign. They have also done well filling the roster with guys that can fill veteran's skates when they turn their backs on the NHL. However, going into next season, and even the following one, no expert can predict how the Bruins will fare. A team that just barely squeaked into the playoffs last year can just as easily miss the boat the following season.
Pastrnak, Vatrano and Carlo
Though young assets like Pastrnak, Vatrano, and Carlo have already been mentioned, their importance to the Bruins going forward will only increase. Pastrnak finished the 2016-17 campaign with an impressive 34 goals and 36 assists – second only to Marchand in points. Vatrano was ranked tenth on the roster in points (18) while playing only 44 games last year. Though he registered 16 points in 82 games, Carlo made his presence felt most in Boston's own end.
Carlo will succeed Chara, becoming the Bruins' No. 1 defenseman. Krug will accompany him, but it is Carlo's defensive skills that really make this writer feel comfortable with Chara's imminent retirement. Last season, Carlo averaged 20:49 a game – only a minute less than Krug and two-and-a-half minutes less than Chara. Did I mention the kid is only 20-years-old?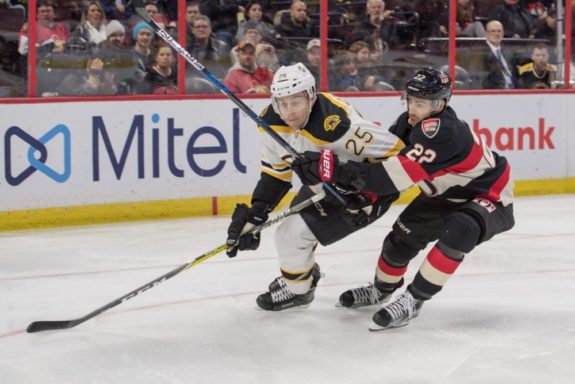 Pastrnak and Vatrano hold a different kind of excitement, and that excitement resides in their wrist shots. The Bruins have failed to see such promise on the front end since drafting and then ridding themselves of both Tyler Seguin and Phil Kessel. Not only do Pastrnak and Vatrano need to contribute but they also need to become leaders. They can lead prospects by example, basically saying, "If I can produce at this age, so can you."
More importantly, all three of these players need to be consistent. Their impressive showings need to turn into impressive careers if they want to escape becoming "one-hit-wonders."
Trade Beleskey and Hayes
It was exciting when the Bruins acquired Matt Beleskey and Jimmy Hayes, but now look where we are. Beleskey notched only eight points in 49 games while Hayes produced five in 58 games. The 28 and 27-year-olds have turned out to be glorified fourth liners rather than big forwards with a scoring upside.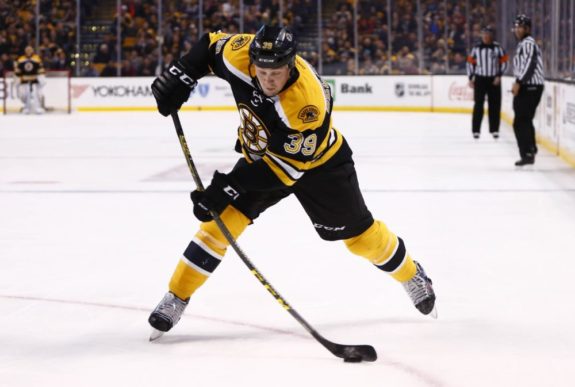 Trading Beleskey and Hayes is the Bruins' best option. Even if they don't get much more than a draft pick in return, it opens things up for General Manager Don Sweeney. Their combined cap hit of $6.1 million could go toward a single player that would round out the Bruins' top-six. Beleskey and Hayes' departure could equate with the B's making a big splash in free agency this offseason.
Though the Bruins' roster will likely change greatly in the years to come, the Bruins' successes and failures will fall in the hands of a few veterans in the near future.