With the loss of their second-leading scorer, Loui Eriksson, last offseason, the Boston Bruins entered the 2016-17 season with an important question mark in the locker room. Who, if anyone, could step up for the B's and produce the way that Eriksson did last season?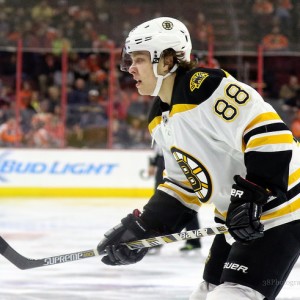 Among the candidates for a breakout season was David Pastrnak, who the Bruins hoped could remain healthy for the entire season after he was limited to just 52 games last year. Pastrnak, who the Bruins pinned to be a building block for their future, had put up solid numbers production-wise in his two partial seasons with the Bruins. He tallied 53 points in his first 97 NHL games. However, the Bruins believed that Pastrnak had more potential. Coming into this season, with the gap left by Eriksson, it seemed like the perfect time for Pastrnak to make that next step.
Pastrnak Excelling Offensively
So far, he's done just that. The 20-year-old right-winger out of the Czech Republic has pressed the pedal to the metal offensively this season. In 52 games, Pastrnak has notched 48 points, including five game-winning goals. For comparison, Pastrnak played 51 games last season and totaled 26 points. Work through that math and you'll determine that the young winger has tallied 22 more points in just about the same number of games.
Interestingly enough, Pastrnak's 25 goals have come with an almost-identical shooting percentage. His 13.9% shooting percentage is just o.3 percentage points higher than last season's total of 13.6%. So what has changed? Well, for one, Pastrnak is shooting more. So far this season, Pastrnak has taken 184 shots. In one less game last season, he took just 108 – a difference of 76.
This increase is partially a result of the larger role that Pastrnak is playing for the B's this season. Ex-head coach Claude Julien relied on Pastrnak much more for the Bruins this season, as Pastrnak has averaged 17:53 on the ice per game. Not much has changed under Bruce Cassidy, either. In the four games since Cassidy took over behind the bench, Pastrnak has averaged just under 17 minutes per game. This is a huge boost from the 13:57 that he averaged per game last season.
Defensive Development Has Been Key
Pastrnak's increased role, however, has not merely been a result of his offensive emergence. The winger has also developed his defensive game quite a bit, which is especially important since his defense was considered his weak-point not too long ago.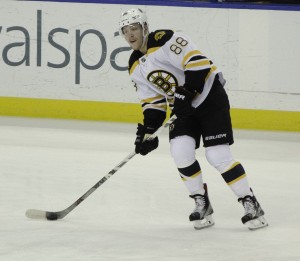 Undoubtedly, the time he spent on Patrice Bergeron's wing was extremely valuable for Pastrnak, who soaked up quite a bit of knowledge on defensive responsibility from the three-time Selke Trophy winner. This isn't the first time we've seen Bergeron elevate his linemate's defensive games (he did the same with Brad Marchand), and it probably won't be the last.
This step is a huge one for Pastrnak, as it sets him up to become an elite two-way forward. He's already proven to the NHL that his hands and speed are worth respecting, and his shot has left plenty of goalies wondering what (didn't) hit them. If he can continue to fine-tune his defensive game, then Pastrnak will become an invaluable asset to the Bruins, and one that they can rely on for a long time.
All things considered, Pastrnak has somehow managed to exceed expectations for the Bruins this season. That's a pretty hefty statement since the bar was set pretty high for his development coming in. He's been hot once again of late, tallying seven points in his five games, and the Bruins would like to see that continue if they hope to be playing playoff hockey two months from now.