Hockey has become a young man's game. Teams around the National Hockey League are striving to bring in younger players and groom them for long lasting careers. Trying to match wits with their competitors, the Boston Bruins are looking to the draft and farm system to help a team during a much needed transitional phase.
You can be sure that David Pastrnak will be at the top of the list to change the culture of the black and gold. Pastrnak, entering his third season in Beantown, heads up a youth movement among the forward ranks which features Ryan Spooner, Frank Vatrano, Austin Czarnik and Noel Acciari currently on the roster. Waiting in the wings are guys like Jake DeBrusk, Zach Senyshyn, Danton Heinen and Anders Bjork. Pastrnak's development as a premiere talent will be closely watched in the upcoming seasons but in the meantime, he has to show the Bruins why he is ready to take on more responsibility.
Strengths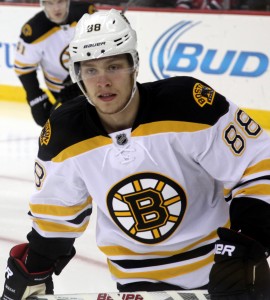 Pastrnak is a productive player, there is no question about that. The Bruins' first round pick in 2014 has amassed 25 goals and 28 assists for 53 points in 97 games, putting his career points per game average at 0.55. He has averaged a little under 14 minutes per game as a second or third line player but will get a bump up once the season begins. One statistic that stands out the most has to be the five game-winning goals he has scored for the Bruins in two seasons. It shows that Pastrnak can be depended upon to provide offense in dicey situations.
The 25th overall selection in the 2014 NHL Entry Draft has a knack for creating offense, whether it's dangling through defenders, putting quality shots on goal or setting up a teammate. Offense comes easily to Pastrnak, and it shows when you watch him on the ice. The more surprising aspect is the fact that Pastrnak has accomplished quite a bit for only being 20-years-old.
His track record in international competition has also been impressive. In 14 games at the World Junior Championships, Pastrnak contributed three goals and 11 assists for 14 points. Of the three goals, two of them were game winners. The Havirov, Czech Republic native also put up a goal and five assists for six points in eight games at two World Championships. While he didn't produce a single point during his three-game run for the Czech Republic at the World Cup of Hockey, he created offensive opportunities in the absence of Jaromir Jagr and fellow teammate David Krejci.
Off to a Great Start
While only in his third season, the Bruins are looking to lean on Pastrnak more to become a vital part of their offense. With the rumors surrounding David Krejci and his possible departure because of cap-related issues, it was imperative that "Pasta" have a productive start to the season. Well, he answered all the prayers of Bruins fans through the first couple of weeks. His four-point performance in the opening contest against the Columbus Blue Jackets showed his flair for answering critics in the best possible way. The Bruins makeshift top line of Pastrnak, David Backes and Brad Marchand scored all six of the goals and were all equally impressive.
Pastrnak continued his streak by putting up three points in the next three games. He scored the lone goal in a crushing 4-1 loss against Toronto and tallied the game-winning goal in a 4-1 win over the Winnipeg Jets two days later. He was held off the scoresheet during losses to the Montreal Canadiens and Minnesota Wild but got back to his scoring ways in a Wednesday night rivalry game against the New York Rangers. Pastrnak scored just 10 seconds into the game on a beautiful play that was set up by Brad Marchand.
His presence was well-known in that game, from an offensive and physical standpoint. However, a hit in the second period by Pastrnak would lead to his first ever suspension at the NHL level. His hit on Rangers defenseman Dan Girardi in the neutral zone sent him to the box for an illegal check to the head. As per league guidelines, a call of this nature gets looked at by the NHL's Department of Player Safety. "Pasta" received a two-game suspension and will return to the lineup Thursday against the Tampa Bay Lightning. He was among the league leaders in shots on goal prior to his suspension with 26 shots in seven games played.
Future Looks Bright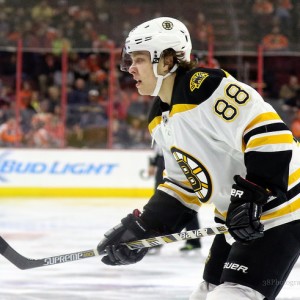 Getting off to a great start is exactly what Pastrnak needed. His numbers during his first two seasons, while solid given his age, seemed to be just a little short of the team's expectations. His work ethic and physical play have improved greatly during his first seven games. Consistency has been an issue for the Bruins over the last two seasons so having one of their top players come out of the gate playing at a high level helps tremendously.
Setting up on the wing opposite players like Marchand, Backes and Patrice Bergeron also helps with your confidence and consistency. Marchand spent last season lighting the lamp with 37 goals but this year, he's been setting up more opportunities for other Bruins. Pastrnak's shot count is a proponent of Marchand's new-found playmaking ability and the youngster seems to be reaping the rewards.
Once he comes back from his suspension, there is no doubt that Pastrnak will continue to thrive in Boston. There's plenty of hope for this team as long as they can stay healthy for the rest of the year following a slew of key injuries early on. After the first month of the season, a record of .500 is better than what most people were expecting. Pastrnak's star is on the rise and hopefully, his consistency rubs off on a Bruins team that desperately needs to get back into the playoffs.