Yesterday was an NHL free day as Halloween took center stage and hockey action a back seat. The result is 12 games in the NHL on Tuesday and 24 of the 30 teams — about 552 players — battling it out in fantasy hockey action. Who should you pick? What games should you focus on? There are lots of ways to go, but below are some suggestions you may wan to consider.
Sunday's Games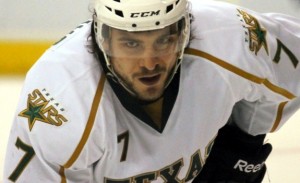 Before the Halloween break, Sunday treated NHL fans to eight games. The highlights were a 31 save shutout by Ottawa Senators goaltender Craig Anderson in a moving performance, a ton of points by Michael Grabner and J.T. Miller in a 6-1 victory by the New York Rangers over the Tampa Bay Lightning and a fantastic fantasy knockout by Colton Sceviour of the Florida Panthers.
Tonight's Games
Dallas Stars at Columbus Blue Jackets
St. Louis Blues at New York Rangers
Boston Bruins at Florida Panthers
Carolina Hurricanes at Ottawa Senators
Edmonton Oilers at Toronto Maple Leafs
Tampa Bay Lightning at New York Islanders
Buffalo Sabres at Minnesota Wild
Washington Capitals at Winnipeg Jets
Calgary Flames at Chicago Blackhawks
Nasvhille Predators at Colorado Avalanche
San Jose Sharks at Arizona Coyotes
Anaheim Ducks at Los Angeles Kings
Centers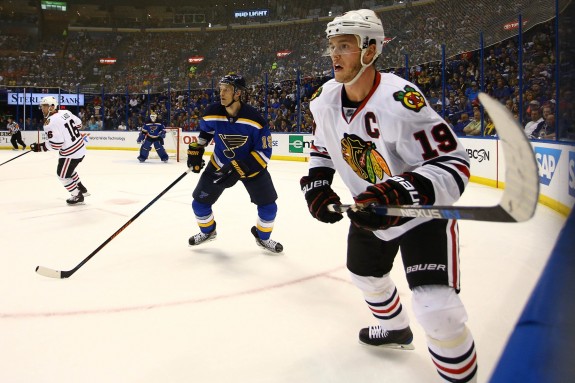 Jonathan Toews ($5700 – $6400)
Toews has started to heat up a bit for the Chicago Blackhawks. Befor his fantasy price tag goes up, it might be a good idea to take him. He'll be playing at home to a 4-5-1 Calgary Flames team who rank 25th in the NHL for goals against per game.
Typically for players like Toews who can score a lot in a single season, netting his first goal in game nine of the NHL season is rare. What isn't rare for goal scorers when they finally get that monkey off their back is to see goals start flowing in. Toews has scored exactly 28 goals in each of his last three seasons. At the pace he was at this year, he'd have scored 9 goals. Take advantage of the fact that he'll need to score  just under 3.5 goals for every 8 games now to finish at 28. He's the kind of player who could do it.
Tyler Seguin ($7700)
Even in a shutout loss to the Wild, Seguin put up some fantasy points. I don't believe the Stars get shutout against Blue Jackets and Dallas should get a lot of shots against the 28th ranked team in the NHL for shots allowed per game.
Forwards
Jeff Skinner ($6100)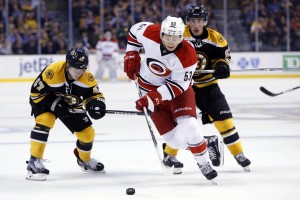 Carolina will play a 5-3-0 Ottawa Senators team who just came off a moral and literal victory over the Edmonton Oilers. The Oilers outplayed the Senators in that game, but goaltender Craig Anderson stood on his head. Sometimes with those victories where there is almost a higher-power at work, comes a let down of sorts the next time out and Skinner is on fire his last two games. He might be a good choice on Tuesday.
Skinner has 11 points in seven games, has eight points in his last four games and has been a fantasy player's dream pick in three of his last four outings.
Defense
Alec Martinez ($4600)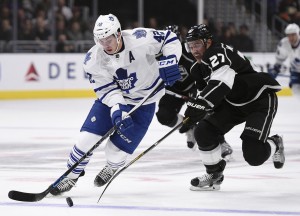 He's a good price and obtaining a good amount of points for fantasy players. Martinez has seven points in nine games and even when he isn't on the score sheet, he's doing things like blocking shots or getting shots on net to make him a safe selection in fantasy play. He's at home playing an Anaheim team who is middle of the pack in the NHL for shots on goal per game, goals against per game and under average in power play goals against per game. Martinez should get some points.
Travis Hamonic ($3700)
He's had two great outings in a row for fantasy play and his price is still quite low for a defenseman. It could be that his last two games are an anomaly, so take Hamonic with caution. He does have five points in nine games and could pay off.
Goaltender
Devan Dubnyk ($8100)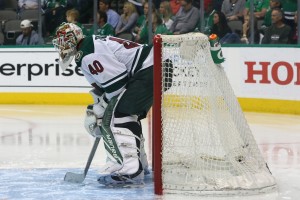 Dubnyk pitched his third consecutive shutout Saturday, stopping all 29 shots he faced against the Stars. I don't know what else you can say. Getting a fourth is unlikely, but he's going up against at team that ranks 21st in the NHL in goals per game and 28th in shots per game.
Dubnyk is 5-1-1 with a .952 save percentage. He's faced closed to 30 shots per game in his last five starts, so he's hot even when facing a lot of opposing pressure.
If he plays for the Wild, and he should, he's one of the few locks in net that you'd have to find a reason not to take.