Heading into the 2016-17 NHL season the Boston Bruins had a lot of question marks. Many of those questions circulated around the state of the Bruin's defensive unit, but in the background were doubts about the forwards as well. One particular unknown was how the Bruins would manage at right wing after losing Loui Eriksson to free agency. Eriksson was on the top line last season and the veteran netted 30 goals.
Although it was clear David Pastrnak would get to start the year on the top line many wondered if the young first-round draft pick would be able to step up and produce in his new role. Just five games into the 2016-17 season, it appears Pastrnak has quieted many of those doubts.
Pastrnak's First Two Seasons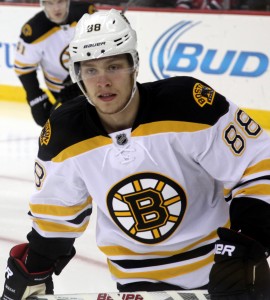 The transition to the NHL for any young player, no matter how talented, is a difficult one. The road is usually filled with ups and downs between good plays and costly mistakes. Pastrnak is no exception to the large learning curve a player goes through while figuring out the NHL game. In his 97 NHL games, Pastrnak showed some offensive creativity as he registered 57 points.
While he was brilliant at times, he had his fair share of problems. He showed that he was prone to make mistakes that turned into prime scoring chances against the Bruins. On top of that, he looked unsure of himself and was hesitant to make plays at times. These types of errors are to be expected from any young player, especially in their first two years.
Year Three
The third season for an NHL player is an important one because it is when you find out if a player can take the next step forward or not. So far, Pastrnak has shown that he is going to be a force for the Bruins. According to NHL.com, in the opening game of the season he posted a four-point effort against the Blue Jackets. He followed that up by recording a point in each of the next three games.
After game five, he was already credited with four goals and seven points. His strong start to this season has impressed fans and even coach Claude Julien. This leaves us asking, what are the factors that have contributed to Pastrnak's early success?
Julien on Pastrnak: "He's a young player who's matured into the player we thought he was going to be."

— Boston Bruins (@NHLBruins) October 21, 2016
Added Size
According to HockeyDB.com, Pastrnak stands at 6 feet tall and 181 pounds. He has been listed as such since he came into the league, but he looks bigger this season. It appears he has added some weight to be closer to the 190-pound mark. This has enabled him to be more active in battles along the boards. He is not an overly physical player by any means, but the ability to win board battles is helping him make more plays.
One example of this comes from Thursday night's game against the New Jersey Devils. Pastrnak was able to win a battle behind the net by using his body and make a pass to Brad Marchand. The play resulted in Patrice Bergeron scoring the game winner with just over a minute left in the third period. Plays like this are a vast improvement from the player we have seen the past two seasons.

Confidence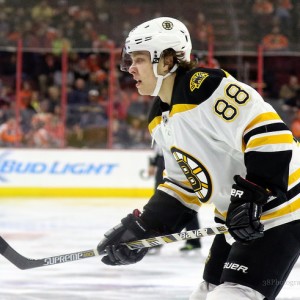 Confidence is a word tossed around a lot in professional sports, as it plays a prominent role in the performance of a player or a team. As previously stated, when Pastrnak first came to the NHL he looked to be afraid of making mistakes and was hesitant, a usual sign of a lack of belief in your ability.
This season, he seems to be oozing with confidence. There looks to be no doubt in his mind that he is capable of playing at a high level. This is perhaps the biggest factor in his success so far. When he gets the puck, he skates with speed and appears to know exactly what he wants to do. He is making crisp, smart passes in both the offensive and defensive zone.
As a result, he is getting the puck to the net on a regular basis. This has lead him to make fewer mistakes and put more points on the board. He no longer looks like a kid trying to find his way in the league, but instead has the appearance of a first line player that belongs in the upper tier of NHL forwards.
The New System
In training camp, Julien told the media that he wanted the Bruins to play with more speed. He was looking for a faster transition game from the defensive zone through the neutral zone. This is a relatively big change from his usual slower approach. While this new system is a work in progress for the team, it is a philosophy that has allowed Pastrnak's game to thrive.
Pastrnak is now allowed to carry the puck into the offensive zone instead of dumping it in once he crosses the red line. Once he enters the offensive end, he can use his creatively to set up a play and get shots to the net. At various times last season he was benched for attempting to make such plays. This style of Bruins hockey will definitely show us the best of Pastrnak this year.
---
Complete Bruins Coverage From THW
---
 Looking Ahead
We are just five games into the long 2016-17 season, so one focus for Pastrnak will be to remain consistent. If he can stay healthy and keep his early season confidence going then a big point total can be expected. At this point, I think we can look for Pastrnak to put up somewhere between 55 to 60 points and at least 25 goals. Being on a line with Marchand and Bergeron will certainly help his point totals rise. One thing for sure is Pastrnak is giving the Bruins a lot to be excited about moving forward.