After a busy weekend in the NHL, there are two games on the NHL schedule on Monday. Both games showcase high scoring teams versus teams that let in a lot of goals. As a result, I'll be sticking mostly to the Montreal Canadiens and the Chicago Blackhawks when making my fantasy selections.
This Past Weekend's Games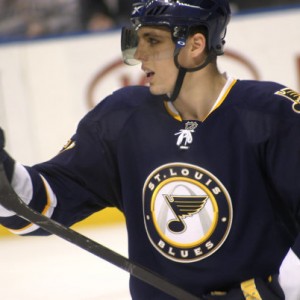 Vancouver finally lost going down in overtime to the Los Angeles Kings on Saturday. The Canucks followed that up with a 4-2 loss to Anaheim regulation on Sunday. Meanwhile, the Edmonton Oilers stayed hot, winning the Heritage Classic outdoor game versus the Winnipeg Jets and in the Eastern Division, Montreal surged ahead of the pack.
David Perron of the St. Louis Blues and Jakub Voracek of the Philadelphia Flyers took home some of the best fantasy scores of the weekend for fowards, while Brent Burns, Mike Green and Erik Karlsson have the early lead for defenders. For goaltenders, it was Sergei Bobrovsky and Cam Talbot (both with shutouts) that would have earned you the most points.
If you took any Dallas Stars, Winnipeg Jets or Pittsburgh Penguins, you probably didn't fare so well.
Related – Fantasy Daily Cheat Sheet: Oct. 22, 2016
Tonight's Games
Philadelphia Flyers at Montreal Canadiens
Calgary Flames at Chicago Blackhawks
Center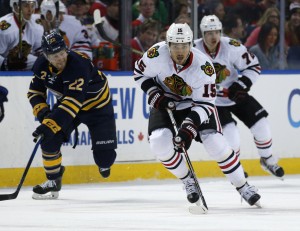 Alex Galchenyuk ($6200)
His most recent game against the Bruins was Galchenyuk's worst game of the season (for fantasy points) but that doesn't make him a bad choice. Montreal is first in the NHL for goals scored per game and they'll be playing a Flyers team who is sixth worst in that area. Galchenyuk has been steady and less streaky than someone like Tomas Plekanec, so at his price, he's a solid selection with little downside.
Artem Anisimov ($5200)
Chicago is second only in goals for to the Edmonton Oilers. Anisimov has been leading that charge on many nights as Jonathan Toews has gotten off to a very slow start. Anisimov exploded for four points Tuesday night in a 7-4 win over the Flyers, he followed that up with an assist and three shots against Columbus, then scored twice on two shots against the Maple Leafs on Saturday. He's the highest ranked center for fantasy points per game on Monday and he's the third highest price. It just makes sense to take him.
Forwards
Brendan Gallagher ($6600)
For the same reasons I took Galchenyuk, I'll take Brendan Gallagher. He's leading the way for wingers on a Montreal team that scores a ton of goals. He's got five points in five games and he got his third goal of the season in Saturday's 4-2 victory over the Bruins.
Gallagher seems to be on the upswing and if he continues at his pace, he'll quickly become one of the more expensive options in fantasy play.
Artemi Panarin ($6800)
Of the dynamic wingers available in play on Monday, Panarin is probably the best one at the most valued rate. He's been good for the most part, but he's had two games where he (and many of the Blackhawks that evening) were held off the scoresheet. As such, his fantasy points per game ratio is lower than it probably should be. Panarin has the ability to hit a fantasy home run for any team. For that reason, he's a fairly simple choice.
Defense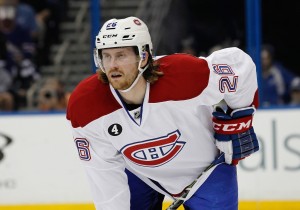 Jeff Petry ($4300)
It may be a matter of time before Jeff Petry comes crashing back down to reality — he's not a historically strong offensive defenseman — but to start the season he's ranked just outside the top 15 in defense scoring with four points in four games. He's production has dipped his last two games, but Petry notched a pair of assists, three hits and four blocked shots in Tuesday's 4-0 shutout of the Penguins.
Goaltender
Carey Price ($8300)
Price is scheduled to get the start on Monday. He's back from illness/injury having now played two games and he was good in both starts. Price is the kind of goalie who is going to get better and not worse, so he should be good for a win here at home and with two goaltenders getting shutouts in the last two days, perhaps he could make it three days in a row.
Value Pick
Tyler Motte ($3600)
While Chicago lost the game, Motte scored his first career goal during Friday's loss to Columbus. He followed it up with another goal the next game against Toronto. Motte has four points through the first six games of the season, and he's worked his way into a top-six role on the Blackhawks. With only two games on the schedule, fantasy teams will need one or two lower price selections to make a difference. Perhaps Motte could be one of those players.