The New York Rangers officially announced Wednesday that they will be buying out the contract of veteran defender Dan Girardi on Thursday when the buyout window opens. Girardi was set to make $5.5 million for each of the next three seasons prior to this transaction. Per CapFriendly, the Rangers will save money over the next three seasons but will be tasked with paying Girardi for the three subsequent years. The buyout cap hit breaks down as follows from the 2017-18 season until the 2022-23 season: $2,611,111 (2017-18), $3,611,111 (2018-19), $3,611,111 (2019-20), $1,111,111 (2020-21), $1,111,111 (2021-22) and finally $1,111,111 (2022-23).
OFFICIAL: #NYR will buy out the contract of defenseman Dan Girardi. pic.twitter.com/pZIkuiGGKL

— New York Rangers (@NYRangers) June 14, 2017
Girardi was undrafted coming out of the OHL and has spent his entire NHL career with the Rangers organization. Debuting in 2006-07, Girardi has played in 788 games over 11 seasons, scoring 46 goals and 230 points in that time. Additionally, he's suited up for 122 playoff games, scoring six goals and 33 points. With the Rangers needing salary cap flexibility to pay their current free agents while also opening an extra protection spot ahead of the Expansion Draft, Girardi was simply the casualty in the situation.
Though he is no longer a member of the Rangers, his hard work and commitment to the franchise have not gone unnoticed.
"Dan's contributions to the New York Rangers organization have been immeasurable," said Rangers' president Glen Sather. "He has been a role model through his relentless determination, giving everything he had to this organization both on and off the ice. He, Pam, Landon and Shaye will always be part of the Rangers family."
Adding to the words of Sather, Rangers' general manager Jeff Gorton said of Girardi:
"I would like to thank Dan for everything he has given of himself to the Rangers over 11 seasons. He has been one of the key contributors to our success over the past decade. We have the utmost respect for Dan and wish him all the best going forward."
New Chapter Moving Forward
For Girardi, this is unchartered territory. With the upcoming NHL Expansion Draft, Entry Draft and start of free agency right around the corner, the timetable of events in the NHL is as busy as it will ever be. The 33-year-old defender will likely gauge all of the options that are presented to him before ultimately making a decision on what he'll be doing next. Many teams could use a veteran defender in their lineup. Girardi may not be an option for a team on the blueline anymore, in fact, his play has steadily declined over the last few seasons, but he could still be a good veteran presence to have in a locker room for a young team looking to utilize him in a situation better suited to his current abilities.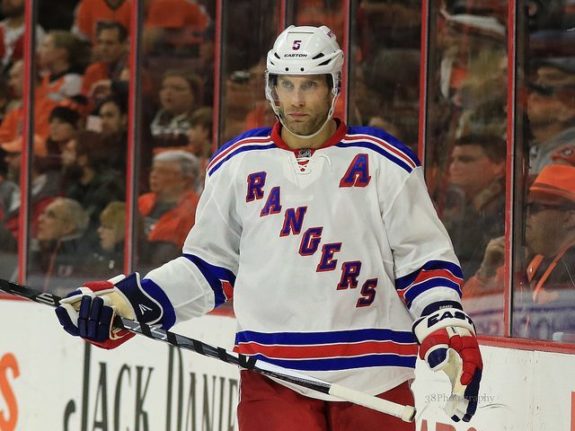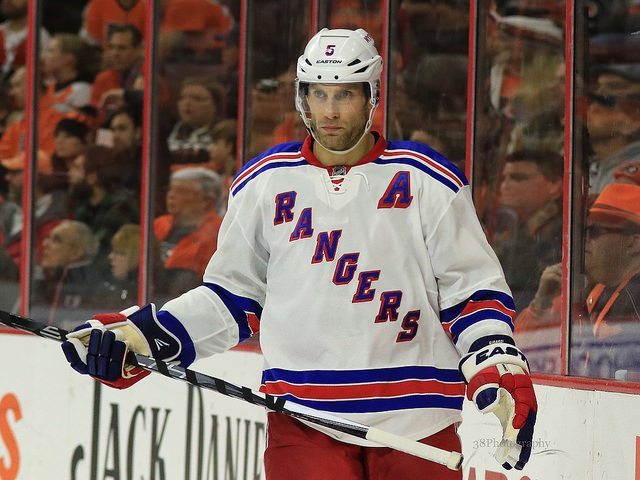 With four goals and 15 points in 63 games last season, it's clear that Girardi isn't going to be much of a point producer for any team he might land with for next season. Still, his leadership and experience are without question. For now, Girardi will likely let the situation sink in as he will join another team for the first time in his career, should there happen to be a mutual interest on the market.
Below is a message that Dan Girardi wrote to the Rangers organization and fanbase. The original message can be found on the Rangers' official website here.
Dan Girardi's Message to the Rangers
I would like to take this opportunity to thank the New York Rangers organization for giving me the opportunity to fulfill my childhood dream of playing in the National Hockey League. I would also like to thank James Dolan, Glen Sather, Jim Schoenfeld, Jeff Gorton, John Rosasco, Jason Vogel, all of the coaches and front office staff, Jim Ramsay and his amazing training staff, the equipment staff, and all the Madison Square Garden employees for making my past 11 years so special.

I have spent one-third of my life as a New Yorker and as a New York Ranger. New York will always be our second home. I started my family here, got married to my wife Pam, and had our two children, Landon and Shaye. We have been fortunate to meet so many great people and our kids have made so many friends.

I also wanted to thank all of the Blueshirt faithful. You are one of the best and most passionate fan bases in the NHL. I appreciate your support over the years.

I poured my heart and soul into this team for the past 11 seasons and I enjoyed every minute of it. I want to acknowledge that the Rangers are a first class organization who have always treated our players in a first class fashion. My family and I are most grateful for the way we have been treated during our stay in New York.

Lastly, I want to acknowledge how great it has been to play alongside all of my teammates, including some Hall of Famers, for the past 11 years. I am going to miss all of the friends I have made along the way, but my family and I are looking forward to the next chapter in our lives. I wish the Rangers good luck and success in the future.

Sincerely,
Dan