It's setting up to be a very, very busy offseason for the Boston Bruins. Between the NHL Draft, the Las Vegas Expansion Draft, and the flurry of trade rumors, Bruins fans are in for a ride that will likely have more twists and turns than they're used to.
Amid the summer chaos, are numerous trade options. Many people expect the Bruins to add a left-winger to slot in alongside David Krejci, and the B's may also be in the market for a left-shot defenseman.
With a plethora of young prospects working their way throughout the system (particularly on defense), the B's may be tempted to deal one or two away in an effort to bolster their roster. Defenseman Brandon Carlo is one name being tossed around in trade rumors linked to the Colorado Avalanche's Matt Duchene and Gabriel Landeskog. This, of course, urges the question: Should the B's pull the trigger and deal Carlo?
Brandon Carlo's Future with the Bruins
Carlo had a dynamite rookie season. As one of only three Bruins to play in every game this season (and the only defenseman to do so), Carlo was a reliable lock-down defenseman in Boston's own end. While paired with Zdeno Chara, the two were Boston's go-to unit when they needed a strong defensive shift, and Carlo rarely failed to make the right play in the defensive zone. And, while he isn't an offensive defenseman, he came up big in the offensive zone a few times with his powerful shot.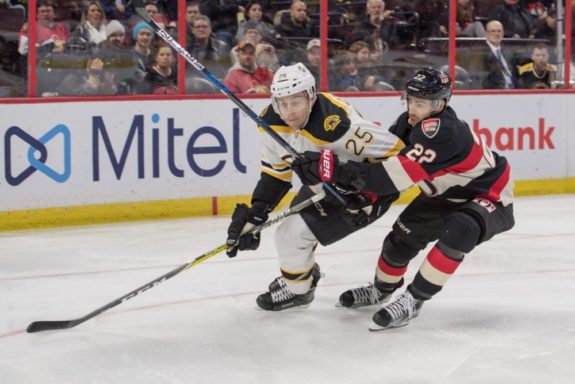 On top of that, Carlo was a workhorse. He averaged the third-highest ice time per game at 20:49, behind only Chara and Torey Krug. His 25.4 shifts per game also ranked third on the team.
That amount of ice time proves that Boston's coaching staff, both ex-head coach Claude Julien (who, fair or unfair, has been known to limit the chances of young players) and current head coach Bruce Cassidy, had a lot of faith in the youngster. That's especially telling for a young defenseman, since one mistake on defense can lead to an opposing goal, whereas forwards are more likely to escape their mistakes without punishment.
Bruins Finally Have Direction
How does Carlo fit into the organization's plans moving forward? Well, he fits like a glove.
For the past few years, the Bruins have been stuck between a rock and a hard place with a roster that was a bit too old and outdated to compete for a Cup, but also one that was too talented to sell out and begin a rebuild. As a result, the Bruins were stuck in no man's land, waiting for some change to come along to spark a new age of Bruins hockey.
Guess what? That change is finally coming. The Bruins have a very exciting new wave of players that are now beginning to show their faces at the NHL level, and the impact of that is clear. The B's just named Kevin Dean, who served with Providence for six seasons, as their new assistant coach which has everything to do with the young players he has worked with breaking into the NHL scene.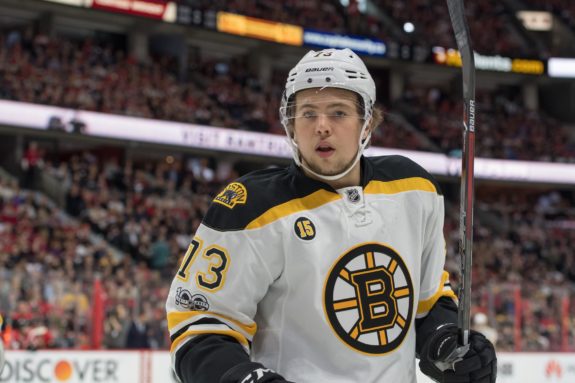 At the core of the new player's movement, particularly on the defensive side, are two young prospects: Charlie McAvoy and Carlo. McAvoy will provide the Bruins with a two-way, offensive threat on the blue line, while Carlo is on track to become a very strong lock-down defensive defenseman (they've got him paired with Chara for a reason). The two defensemen play very different styles of hockey, but as a combo, they cover the needs of Boston's future blue line very well.
Bruins Should Hold Onto Carlo
With every season, the NHL seems to be headed more and more towards a speed-friendly, goal-scoring style of play (take a look at Pittsburgh's success over the last two seasons) which means having a pair of promising young defenseman like McAvoy and Carlo is invaluable.
As the era of Chara as the center of Boston's blue line draws closer to its end, the Bruins have a pair of youngsters waiting to take the reigns as the next age of Boston's defense. As it looks right now, they're the perfect duo to usher Boston into a new era of Bruins hockey. Even with the depth they have on defense, trading that away for a player like Duchene would be short-sighted.