With the NHL offseason officially upon us, the Toronto Maple Leafs will be looking towards the 2017-18 season with hopes of taking another step forward in becoming a competitive NHL franchise. Part of that will rely on whether or not the team can find a way to upgrade their defence – an upgrade they might look to the trading block or free agency to fulfill.
While rumours have already spilled over social media, I'm joined once again by Fusco, Slawson and Langridge to discuss what route the Leafs will take in furthering their competitiveness on this week's edition of the Maple Leafs Roundtable.
Should the Leafs be targeting Sami Vatanen? What would be a fair offer in your opinion?
Forbes: There have been rumours swirling that the Leafs are after a defenceman and in talks with the Ducks – a well-known trade partner over the years. Vatanen's name has been tossed around in discussions, but as it is with all rumours, there's nothing concrete and no clear sources to bank on.
That being said, Vatanen would fit into the fold nicely with the Leafs who could use a top-four, puck mover like the 26-year-old defender. He's still young and has a lot of great hockey ahead of him.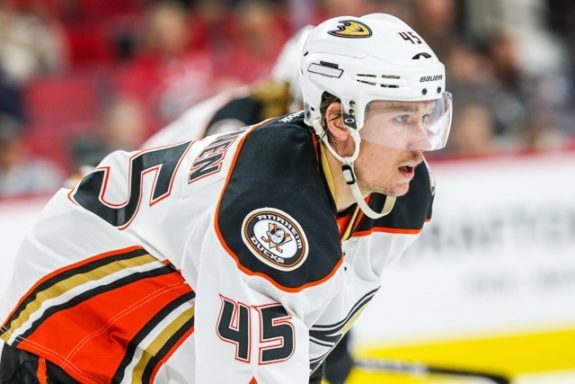 That being said, the Leafs will need to give up a fair amount to get their hands on a guy like Vatanen. Even though the Ducks won't be able to protect all of their defensemen, they hold the upper hand when it comes to negotiations.
Chances are that van Riemsdyk will be on a shortlist of players wanted by the Ducks with prospects and picks used as secondary pieces in any trade involving Vatanen.
As Andrew Berkshire of Sportsnet writes, the Leafs likely won't move JVR without the guarantee of a defenceman that fits their needs and one who has term left on their contract.
That being said, the Ducks will need something back that they don't need to protect – that's where the secondary pieces would come in.
Fusco: I think that the Leafs should be targeting Vatanen. He's a skilled, reliable and young defenceman that would fit with the Leafs' current group.
The Leafs are always looking for puck-moving players to help with the breakout and that is one of the skills that Vatanen excels at. The price point is a bit difficult.
I don't expect Vatanen to come cheap. I could see it breaking down in one of two ways. The first is that the Ducks will be asking for a player like James van Riemsdyk. He's incredibly skilled and his big body would bode well for Western Conference hockey. He would be the main part of a deal.
The second option involved high picks and prospects. The Leafs have done a great job of restocking the cupboard in the last couple of years, but acquiring a player like Vatanen will force the Leafs to dip into their stock.
Slawson: Whether or not the Leafs are specifically targeting Vatanen is, quite obviously, not definitively known. However, with that being said, Toronto would be silly to not at least inquire about his services. As an experienced right-shot defenceman with oodles of experience and offensive upside, Vatanen would be an incredible upgrade to a fairly thin Leafs blue line.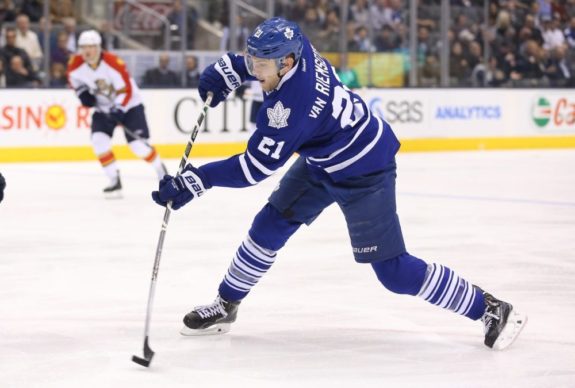 If Toronto were to negotiate a trade for the Jyväskylä, Finland, native, it would have to be a monumental deal. With the Ducks set defensively as well as at center, the Leafs would likely have to dangle van Riemsdyk in addition to multiple other pieces in order to nab Vatanen.
Although Anaheim has tremendous size, they lack a sizeable, experienced and consistent left winger. Dealing from a position of strength, the Ducks would be able to command a combination of valuable assets from Toronto, meaning that the Leafs would likely have to overpay for Vatanen's services. However, at the end of the day, Toronto remains in desperate need of defensive aid and would improve greatly upon Vatanen's acquisition – if the deal is right that is.
Langridge: No and not because they don't need a right-handed defenceman like Vatanen. The 5'10" Finn will more than likely be traded this offseason and there will be a lot of interest which will surely start a bidding war.
A team overpaying for him is sure to happen and the Leafs should not get involved in that game. If there was any type of deal, it would be Vatanen for van Riemsdyk in a one-for-one deal. Both the Leafs and Ducks get what they need. The Leafs improve their defence while the Ducks improve their wing depth.
With the talent pool where it is with this roster, does it make the Leafs a targeted destination for free agents now? Should they look down this road over the next couple seasons?
Forbes: It sure has become a target destination for free agents. The same way that players want to play with the likes of Sidney Crosby and Connor McDavid, they would love a chance to play with a guy like Auston Matthews.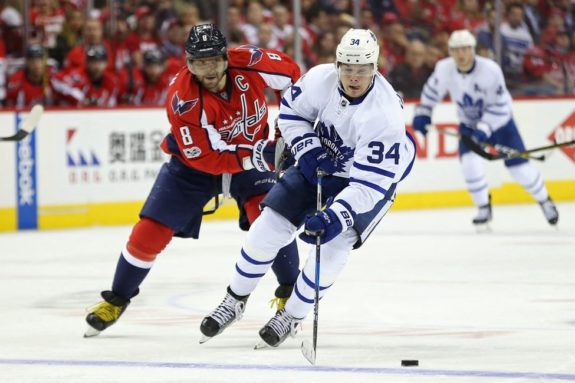 That being said, the Leafs and their fans need to trust the process. Look at the Penguins. They built their team through the draft before the acquired the key pieces in free agency and through trading like Phil Kessel and Patric Hornqvist. Guys like Rust, Sheary and others were developed within the organization. That's what the Leafs need to do before the move in on the free agents.
When the time comes to throw some money at pending UFAs, they also need to make sure they don't overpay for players that are well past their prime. If they can grab a few key guys to fill in holes along the way, that will give the Leafs a shot at becoming a competitive contender in the near future. But before then, they need to trust the process and do things the right way.
Fusco: I say yes it does. For far too long the Leafs weren't able to attract top-of-the-line talent. Now with the resurgence and all the young and skilled players, it should make the process much easier.
The Leafs will now have a legitimate shot at contending for the Cup. Their window is going to open and being able to add those key free agents into the mix could be the deciding factor. It's a great place to be in, as the Leafs have truly turned a corner.
Slawson: Absolutely it does.
The Leafs are closer to legitimately competing now than they have been in quite some time, making them a highly attractive team to pending free agents. However, the free agents which Toronto attracts will depend largely upon their position, as the Leafs are in the midst of developing a deep and comprehensive team. With a wealth of offensive prospects, it will be primarily defensemen who will look to Toronto as a potential landing spot given the number of positions currently available.
With regards to the Leafs' long-term outlook, free agents could play a major role in the organization's future success – much like they have with the vast majority of past Cup winning teams. Yet, whether or not Toronto will become dependant upon free agency depends on their ability to draft and develop from within. If the team can grow its young players and develop a sound roster in the process, landing the odd free agent could become rather unnecessary.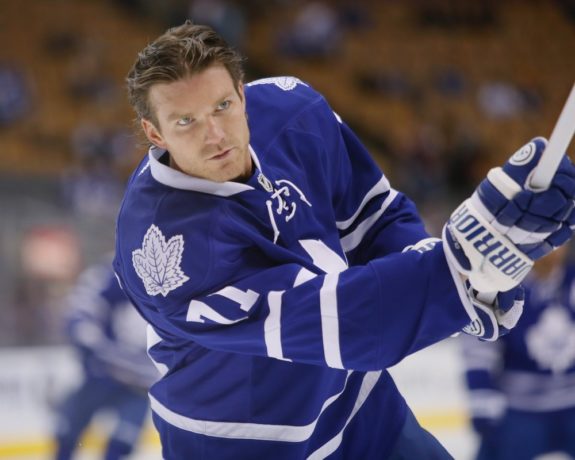 Unless a player such as John Tavares or conversely an elite-level defender is determined to don the blue and white, I wouldn't expect the Leafs to depend too heavily on free agents, although they do possess the potential to lead a team on a long playoff run.
Langridge: Have you ever been to a restaurant and had trouble choosing because there was just so much to choose from? Well, the Leafs could be entering that situation with free agency. With the Leafs getting better and closer to contention, the amount of free agents that want to come to Toronto should go up.
That means Brendan Shanahan and Lou Lamoriello will have their choice of players to bring to the Leafs. However, they still have to do their due diligence in bringing in the right players. We don't need another David Clarkson situation.
There's no guarantee that the Leafs make a big move to grab a defenceman this offseason. After all, they have stockpiled their minor system and are starting to learn the keys to developing within. But if the right deal comes around, it seems like the panel agrees that they should consider acquiring that top end defenceman. Either way, it's not the time to get over-zealous and jump into anything. Let's see what the Leafs got in their two Swedish defenders and only then will we know what road needs to be taken.