With so many young kids dreaming of one day being drafted into the NHL, it's easy for a few prospects to fall in the shadow of the limelight. The game has spread to the corners of the world, and now there's more talent to be discovered than ever before. Having to evaluate these kids at such a young age makes it inevitable that some tremendous players will slip through the cracks.
As a result, we are going to skim through the Junior leagues across Europe and Asia in search of young talent flying under the radar, hopefully bringing some deserving players onto center stage.
Today's spotlight shines on Libor Zábranský.
Libor Zábranský
Personal Information –
Birthplace: Brno, Czech Republic
Birthday: May 26th, 2000
Size: 6'1″, 181 pounds
Position: Defence
Shoots: Right
NHL Draft Eligible in: 2018
2016-17 Team: HC Kometa Brno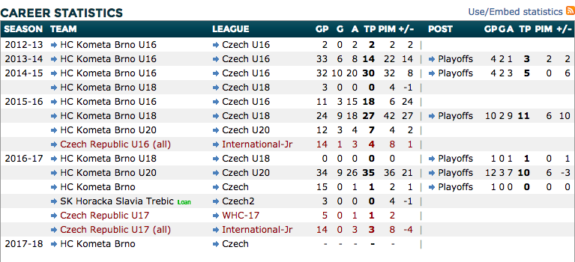 Libor Zábranský is a 17-year-old from the Czech Republic. His father, Libor, was drafted in 1995 by the St. Louis Blues, 209th overall. He played in North America for two years, including 40 NHL games.
Zábranský spent the majority of the 2016-17 season in the Czech U20 league. Playing amongst older players, he found success as an offensive defenceman. In a group of just six players under 17 who played full-time, Zábranský was easily the most effective. He led the group in points per game (1.03) despite being a defender.
Zábranský's was also ranked as high when looking from a league-wide perspective. Among all defencemen, he ranked second in points per game – Lukas Kanak, born in 1997, had 1.14 points per game – and was fifth in goals scored with nine.
Scouting Report
Zábranský projects to be a smooth skating, two-way defenceman. Obviously, he has tremendous offensive upside, which is where the excitement will primarily come from. As of this year, he was able to fit into a league where not many 17-year-olds find success. Plain and simple.
That he was able to earn 15 games in Czech Republic's Extraliga is another testament to how his coaches see him and the potential they know is within. He is playing ahead of his age group and successfully.
Dnes slaví své 17. narozeniny Libor #Zábranský mladší. Vše nejlepší a mnoho úspěchů. #TELH @juniorskyhokej #matosmysl pic.twitter.com/0WvDYBakjx

— HC Kometa Brno (@HCKometa) May 26, 2017
Zábranský is able to join the rush on the fly and pinch to create odd-man rushes. He sees the ice well and is able to decide when it is safe to jump into the play and when to linger back. In his own end, he controls his gaps very well and is already strong enough to box out opponents who are older and stronger. He uses his stick well to strip the puck and intercept passes.
When in the offensive zone, Zábranský picks his shooting lanes well; finding holes through screens to create opportunities. During his time on the power play, he moved the puck well and set up teammates for effective one-timers.
2018 NHL Draft Projection
A year ahead of Zábranský's draft year, he is not considered to be a highly touted prospect. At this point, he is expected to be a mid-late round pick. Shocking when you watch his play and take a glance at his stats.
He is slated to play full-time in the Extraliga next year for HC Kometa Brno. If he can continue to make positive strides in his all-around game while playing against grown men, he will eventually catch the eyes of scouts as a very exciting prospect.
Historické foto! V utkání #PLZvKOM zažil debut v #TELH 16letý obránce Libor Zábranský. Na ledě strávil asi 12 minut. pic.twitter.com/lRzNcPMdSn

— HC Kometa Brno (@HCKometa) September 16, 2016
After playing for Czech Republic's U17 team this year, he should find a spot on their U18 team for the 2017 Ivan Hlinka Memorial Tournament in August as well as the 2018 IIHF U18 World Championships next April.
Playing in the Czech Republic has made it easy for Zábranský to be glanced over. However, with more time on the international stage and potential success in the Extraliga next year, his name should quickly become a familiar one.As a result of the natural talents that he possesses, along with a positively sloped learning curve, I would expect to hear Zábranský's name called in the second or third round of the 2018 NHL Draft.