A group of young, emerging star forwards?
Check.
An abundance of organizational offensive talent?
Check.
An award-winning netminder?
Check.
A defense that was statistically among the worst in the league?
*Ahem*…check.
So the course was clear for the Blue Jackets in the offseason. Make a blockbuster trade for another young, star forward.
Wait…what?
Glass Half Full?
Sure, there was a ton of excitement in Columbus following the acquisition of Brandon Saad. But after things settled down, a bit of doubt started to creep in.
Some were concerned about the lack of cap space. Others lamented the loss of the talented Marco Dano.
Then Saad played his first games in Union Blue.
While playing on a red-hot line with Ryan Johansen and Nick Foligno, the trio combined for 10 goals and 25 points in only three games. It is true that these points were scored in games that don't count, but man were some of those goals pretty.
Listening to interviews, it appears that even Saad and his teammates are surprised at how quickly the top-line has meshed.
The scary thing is that while Saad, Johansen, and Foligno are amazing talents individually, they will make each other that much better.
Their skill sets compliment each other so well that one should not be afraid to say that this is one of the top two or three best lines in the NHL. The only line that may be better is in Pittsburgh with Sidney Crosby and Phil Kessel, but the Blue Jackets top-line is very, very close.
This Saad-Johansen-Foligno line needs a name. But this cannot be forced or trite. It can only happen organically. Relax. Let it be. It will.

— Aaron Portzline (@Aportzline) October 5, 2015
In addition to giving a talented winger to Johansen, the acquisition of Saad allows Columbus to have greater depth among their forward lines. It has allowed coach Todd Richards to move Cam Atkinson to the third line with Scott Hartnell and Alexander Wennberg. The top-line gets all of the hype, but the Wennberg line should be followed closely and could be a lot of fun to watch.
Been There Done That
Saad also brings a championship pedigree to a young team that is still in the early stages of writing it's story. Having played with talented players like Jonathan Toews and Marian Hossa, at the ripe old age of 22 Saad will have wisdom to share with the young Blue Jackets squad.
Usually a team tries to mix quality veterans with championship experience together with their young, growing stars. In Saad they have that built into one player.
Scary.
The Pittsburgh native and his teammates are meshing as well off of the ice as they are on it. Frequently joking around, sometimes at each other's expense, it really does seem like a match made in heaven.
But What About the Defense?
No, Columbus general manager Jarmo Kekalainen did not go out and trade for a stud defenseman. He missed out on Christian Ehrhoff, maybe somewhat intentionally. But the Blue Jackets defense will be alright. They will improve with experience, and by simply being healthy. The safe money is on Kekalainen going out and making a deal for a quality defender prior to the trade deadline. I say again, the defense will be ok.
In it to Win it
The acquisition of Saad shows other players that the Blue Jackets are committed to winning. Maybe most importantly, it shows soon-to-be RFA Johansen that commitment.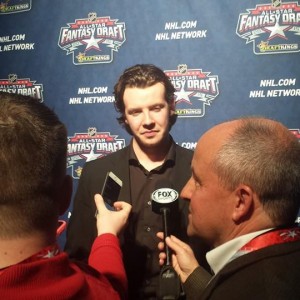 Saad locked up long-term?
Check.
Foligno locked up long-term?
Check.
Johansen locked up long-term?
Soon to be check.
Yeah, that's even scarier.
Until next time.