Matt Carkner and Zenon Konopka were hired to play in the NHL, but in Game 2 of the Rangers-Senators series, they were hired goons. Call it payback and a way to win that worked.  Ottawa's coach Paul MacLean knew how to turn the series in his favor.
Rookie Carl Hagelin elbowed Daniel Alfredsson, Brian Boyle took down and was slammed down, Brandon Dubinsky received a misconduct call for defending a teammate, and the list of antics plague this series with only two games recorded. New York has calmed down and is a buzz with their next move. Ottawa is praising Chris Neil as a hero with the overtime goal for the Sens 3-2 win. Get ready for Game 3.
Brian Boyle's pummeling of Ottawa's Erik Karlsson was a notable beating in Game 1, and the payback keeps coming. Boyle has risen as a brawler for Broadway, but has shown he can score too. Just like any young player, learning and adjusting the game is ongoing. Playoff runs and series games allow emotions to run high. Mental toughness is crucial enforcement. The Ranges have an excellent crew of Enforcers like Brandon Dubinsky, Brandon Prust and Brian Boyle who have proven their toughness in many situations.  If New York can remain mentally tough, they can take back the series. Passionate play is great as long as it doesn't get the best of the Blueshirts.
As the animosity grows in this Senators-Rangers series, the Ranges must realize they have become targets. Ottawa will use Chris Neil and Matt Carkner to stir the pot and irk New York. Caution when playing, boys. This is what the Senators want to happen.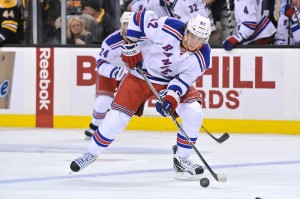 Not only do the Rangers need to shift the momentum back their way, but New York is being made example of and it's not sitting well with fans or Coach Tortorella. In a post-game interview, Torts doesn't want to overthink this situation. No changing their strategy either; he liked the way they played. This series is typical in its actions and reactions. Capitalizing on what New York can do will set the tone in Ottawa. It's not too late to swing the momentum back to the Blueshirts.
NHL disciplinarian Brendan Shanahan ruled in favor of Ottawa on this one. Matt Carkner was served a one game suspension after jumping and repeatedly sucker punching Brian Boyle, who looked like a rag doll being whipped around by a Rottweiler. Boyle couldn't defend himself. Carkner was intentional. What footage was Shanahan watching?
Supposedly, Shanahan suggested he would alter the suspension for Hagelin if Danial Alfredsson played Monday night in Ottawa. But it was NHL commissioner Gary Bettman who clarified the suspension would only be altered if the Rangers appealed, which Torts says they are not doing. Reportedly, Alfredsson has a concussion, participated in morning practice,  and will make a game-time decision if he will play.
When you get lemons, make lemonade. New York has an amazing opportunity to go in to the Senators Scotia Bank Place and be the bigger team. No antics, just play the game to win the way they have all championship season long.
Heidi has been a Rangers fan since the Gretzky years. While focusing on The Blue Line and hockey's stalwart defenders, Heidi also connects with the human side of hockey. Follow her on Twitter, Facebook, or at her blog Don't Cross My Blue Line.