Consider this a reprieve. Sure, the Los Angeles Kings' 2015-16 campaign is off to a start that would not be described as "ideal," and the offense is operating at Randy Quaid-like levels of efficiency. There are still 79 games left to be played, and plenty of time for this battle-tested bunch to figure out how to convert around the net. In the meantime, I'll try to do my best Chris Traeger impression and take a positive approach to a new issue (which is, literally, my favorite thing to do). Despite three divisional losses out of the gate, how do the Kings match-up against their Pacific Division brethren?
This marks the third year of Commissioner Gary Bettman's realignment plan, which shrunk the number of divisions from six to four, and placed 14 teams in the Western Conference to offset 16 teams in the East (defying both logic and 4th grade math in a single bound). As many as five teams from a single division can make the NHL playoffs, but as the Kings learned last year it is not something to bank on. L.A. plays 29 divisional games every year, which is why it is paramount that they find success in their Pacific clashes. With that in mind, here is how I see the Kings stacking up against their rivals. Teams are listed based on my predictions from weakest to strongest in the division, but not necessarily in terms of the potential problems each poses for the Kings (more on that coming up). Everybody on board? Good. Great. Grand!
Edmonton Oilers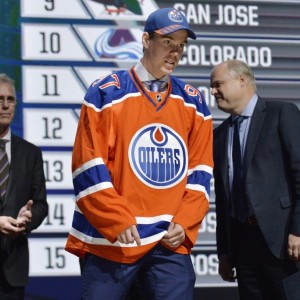 I shouldn't be too hard on Edmonton, considering they landed what many are heralding as a once-in-a-generation talent in Connor McDavid (as opposed to the other three times they won the draft lottery). The Oilers will be better, but the depth of talent in this division will make it hard to climb out of the cellar. Offensively McDavid will provide an immediate impact playing alongside Taylor Hall, and fellow first overall picks Ryan Nugent-Hopkins and Nail Yakupov give their team an unprecedented amount of youthful skill.
Unfortunately for the young Oilers, this is the NHL and not a U20 showcase tournament. They still have an excruciatingly thin core on the blue line, and need to download the Ways app to figure out how to locate the defensive zone. Cam Talbot played himself off of Rangers backup duty (and out of the effervescent shadow of Henrik Lundqvist) and into a starting net of his own, but the result was a one way ticket to the most hazardous situation in the entire league. Good luck Cam, we're all counting on you.
As for the Kings, well their divisional match-ups against Edmonton should be smooth sailing if they play their game. L.A.'s biggest strength on offense, puck possession, just so happens to be Edmonton's biggest weakness (30 seconds without the puck and Edmonton quickly reverts into a game of follow the leader). L.A. is too big, too structured, and too complete of a team for Edmonton to handle. Unless of course, they don't focus. This was a pertinent issue last season, when Kings players would seemingly check out for long stretches at a time against inferior opponents. This is still the NHL, and every team can lose on any given day. Making matters dicier is that this season the Oilers have that McDavid fella. If I was an NHL coach, I would be terrified of the night McDavid has his "welcome to the show" game, where he scores four highlight reel goals and undresses hoards of helpless defensemen. You know it's coming, I just hope it's not against the Kings.
Arizona Coyotes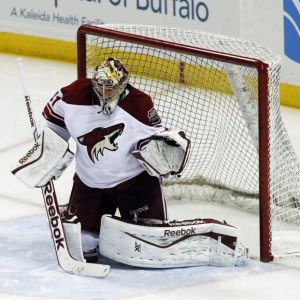 Before I consider bragging about nailing the bottom two Pacific Division teams in April, I should note that this is the equivalent of the points a high school student gets on the SAT for signing their name. The 'Yotes will be significantly improved from their dreadful 2014-15 journey, in which they took the term "fire sale" to levels never before seen in the NHL. Mike Smith is still an elite goaltender when he's locked in and receiving the bare minimum of defensive support. I love me some Shane Doan, as the former aspiring rodeo professional is one of the toughest and most respected leaders in the league.
And lo and behold, this team actually has some young talent to get excited about! 20-year-old Anthony Duclair already netted his first hat trick, making the Keith Yandle trade with the Rangers look very, very promising. And short of taking a punch, fellow young blood Max Domi has proven he can do much of what his father Tie could do at the highest level. This team may be a year away from contending for a playoff spot, but they'll be fun to watch.
For the Kings, this might be a tricky match-up depending on the Smith factor. They already saw what he can do last week, stopping 40 shots while gliding in and out of hockey consciousness. I still like L.A.'s chances against this team, especially once we get into the later months when the wear and tear of a grueling NHL season starts affecting these spring chickens.
Vancouver Canucks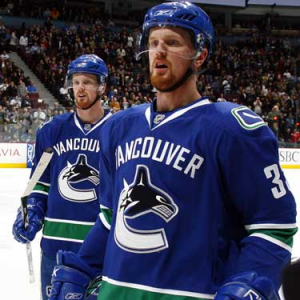 Might be a surprise for some, considering this was the second best team in the Pacific last season. But I actually think that was a classic example of regular season over-performance, and we don't have to look past their first-round playoff flameout (pun intended! OK I'll stop) to see that. Vancouver still has the Sedin twins, which is a genetically unfair advantage in terms of chemistry on the ice. Veterans like Radim Vrbata and Jannik Hansen provide secondary scoring up-front, and Alex Burrows is quite the effective pest when he's not biting people. Every NHL forward knows what Ryan Miller is capable of between the pipes, and it shouldn't come as a surprise that he's started off the year on fire.
Still though, do you trust this team? Do you trust that they will make it through an entire season healthy? Would you ever put the terms "Vancouver Canucks" and "mental toughness" in the same sentence? Needless to say I have my doubts, and I think the health of Ryan Miller is what will determine Vancouver's season. Eddie Lack is in Carolina, and there is no proven backup to hold down the fort should Miller miss extended time (which he has been prone to do). The Kings and Canucks typically play each other even over the course of a season, and given that it is an intense rivalry that should not shock anyone. When Vancouver tightens the defense, gets good play out of Miller, and showcases some plays the Sedins drew up in their mother's womb, they're more than a handful. I still like L.A.'s chances in a big game though.
Calgary Flames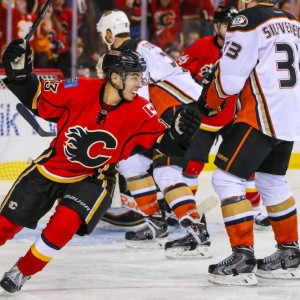 In a closely contested debate with the team coming up next, I elected to slot the Flames here. Last year's 97-point eruption seemed like a Dream sequence fresh out of Happy Gilmore's "Happy Place," with the exception of Johnny Gaudreau riding a bicycle. The Flames jumped 20 points in the standings from the previous year, in large part due to the aforementioned Jonathan M. Hockey and Sean Monahan electrifying the province of Alberta.
Jiri Hudler is the perfect complement on an elite first-line, and Matt Giordano was a certified beast on the point until an injury derailed his 2014-15 season (he looks fresher than ever this year). My Charlie Day "Wildcard Award" goes to Sam Bennett, who at age 18 played a huge role in the Flames first round series triumph over the Vancouver Canucks. If he keeps improving and advances past his learner's permit stage, watch out.
Call me crazy, but I prefer this match-up over most other division rivals for the Kings. If there's one thing L.A. can do defensively, it's bottle up undersized forwards. Doughty, Muzzin, and company will make Gaudreau earn every inch, and L.A.'s knack for controlling the tempo will force the Flames forwards to expend energy in their own zone. Clearly Calgary's biggest problem is goaltending consistency. Last year the Flames shuffled between Jonas Hiller and Karri Ramo, and neither could take hold of the job. Who's to say that won't change in 2015-16?
San Jose Sharks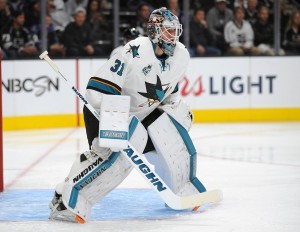 Surprised? Me too in a lot of ways. On the surface it's difficult to predict great things for a team that can't decide if it should hang on to its old guard, has several on-ice roles undefined, and a general manager that got into a war of words with the former captain (who's still on the roster nonetheless). If there's one quality this Sharks team isn't lacking, it's talent. Only Alex Ovechkin has more goals than Joe Pavelski since the highly practical lockout of 2012. Thornton and Marleau are still trucking along in their 30s, and younger talent such as Logan Couture, Tomas Hertl, and Tommy Wingels are more than capable of shouldering the scoring load when the veterans have off-nights. I love the additions of big Joel Ward and Paul Martin, both of whom have a knack for showing up when the chips are down. All-star Brent Burns is firmly entrenched on the blue line after a brief stint at forward, sending the caveman community into a frenzy.
Until this summer, I thought very highly of the Kings chances against the Sharks. San Jose plays a similar game, but the Kings have proven they are better at it. That all changed when the Sharks addressed their biggest weakness, goaltending, with a name near and dear to L.A. fans. Former Kings backup Martin Jones has been fantastic through three games, as doubts continue to creep into the fragile minds of Kings supporters that maybe he was worth keeping (still way too early to say). Combine the number of high-caliber goal scorers with a steadying force between the pipes, and I'd say this is a closely contested battle every time these teams square off. The one factor that could swing things in L.A.'s favor is a scoring breakthrough on Jones. He was certainly the victim of some lamp lighting at Kings' practices like all goalies are from time to time. If he has a bad game against his former teammates, his might never regain the mental edge he has on the locker room he once claimed as his own.
Anaheim Ducks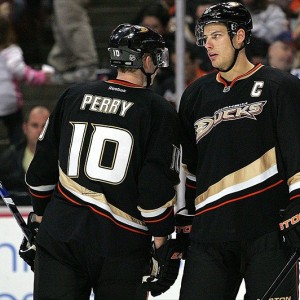 Currently experiencing their own early season struggles, the Ducks are still a smart bet to win the Pacific Division. Offensively, there isn't a more loaded team in pro hockey. Ryan Getzlaf is a well-rounded offensive super-force, and he will only get nastier with age. Corey Perry cans still perform Corey Perry type wizardry with the puck, which makes the entire NHL shake in their skates. Each forward player adds an ideal element of either grit (Kesler, Maroon), flash (Haeglin Silfverberg), or a mix of both (Cogliano, Rakell, and Sekac). Defensively the Ducks can trot out Desperes and Fowler when they need goals, or Bieska and Lindholm when they're holding a lead. Their only true weakness is goaltending, and by all accounts Frederick Andersen has a firm claim on the net for the immediate future. Barring an Andersen meltdown or a full-blown goalie crisis, this team will sleepwalk to 95 plus points.
But as the 2007 New England Patriots, 2011 Miami Heat, and 1977 Syracuse Bulldogs have taught us, rosters don't win championships. The last three seasons the Ducks have gone into a playoff series as the favorite and lost a Game 7 on their home ice. It's fair to question whether this team has the intangibles or mental fortitude to breakthrough and finally take the Stanley Cup to Disney Land, because eventually they will run out of years to achieve their goal. No championship window stays open forever.
In the regular season, the Ducks are hands down the toughest divisional match-up for the Kings. It takes so much effort to slow down their top line that the Kings are usually on their heels by the time lines two and three take the ice. Defensively L.A. has to show more consistency, because the Ducks are known for feasting off of breakdowns. The Kings can score on the Ducks, especially if Andersen starts letting in those Danish muffins that have plagued him at times. A high scoring shootout will be the death of L.A., but a physical game that bottles up the neutral zone will both tire and frustrate Anaheim (and lead to several "NHL Hitz" style penalties from Getzlaf and Perry). One thing is certain; the Kings can't mail in anything against the Ducks.
Six teams compete with the Kings for Pacific Division supremacy. The playoffs are months away, but it's never too early to pull out the road map and figure out how to get there. As last year proved, winging it as you go doesn't always work.