After falling victim to the second round of the postseason yet again, the Washington Capitals were left scratching their heads.
What was missing from the formula when they were considered Stanley Cup favorites? They had a whole arsenal of offensive weapons, extraordinary defense and goaltending to boot. It wasn't soon before they realized that they lacked scoring throughout all four lines, and therefore, needed to strengthen the bottom six.
After trading for centre Lars Eller at the 2016 NHL Entry Draft, the Capitals went on to add fourth-line assets. When Brett Connolly didn't get a qualifying offer from the Boston Bruins after his nine-goal, 25-point campaign, Washington was quick to steal him off the market.
Low Risk Following High Expectations
Washington inked Connolly to a one-year, $850,000 deal in July, making for a low-risk signing. They didn't know what to expect from the 24-year old — he had nine goals and career-high 25 points in 2015-16 for the Bruins but is inconsistent when it comes to scoring. Not to mention, he's been known to struggle with injuries.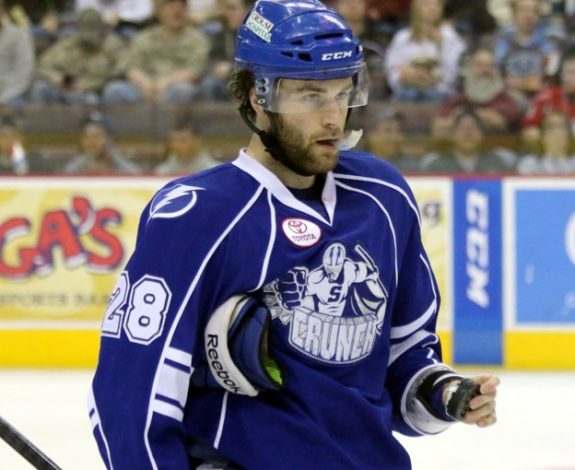 A huge problem with Connolly's career is that from the day he was drafted sixth overall in 2010, the bar has been set incredibly high. He was expected to be an elite goal-scorer, and though he made his NHL debut a year after he was drafted, the stakes were still high.
When he didn't live up to expectations, he was dealt to Boston, where former general manager Peter Chiarelli promised that Connolly would step up to the plate and contribute plenty as a top-six forward.
However, things are different in Washington, and it seems to be better for Connolly. For the Capitals, this was a low-risk, no-brainer deal. Not only does he have potential and still hold that position as a top prospect, but he is also a big, physical forward who has scoring potential and could possibly act as a catalyst on the bottom six. If he produced, the Capitals hit the jackpot, but if he didn't, it wasn't a big deal.
General manager Brian MacLellan also emphasized that Washington, unlike the other teams he has been with, wouldn't be setting high expectations; in fact, he emphasized that he wanted to take Connolly for a test run to see how he would improve the bottom six.
[miptheme_quote author="General Manager Brian MacLellan, Washington Post" style="text-center"]I don't want to necessarily put pressure on him to, 'You have to produce offensively.' We're just going to let him find his way and try to fulfill his potential. I think that's what he wants, too. He's going to have an opportunity to play with some good guys.[/miptheme_quote]
[irp]
Strong Two-Way Performance
Perhaps the strongest part of Connolly's game is his ability to keep up with the play, whether it's attacking or backchecking. He brings physicality and uses his frame to his advantage, while he also knows how to look after the puck and carry the play out of the zone.
The 6-foot-3, 194-pound winger threw over 100 hits last season and has 28 hits through 14 games. He is able to keep up with the speed of the game and never appears to get lost or have trouble in the defensive zone. When he is on the ice, he's either throwing hits or starting the breakout in any way he can.
Overall, he's proven himself as an all-around player, but his defensive game is his strongest suit. He boasts great puck possession metrics and knows how to win battles along the boards and in the corners.
Has Yet to Hit Offensive Stride
Much like Lars Eller hasn't contributed much offensively, Connolly is not living up to his potential of improving scoring on the bottom six. He has two goals and a helper so far this year, and for Washington to become a Cup-contending team, they'll need more production from the bottom-six.
One of the reasons for his struggles lies in his lack of shooting. Statistically, Connolly has only registered 19 shots on goal this season. He has great hands and a wicked shot, and he isn't getting enough opportunities to shoot the puck. He needs to outwork his opponents and have a shoot-first mentality, because when he puts more pucks on net, good things come.
This is evident from his multi-point performance in Washington's 3-1 win over Buffalo on Nov. 25. In that game, he made great opportunities for himself, as well as the rest of his line. A great pass and perfect stick-handling from Connolly set up Daniel Winnik for a goal, giving him an assist early on.
In the win, Connolly put up a season-high four shots on goal and stood in front of the crease, making himself prominent. In the end, it led to his second goal of the season, as he buried a rebound from an Alex Ovechkin shot on the man advantage.
On this play, there were flashes of his strong shot and his scoring ability, and if he can do more to get to the net and create opportunities, he will give the Capitals the production they need.
Wrap-Up
Though Connolly has yet to find his scoring touch, he is doing exactly what Washington needs from their bottom-six. He is starting to show flashes of offensive ability, and he is an excellent back checker who can maintain possession and stop the opposition coming into the zone.
Connolly has a plethora of secret weapons that he needs to start using. First off, he has a wicked shot that is not only fast but somewhat accurate. If he can get chances to shoot and more pucks on net, he'll start seeing results sooner. Not only that, he has a big frame that he needs to put in front of the net, and needs to start deflecting pucks.
With even Alex Ovechkin using the crash-the-net mentality to his advantage, Connolly has no excuses not to stand in front of the net and see what happens.
Overall, he's a great player who brings a lot of effort, physicality and skill to the lineup. His hard work earned him a spot on the second power-play unit in Oshie's absence, and with him on the shelf week-to-week, Connolly has a lot of time to prove his worth. He has great scoring potential, and with not a lot of expectations from the Capitals organization, he can hopefully find his touch sooner rather than later.