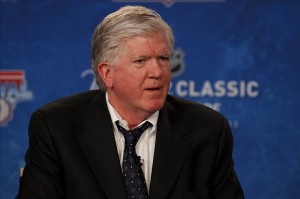 Always one to "tell it like it is", former Toronto Maple Leafs president and general manager Brian Burke took a page out of his own book by handling the media at the first press conference since Burke was fired from his position with a "no complaints, no excuses" attitude.
Burke was in his element at his news conference Saturday afternoon. He even found the time to throw Toronto Sun Reporter Steve Simmons under the bus by saying one of the best parts about leaving Toronto was that he (Burke) would never have to speak to Simmons again!
When it came to addressing the timing of Burke's firing Burke said he was "blindsided" by the new ownership group. Burke also lamented that he believes management had every right to let him go, but refused to come out and say why he was let go.
Never one to make excuses, Burke lamented that he was fired because "we didn't win enough" during his four-year tenure as President and general manager of the Toronto Maple Leafs. Burke made no complaints or excuses throughout the press conference and said that he will not change the way he does things should he get another chance to be an NHL GM somewhere else.
When asked when and if he would like to become an NHL GM again Burke said "tomorrow, if I can". Clearly, Burke feels he is far from done, has a ton to offer and wants to be a part of another NHL franchise as a GM as soon as possible.
When it came to questions about the Maple Leafs goaltending, future direction and possible trades, Burke remained Mom throughout the conference, continually telling the media to ask the new ownership group with regards to questions about the Maple Leafs future direction.
In terms of Burke's new title as senior advisor to the Maple Leafs, Burke seemed confused by the title and the responsibilities that come with it. Clearly, Burke's new title has more to do with the organization saving face, rather than giving Burke any legitimate say in the Maple Leafs hockey operations.
Burke did appear to be a touch bitter at being relieved of his duties, but he will not let his feelings get in the way of his community work, which was considerable.
Say what you will about Burke, but he appears to have left the Toronto Maple Leafs in much better shape than when he was hired back in November of 2008.
Clearly, Burke did not accomplish what he set out to do in Toronto, which was to get the Maple Leafs deep into the playoffs, but he has changed the culture of the Maple leafs throughout the organization and he has assembled a group of young talent at the AHL level with the Toronto Marlies that should garner a number of future NHL players.
With Burke's conference giving the media and fans little in terms of the details of Burke's firing, the media will have to press the owners and incumbent GM Dave Nonis for answers. In the end, it doesn't really matter why Burke was fired. The only thing that matters going forward is how well Nonis will do as the Maple Leafs new GM, and with the new season less than 10 days away, we will get a chance to see Nonis in action, sooner rather than later.
The first bit of business for Nonis will be to address the Maple Leafs goaltending. Rumors are still swirling that the Nonis is interested in disgruntled Vancouver Canucks goaltender Roberto Luongo, but thus far those rumors are yet to be substantiated.
Will Nonis make a move for Luongo? Only time will tell. One thing is clear; Nonis will be under a ton of pressure (as will the team) to make the playoffs this season, Luongo certainly would help the Maple Leafs cause. In the end it will all come down to the price tag the Canucks have put on the services of Luongo.