You can't blame New Jersey Devils fans if they had no idea who Brian O'Neill was before he was acquired in a trade with the Los Angeles Kings on Oct. 6 (for a conditional 7th round pick) three days before the start of their season. But he was a player that was certainly on GM Ray Shero's radar — as the Kings would have risked losing the 27-year old on waivers if they sent him down to their AHL affiliate, which was the other option. So Shero swung a low-risk deal with LA and after sitting out the season opener on Oct. 9, O'Neill has played in all 10 Devils games since.
He has yet to record his first career point, as these 10 games have been the first of his NHL career after four seasons in the Ivy League (Yale University) and parts of four seasons in the AHL (Manchester Monarchs). O'Neill, who is from Yardley, Pennsylvania, left Yale as the second-leading scorer in school history (163 points) and was the Ivy League Player of the Year as a senior captain (2011-12). Last season was his finest as a hockey player, accumulating a league-leading 80 points (22g-58a) in 71 games and he won the AHL MVP; his 58 assists and plus-30 (tie) also led the league. In the playoffs, he added another 20 points (10g-10a) in helping the Monarchs win the Calder Cup. Not bad for a guy that went undrafted and was signed by the Kings once his senior season ended.
He is still finding his way and role in New Jersey and has had his ups and downs while moving between the third and fourth lines, but in his last game on the road against the Islanders, he recorded a team-high four shots on goal in a 2-1 loss. Following his ninth career NHL game, a 3-2 shootout win over the New York Islanders, The Hockey Writers talked to Brian O'Neill about his college days, his incredible season last year in the AHL and a new teammate that was an enemy for the past seven years, among other topics.
https://twitter.com/HkyWorldwide/status/651480839180697601
The Hockey Writers: After blowing a 2-0 lead and winning in a shootout, what's your opinion on what happened out there today in a roller coaster game?
Brian O'Neill: We had a lot of energy early and had a really good start; the first 10 minutes were great. The second period and the end of that first period wasn't what we would like, special teams' wise — I though five-on-five we were really good, so that's something to take away from this game. (Our) special teams probably have to be a little better to win most games, but we got some clutch goals obviously and then we got that shootout win.
THW: This is only the team's second win in six home games (2-3-1), are you hoping this is the start of a win streak here at home?
BO: We haven't been great at home and I don't know why that is. But we've been winning on the road, which has been a real strong point of our game right now; it's really nice to get a home win. Especially after a nice win (in Philadelphia) a couple of nights ago. Hopefully we'll gain some momentum at home here and turn this into a streak.
THW: Any rhyme or reason why your team had no shots in the third period in a tie game until the final 40 seconds of regulation time?
BO: Sometimes when you feel like you're strong on the puck and you're playing in the offensive zone – but it ends up all being on the perimeter; I guess we have to do a better job of getting pucks to the net and creating a little more net traffic. Obviously we didn't have a whole lot of offense in the third period if you look at the shot totals, but I thought we did a pretty good job of keeping them to the outside, limiting their grade-A chances; we have to do a better job of getting grade-A chances ourself.
THW: Can you put into words the spark that Bobby Farnham seemingly gave the Devils today with his performance?
BO: That was pretty special for him, something that had been a long time coming (for him). He earned his way into the league and seeing him get an assist on his first shift, (laughs), and then his third shift he had a goal … he gave us a lot of energy early. He was a big reason we won the game today.
THW: You and he have crossed paths more than a few times throughout your careers, right?
BO: Yeah, Bobby and I actually have played against each other for the last seven years now. First in the Ivy League and then in the AHL, so we know each other very well; he's always been a tough guy to play against and you always want to have that kind of guy on your side. I'm glad he's on this team.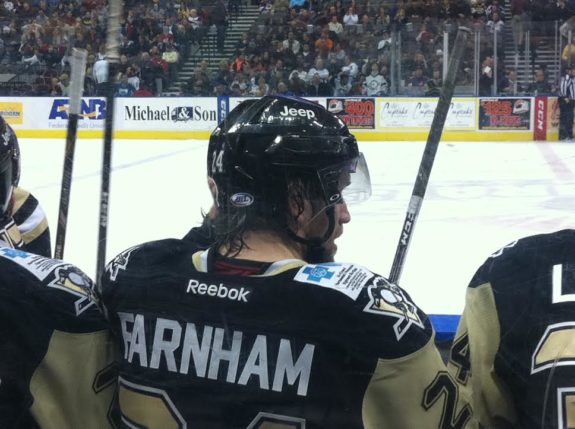 THW: You spent four years at Yale University; how important was that time period to you on and off the ice?
BO: The biggest thing when you go there is you become a complete person and a complete player. I think that is the best quality that that school has to offer in terms of the hockey program. They turn you into a four-year player, a four-year student and you get your degree. You're a well-rounded individual when you come out of that college which helps your game I think. Especially when you have to earn your way through the American League to make the NHL — I think that was the biggest thing that I took away. Obviously everyone is going to develop at their own rate, hockey-wise, but out of hockey they do a great job and turn you into a really good person.
THW: Was it a big shock to you when the Kings traded you to the Devils just prior to the start of the season?
BO: Yeah (pauses), I had a sense that something was going to happen at the end of camp there. You never know who it's going to be (that you're traded to), so it was a bit of a shock that it was one of the east coast teams, which is so close to home. That was a bonus for me and I'm really excited to be here. I was very grateful for the opportunity, it's been great playing for coach John Hynes and the guys have been playing real well. Being back (close to) home and having the team play well has been a blast.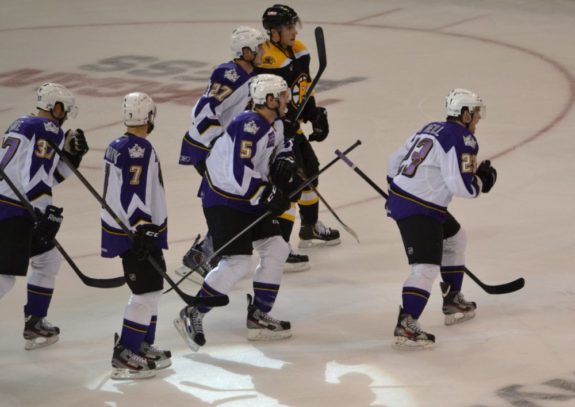 THW: Is there any way you can describe the success that you had last year, not only individually as the MVP of the AHL but as a team with the Manchester Monarchs who won the Calder Cup?
BO: I think anytime you see a team that has a lot of individual accolades, usually it means the team is really good and that was the case — the last two years. Our team was really good; we won the regular season two years ago and then won the regular season again, plus (we) won the Calder Cup. Obviously we had a lot of really good players which helps anyone with their individual accolades and their individual statistics, but it was a great year. We were on a roll the whole year and had a great stretch in the Calder Cup playoffs; it was a really cool experience. It gave a lot of guys a lot of really good experience that will help at the next level.
Nice feature story on Brian O'Neill in the @Middletownpress:http://t.co/sMqEbxhiO6 pic.twitter.com/zJ6BgTmyok

— Manchester Monarchs (@MonarchsHockey) June 23, 2015
THW: We're not familiar with this, but do the players get a day with the Calder Cup like they do with the Stanley Cup?
BO: We do get a day with the Calder Cup. It was nice; I had family and friends over and celebrated the victory but nothing too crazy like some of the stories you hear about with Stanley Cup parties. They do let you take it home for a day and enjoy it with your family.
Dan Rice can be reached via Twitter: @DRdiabloTHW or via Email: drdiablo321@yahoo.com. 
Dan Rice is in his 9th year of reporting for THW & has covered NJ Devils home games for 15+ years at various websites. He began his journey working for legendary broadcaster/writer Stan Fischler from 2002-04 & completed an internship at the ECHL; he also has been writing features for the NWHL (nwhl.zone) website since 2016.