The 2017-18 season was one to forget for the St. Louis Blues. Not because they were terrible throughout the season, but because they were terrible during crucial stretches. Inconsistency plagued the team after a blazing hot start and, while the team managed to claw their way back into the picture, the Blues ultimately came up short and missed the playoffs. We can gripe about the past, or we can focus on a future that is one of the brightest in the league.
Experienced Professional Youth
It would be difficult to talk about this past season without discussing the remarkable play of Vince Dunn. His 24 points were good for 11th best on the team, and third best among defensemen. Dunn won't win rookie of the year honors but his play when it mattered most is a glimmer of big things to come next season.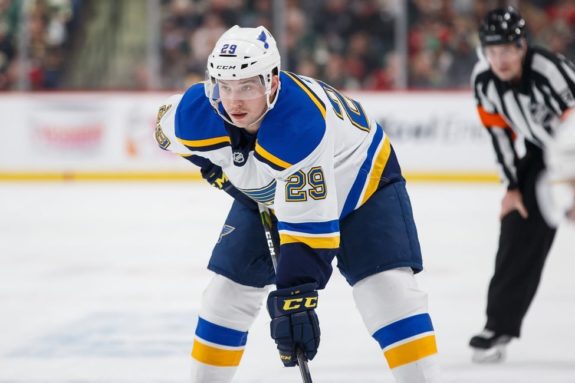 While the Blues have a strong defensive core already, Jordan Schmaltz, Mitch Reinke, Jake Walman, and Tommy Vannelli are all waiting in the wings for their own opportunity. Schmaltz and Reinke both had stints with the parent club this season, but the results showed that more seasoning was necessary.
Ville Husso didn't play while he was called up to the Blues, but put up impressive numbers for the San Antonio Rampage this season. Jordan Binnington, who has had limited NHL experience, put on a show this year with the Providence Bruins, including 17 wins, a 1.94 GAA, and a .930 save percentage.
You may be asking yourself what any of this means going forward, and the answer is simple: veterans who underperformed last season will have a very hard time keeping their job. Oft-injured and inconsistent play can't be excused when players such as Binnington, Vannelli, and Walman are ready to step in and be productive.
An Abundance of Amateur Talent
By now the entire hockey world has heard of Jordan Kyrou. The 19-year-old Toronto native has put up back-to-back 90+ point seasons for the Sarnia Sting, specifically 109 points in 56 games this past season. Kyrou's skill and offensive prowess is an asset that the Blues were unwilling to give up at the trade deadline and fans should expect him to start the season in St. Louis to see what the young man can do on the big stage.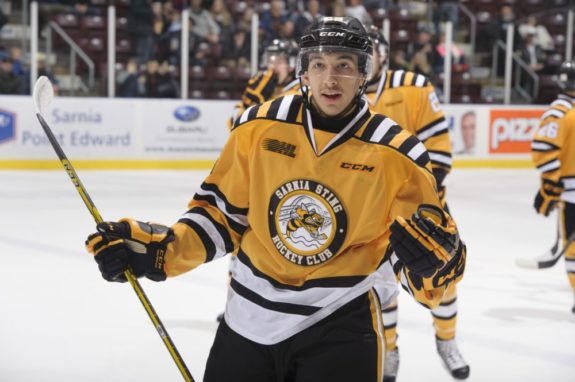 Robert Thomas, another teenager in the system, just put up an amazing season split between the London Knights and the Hamilton Bulldogs. Thomas had 75 points on the year and was a plus 17 combined. Like Kyrou, the Blues weren't willing to move Thomas for established stars at the deadline.
Erik Foley, acquired in the Paul Stastny trade at the deadline, is an underrated prospect who finished up his stint at Providence College with consecutive 30 point seasons. Evan Fitzpatrick, a goaltender for Acadie-Bathurst in the QMJHL, has improved each season he's played. And then there's Tanner Kaspick, a product of Brandon, Manitoba who scored 159 points in 216 junior games spread out over five seasons between the Brandon Wheat Kings and the Victoria Royals.
Kyrou and Thomas will have a lot of pressure on them when they do join the parent team. The Blues have had a lot of prospects fizzle out before they help produce, Ty Rattie and Brett Sonne are two names that come to mind instantly. But with the changing climate within the organization, a youth movement led by two phenomenal talents could be exactly what the Blues need.
Time to Temper Expectations
We saw glimpses of amazing out of Tage Thompson and Ivan Barbashev this year, but kinks needed to be worked out. And with any transition, the Blues will need time to iron out any issues when they undoubtedly arrive. Binnington, or Husso, will most likely not step in and be dominant forces, as Jake Allen is still expected to be the starter next season.
Kyrou, Thomas, Walman, Kaspick and Foley will need time to adjust to the pace of play at the NHL level. And while we wait for them to bloom, as fans, we have to be patient. A word that many Blues fans, myself included, have been unable to do the last decade. When Allen struggled, we pushed for Carter Hutton to start. And when Hutton faltered, we begged for something new.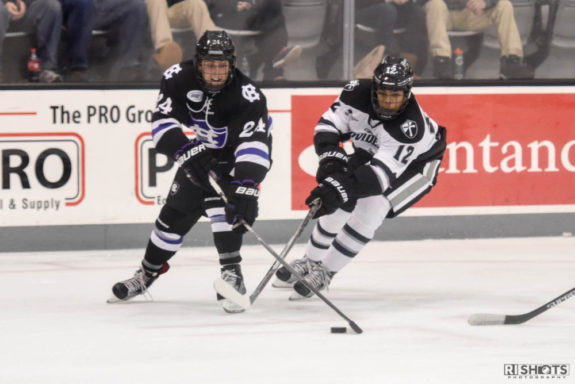 Well, we're going to be getting something new next year. It may be what we expect to happen. Or it could come out of the blue (no pun intended), much how the acquisition of Brayden Schenn went from being an eye-roller to one of the best trades the Blues have made in quite some time.
Just remember, patience and support are what the Blues need most right now.