It is generally thought that laughter is the best medicine.  This writer certainly tends to think so, and my armoire full of now obsolete DVDs can attest to the value of good humour.  Light, highly quotable, and entertaining, my collection stretches from the slapstick of Leslie Nielsen into the sublime of Seinfeld.
One film that figures to be a semi-permanent fixture in my DVD player is Broken Lizard's Super Troopers.  The ridiculous one-liners and witty repartee of the comedy troupe's portrayal of highway patrolmen have diffused their way into my daily vernacular to what can only be described by my friends as "feverishly annoying."
Per @FriedgeHNIC, CGY offered COL their 3, 1st rounders for the top pick. No dice.

— Jeff Marek (@JeffMarek) June 16, 2013
Meow, how all of this relates to hockey and the Calgary Flames in particular.  As per Jeff Marek's twitter, the Colorado Avalanche have apparently rebuffed the Flame's offer of their three first round picks (6th, 22nd, 28th) for the 1st overall pick at the June 30th Draft.  The 1st overall pick is currently a debate between stud Portland Winterhawks defenseman Seth Jones and Halifax Moosehead linemates Nathan MacKinnon and Jonathan Drouin.  The Flames spent the majority of the season in lottery contention for one of these three potential franchise players until a late season surge saw them escape the cellar of the NHL. The cellar, by the way, is rumoured to be nine by nine. No big deal.
Spurbury Police Chief Bruce Grady smugly states that "desperation is a stinky cologne" and one can smell the musk of general manager Jay Feaster and the Flames from here.  The franchise has created an interesting existence of dichotomy with this move.  Flames fans are to be excited about prospects such as Sven Baertschi, Roman Horak, and TJ Brodie as well as the franchise-proclaimed "two best goaltenders outside of the NHL" in Switzerland's Reto Berra and Finland's Karri Ramo yet the franchise continues to aggressively attempt to improve their on-ice product with as much public embarrassment as being hosed down and covered with powdered sugar.
One can glean two possible revelations by this attempted move.  If the Flames wish to acquire the first overall pick in order to draft Seth Jones, it would appear that while their young blueliners such as TJ Brodie and Tyler Wotherspoon have good potential upside, the Flames are still actively searching for a rock on the back-end.  Jones could be that stud number one defender that the team perceives themselves to lack.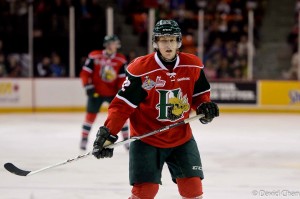 The other scenario is far more troubling.  If the Flames want the #1 pick for the purpose of selecting MacKinnon or Drouin, there are some serious problems in the forward ranks at more than just the NHL level right meow.  Mark Jankowski was the alleged "next big thing" as far as the center ice position was concerned and is going to be worth the developmental wait if his full potential is realized.  Mikael Backlund is unfortunately in and out of the team infirmary despite showing flashes of skill and Sven Baertschi had a disastrous season that saw him demoted to the AHL- a staggering fall from Calder prognostications.
At their current position at 6th overall in the draft, a very strong forward prospect could find himself hauling on a Flames sweater June 30th.  Sean Monahan, Hunter Shinkaruk, Alexander Barkov, and Valeri Nichushkin all had excellent seasons and in a different draft year would likely find their pre-draft rankings elevated.  The fact the Flames were willing to package that pick up with their two in the bottom third of the opening round is a testament to not only just how elevated Jones, MacKinnon, and Drouin are when juxtaposed with their peers but also how the Flames are already fearing their lack of star power and decline into ambiguity.
This, like most front-office moves from the franchise as of late, will likely be met with some positive spin and rationalized as just another attempt to improve the team.
It's desperation, a back-against-the-wall move akin to the Islanders offering all of their picks at least year's draft to Columbus for the right to select Ryan Murray.  Unfortunately, the most recent managerial misgiving of the Flames will likely not be feted with the same deserved criticism.  This was a ham-handed idea right from its inception, and it will be believed as an attempt to drastically improve the franchise almost overnight "when me crap turns purple and tastes of rainbow sherbert." Meow.
Having just received a Bachelor of Arts in History (with a concentration in Canadian History) from the University of Calgary, Thomas Strangward is pursuing his passion of sports journalism and has recently accepted a seat in the renowned Radio, Television, and Broadcast News Program at SAIT in Calgary, Alberta.