Top 5 Potential Phoenix Coyotes Draft Picks: Defenceman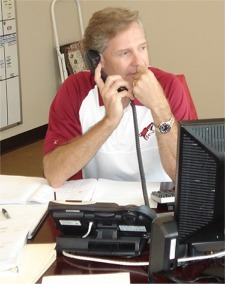 G.M. Don Maloney and the Phoenix Coyotes draft #12 overall in the upcoming NHL Entry Draft in New Jersey on June 30.  I will try to list the top 5 defencemen that could potentially be available when it's their turn.
I think Edmonton at the #7 pick will take a defenceman and it should be Darnell Nurse.  It is not a stretch to think they might opt for the offence of a Pulock or Morrissey or Ristolainen if available.  Buffalo's pick might also be a defenceman leaving some quality blue-liners available for Phoenix at the # 12 selection.
I would be shocked if the Phoenix Coyotes draft a defenceman but If Ristolainen or a couple of these other's were available they might be very tempted.
Rasmus Ristolainen
League:  SM-Iiiga        Team:  TPS Turku
DOB: Turku, Finland
Position: Defense        Shoots: Right
Height: 6'3                     Weight: 207
GP: 52      Goals:  3     Assists: 12     Points: 15     PIM: 32
WJHC- U20
GP: 6        Goals: 2     Assists: 4        Points: 6       PIM: 20
Rasmus Ristolainen played this past season for  for TPS Turku in the SM-Liiga, the top men's league in Finland.  This is very impressive when you consider that when he played his first games in the league he was just 16 years old.  His experience playing against older players should make his transition into the NHL a little easier than some of his draft competition.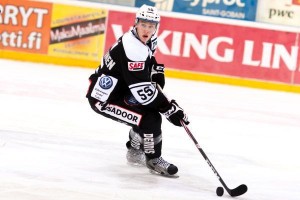 He is a talented defenceman that generates a lot of offense from his defensive position.  Ristolainen is very poised with the puck.  He is a good stick-handler that makes a good first pass and makes smart plays coming out of his teams end.
RR is considered a good skater with good mobility for a big man.  His speed is above average which allows him to join the rush.
Defensively, Ristolainen is a punishing physical hitter that loves to throw the body and can deliver some big hits.  He battles hard in the corners and in front of the net, and plays with a bit of an edge.  Like most 18 year olds, he will need to bulk up and add upper body strength before he can play his style of game at the NHL level.
Ristolainen's top end potential has him projected to be a top pairing defenceman that can be used in all situations.   Rasmus Ristolainen could be gone  before the Phoenix Coyotes draft.  I see him going in the 6-10 range.
Nikita Zadorov
League: OHL     Team: London Knights
DOB: Apr. 15, 1995     Hometown: Moscow, Russia
Height: 6'5     Weight: 225
Position: Def     Shoots: Left
Games: 63   Goals: 6   Assists: 19   Points: 25   Plus/Minus: +33    PIM: 54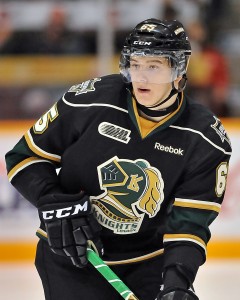 Nikita Zadorov is a  6'5 defenceman that played this past season for the Ontario Hockey League's London Knights.  Last season Zadorov played in the MHL which is the top developmental league in Russia.  He was drafted 9th overall in the 2012-13 CHL Import Draft and is in his rookie season in the OHL.  Zadorov started out the season playing against the oppositions 3rd and 4th lines and finished the season playing against their top lines.  He finished the season as one of the top defenceman for the London Knights and was a big part of a team that finished with the OHL's best record.  Nikita Zadorov finished the regular season with a very impressive plus/minus of +33.    In 63 regular season games he also accumulated 54 penalty minutes.
Nikita Zadorov's Steady Rise Up The Draft Rankings
Zadorov was eligible, but not selected to play for Russia's U20 team at the WJHC in Ufa Russia.  In Central Scouting's mid-term rankings, Zadorov only ranked 30th among North American skaters.  He had elevated his ranking to 22nd in the final regular season report.  Central Scouting is just a guideline and all NHL teams have their own rankings, but to me Zadorov's rankings have been the most inconsistent rankings  of all the 1st round prospects.  Most scouts will tell you he will be a top 10 prospect.  What NHL team wouldn't want a big strong shut-down defenceman with very under-rated puck skills?  Look for Zadorov to be selected anywhere from 8th -14th overall. 
Ryan Pulock
League: WHL     Team: Brandon Wheat Kings
DOB: Grandview, MB
Position: Defense     Shoots: Right
Height: 6'1     Weight: 211
Games: 61   Goals: 14   Assists: 31   Points: 47   Plus/Minus: -7     Pim: 22
Ryan Pulock played this past season in the Western Hockey League for the The Brandon Wheat Kings.  Ryan was the Wheat Kings captain and had another good season in the WHL.  One of his biggest weapons is his 102 MPH slap-shot recorded at the Wheat Kings skills competition.
Like most good offensive defenceman Ryan Pulock makes a good first pass out of the zone.   He is a good puck handler as well as a good skater with good acceleration.  Ryan's speed and agility are his biggest assets and help keep his opponents off guard.  His defensive game has been good even though he plays on a team that has gives up a lot of goals.   Ryan will probably get drafted in the first round, somewhere in the 20 – 25 range.  He had been ranked as high as 16th so you never know.  For a team needing a hard shooting point-man for their power-play, Ryan could be their man.
Samuel Morin
League: QMJHL     Team: Rimouski Oceanic
Born: July 12, 1995     Hometown: St. Jean, PQ
Height: 6'7     Weight: 210
Position: Defence     Shoots: Left
Games: 46   Goals: 4   Assists: 12   Points: 16   Plus/Minus: +10   PIM: 117
Samuel Morin played this past season in the QMJHL for the Rimouski Oceanic.  Already listed at 6'7″, Morin is an imposing physical defenceman.
Skating
Morin is considered a good skater with decent speed and acceleration. His agility is a good which gives him decent mobility but he has a little trouble with speedy forwards and will need to improve this before he can compete at the NHL level.  This is not uncommon for a growing player at this size.
Samuel Morin plays a strong defensive game and does use his size to his advantage in his own zone. Morin is a big hitter, battles hard in front of the net and along the boards.  His positional game is good and he uses his long reach to cut down a lot of the passing and shooting lanes.  Morin plays a very physical game and has a mean streak.  He is also not afraid to drop the gloves and is an intimidating figure.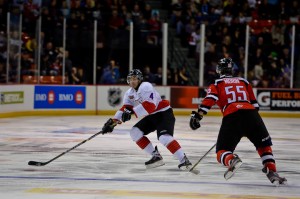 Offence
Morin's offensive game is still a work in progress and may or may not be a factor at the NHL level.  He has a hard slapshot, doesn't panic with the puck, keeps his head up and makes good crisp break-out passes.Samuel Morin is going to be compared to Boston's Zeno Chara but most scouts think that is an unfair comparison to heep on an un-tapped 17 year old.  Morin has a chance to develop into a hard to play against top 4 defenceman. Most scouts have him rated as a very late 1st round to 2nd round pick.I had just heard TSN Scout Craig Button on the radio and he is the only scout that I have seen substantially elevate Morin's draft ranking.  In Craig's second to last mock draft he has rated
Samuel Morin at #11
which lead to my Twitter question.  I found this little twitter exchange quite interesting.
@wpgjetshocktalk @thesawch @illegalcurve Better and better with each passing month since he was 15. 6'6 or bigger defensemen are rare.

— Craig Button (@CraigJButton) June 2, 2013
TSN's Craig Button is one of the few draft prognosticators who's word carries a lot of weight with me.  He actually gets out in the field and scouts like real scouts do.  So when Mr. Button tells me Morin could go in the top half of the 1st round I believe him.
Josh Morrissey
League: WHL     Team: Prince Albert Raiders
Position: Defense     Shoots: Left
Calgary, AB 
Height: 6′     Weight: 185     

Games: 70     Goals: 15     Assists: 32     Points: 47     Plus/Minus: -14     PIM: 91
Josh Morrissey played this past season for the WHL's Prince Albert Raiders.  Morrissey wasn't on Central Scouting's radar in the pre-season rankings as a potential first round pick but that quickly changed after his fast start to the 2012-13 season.  Morrissey opened a lot of eyes and he has slowly worked his way up the draft rankings.
Josh Morrissey has represented Canada at the U17 and U18  tournaments and has experience in high pressure situations.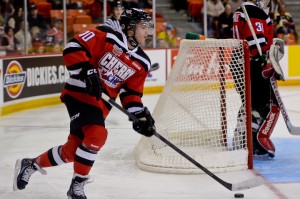 He is one of the best skating defencemen in the 2013 draft class.  Morrissey has very good offensive instincts.  The usual buzz-words describing his game are:  Good first pass, good shot, great hockey IQ and makes good decisions in the offensive zone.  He has the tools to be a high-end offensive threat from his defensive position.
He plays a very good positional game and does not shy away from the physical part of the game.  He continues to work hard on improving his play in his own zone.  Like most 18 year old defenceman Morrissey could use more upper body strength if he wants to be able to compete at the NHL level.
Josh Morrissey is being projected as a top pair defenceman who can play big minutes and play on the PK or PP.  His likely draft position could be anywhere from 12-18.  He falls right into the Phoenix-Winnipeg position but I believe both teams are looking to the forward position.  I thing he gets selected soon after the Jets pick.
In Conclusion
Whether the Phoenix Coyotes draft a forward or a defenceman they will be getting a quality player with their #12 draft pick.  IMHO this is a draft where teams should try and trade for a second pick in the first round.  This draft is deep with high-end players well into the second round.
Two weeks ago in a previous submission I covered the "Top 5 Potential Forwards" that could be available.  To see this post  click  ☛ ☛ ☛ ☛  TOP 5 Forwards
My name is Mitch and like most Canadian kids I was introduced to hockey at a very young age and fell in love with the game. I have played, I have coached, I even scouted in WHL for 15 years. I spend half my time in Winnipeg, MB and the other half in San Tan Valley, AZ. I am a season ticket holder for The Winnipeg Jets and my wife and I attend the Phoenix Coyotes games. I am involved in 3 or 4 fantasy leagues, I enjoy hockey shows on radio or TV, TSN or Sportsnet, ESPN or NBC Sports and Fox Sports Arizona. You get the picture, hockey is a big part of my life. Admin/Writer at http://phoenixhockeytalk.com