Potential Phoenix Coyotes Draft Picks
The Phoenix Coyotes draft #12 and I will try to list the top 5 forwards that could be potentially available when it's their turn.  I think the interesting part of this years draft starts at Edmonton's #7 pick.  Edmonton should take a defenceman and it should be Darnell Nurse.  It is not a stretch to think they might opt for the offence of a Pulock, Morrissey or Ristolainen if available. Buffalo could be looking at a defenceman also and now the dominoes start to fall into place.
The the next 4 or 5 picks will be tough.  There will be some interesting options for New Jersey, Dallas and Philly.  I think Dallas is looking for a forward while NJ or Philly could go either way.  I would be shocked if Phoenix picks a defenceman but if the right player is available they may be tempted.
The one player I could see maybe dropping out of the top 5-8 ranked picks is Valeri Nichushkin.  He has been ranked as high as #4 but not playing in North American might hurt him and there is always the "Russian Factor" to consider.  Teams are always wary of the KHL being an option or used as negotiating leverage.
Draft picks 6-15 could be a matter of team preference and/or organizational need.  There is not a lot of difference in the quality of these players but a smorgasbord of different attributes.  I really believe there are no losers in this bunch.  There are defencemen and forwards with different size and skill levels to meet a teams needs.
Today, I have listed 5 potential Phoenix Coyotes draft picks at the forward position.  I will follow up in two weeks with a top 5 defenceman list.  The Coyotes have very good organizational depth at this position but sometimes a player is available that you just can't pass up on.
I wonder how many Jerseys with different "name-plates" on them the top 15 teams are bringing with them to the draft.
Bo Horvat
Born:  Rodney, ON
League: OHL     Position: C/LW   Shoots: Left
Height: 6'0     Weight: 200 lbs
Games: 67   Goals: 33   Assists: 28   Points: 61   Plus/Minus: +3   PIM: 29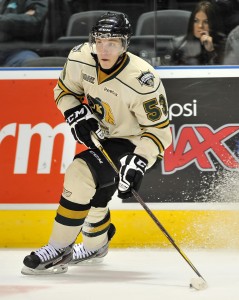 Bo Horvat played this past season in the OHL for the London Knights.  The consistent play of Bo Horvat during the course of this season has seen his stock slowly rising up the draft ranks.   Bo Horvat and Max Domi have been the focus for top London Knight forward to be drafted.  Domi's high-end offensive skills and tenacity allowed him to gradually pull away from Horvat during the regular season but Bo Horvat  has made it a three-horse race for top London Knight prospect.  Both Nikita Zadorov and Bo Horvath had steadily climbed into the conversation with strong regular season finishes and strong playoff performances.  The Memorial Cup will be the final report card for all three Knight prospects.
Most Scouts describe  Horvat as a good two-way player with high-end leadership qualities.  He is projected to be a top-six forward, probably a second line center.   One of Horvat's biggest attributes is he is a reliable two-way player and a good face-off man.  Horvath is a good skater with above average puck skills.
Horvat Is ranked 15th among North American skaters in Central Scouting's final rankings prior to the 2013 NHL Draft.  Bo Horvath's play during the OHL  playoffs and the Memorial Cup might elevate him into a top 10 draft position.  Bo Horvat is a player that could be available at the Phoenix Coyotes draft position.  Look for Horvath to be drafted in the 10-14 range.
Valeri Nichushkin
Born: Mar. 4, 1995   Hometown: Chelijabinsk
League: KHL   Position: C/LW     Shoots: Left
Height: 6'4     Weight: 200
Games: 43   Goals: 10    Assists:5     Points:15     Plus/Minus: +6   PIM: na
Valeri Nichushkin played this past season in the KHL for the Traktor Ice Hockey Club in Chelijabinsk, Russia.  Valeri is a highly skilled left winger who is highly competitive and doesn't shy away from the  physical game.
He is a very skilled power forward with a good hockey IQ.  Like most 6'4 power forwards he is hard to play against  one-on-one.  Most scouts rank him as a very good to excellent skater with top-end speed and power.  Overall, he's considered your prototypical NHL power forward.  Valeri's  mix of speed, skill and size, has made him one of the top players to watch at this summer's draft.
Valeri Nichushkin is projected to go anywhere from in the 4th pick all the way down to the 8th pick.  The only reason he would fall out of the top 6 is if there was concerns about him staying in Russia and playing in the Kontinental Hockey League.   There hasn't been any sign that this is the case.  Stay Tuned !!!
Hunter Shinkaruk 
Born: Oct.13, 1994   Hometown: Calgary, AB
League: WHL   Position: C/RW   Shoots: Left
Height: 5'11    Weight: 181
Games: 64   Goals: 37   Assists:49   Points: 86   Plus/Minus: -13   PIM: 44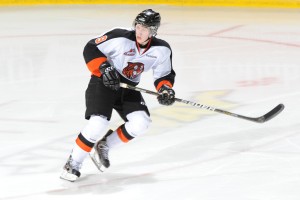 Hunter Shinkaruk played this past season in the Western Hockey League for the Medicine Hat Tigers.  He is a speedy offensive player that competes and like all offensive players likes to score goals.
Hunter is not afraid to go into the greasy areas and score the tough goals.  He has good hands, excellent speed, agility and can beat any defencemen one-on-one. Very good hockey sense and knows how to find the open areas in the offensive zone.  Hunter Shinkaruk will be a first round draft pick projected to be drafted in the  10 -14 range.  Shinkaruk is another interesting player that could be available at the Phoenix Coyotes draft position.
Max Domi
Born: Mar 2, 1995     Hometown: Toronto, ON
League: OHL   Position: C/LW   Shoots: Left
Height: 5'10     Weight: 184
Games: 64   Goals: 39   Assists: 48   Points: 87    Plus/Minus: +33   PIM: 87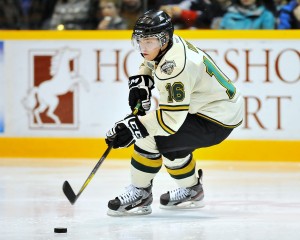 Max Domi played this past season in the Ontario Hockey League for the London Knights.  Max is the son of former NHLer Tie Domi but they are 2 completely different players.
Max is a highly skilled forward with the potential to be one of the top forwards in this draft.  At 5'10 his size will always be in question, but that shouldn't concern any potential team drafting him as he plays bigger than his size.  Most scouts consider Max Domi to be a solid top 15 prospect but it wouldn't be a surprise if he gets drafted in the top 10.  His skill and high hockey IQ might be too much to pass up for a team with a top 10 draft pick.
Alexander Wennberg
League: SWE-1   Position: Center   Shoots: Left

Born:  
Height: 6'1     Weight:174
Games: 46   Goals: 14   Assists: 18   Points: 32    Plus/Minus: 10   PIM: 14
Alexander Wennberg  played this past season in the Swedish Allvenskan League for Djurgardens IF Hockey Club.  Wennberg's biggest assett is he's an excellent skater and he might be the fastest prospect in the 2013 draft.
Elite level speed, acceleration, and a powerful skating stride.  He is very agile and his skating attributes make him a difficult player to defend one on one.  He has the puck skills and the skating ability that make him very hard to defend.
Alexander Wennberg like most center-men is more of a play-maker than a goal scorer.  He has  good hands, can score in tight, good hand-eye coordination for tip ins.  One of the knocks on Wennberg is his shot.  His wrist shot is accurate but not very hard and doesn't have that goal-scorer release.
Wennberg  is a play-maker, good vision, excellent passer, very good hockey sense and has a high compete level.  Wennberg is not afraid of the tough areas on the ice but lacks the strength now be  effective along the battles and in front of the net.  Adding muscle will be a must.
Alexander Wennberg has a well-developed defensive game, back-checks hard, understands his defensive role and responsibilities.  One of the area where most scouts would agree Wennberg could improve is his overall physical game.  At 6'1 he is not a smaller player and he doesn't play a very physical game for a player his size.
Most will agree that Wennberg will be a top 6 center with a two-way game that can play PP and PK.   Most draft projections have him being drafted in the 15-20 range.
My name is Mitch and like most Canadian kids I was introduced to hockey at a very young age and fell in love with the game. I have played, I have coached, I even scouted in WHL for 15 years. I spend half my time in Winnipeg, MB and the other half in San Tan Valley, AZ. I am a season ticket holder for The Winnipeg Jets and my wife and I attend the Phoenix Coyotes games. I am involved in 3 or 4 fantasy leagues, I enjoy hockey shows on radio or TV, TSN or Sportsnet, ESPN or NBC Sports and Fox Sports Arizona. You get the picture, hockey is a big part of my life. Admin/Writer at http://phoenixhockeytalk.com