Hear me out on this. If only for just five seconds.
Currently, the Pittsburgh Penguins are in a bit of a predicament. They have their franchise goalie, Marc-Andre Fleury, sitting on the bench watching his 36 year-old backup and understudy Tomas Vokoun outplay him in these playoffs. No matter how the Pens ultimately finish this postseason, it's looking more and more like Vokoun will be the guy they ride to the end. So if this is the case, the question arises with what to do with Fleury come next season.
In other words, this trade becomes more about replacing Fleury, than it does with the Penguins ridding themselves of Evgeni Malkin.
The Deal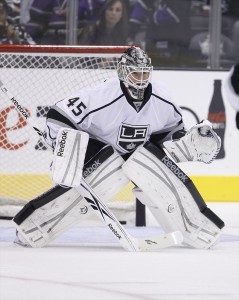 I am not saying that the Penguins should open the phone lines and listen to offers for Malkin. Rather, I'm saying that Ray Shero should pick up his phone, and dial up one team:
The Los Angeles Kings.
The Kings have perhaps the most coveted trade piece in this upcoming offseason: goaltender Jonathan Bernier.
Bernier will be traded this summer. The Kings have their man between the pipes in Jonathan Quick, and Bernier has proven that he's capable of being a starter in the NHL.
He is three years younger than Fleury, and the only knock on Bernier would be that he's never been a starter in the NHL, so how would handle that kind of pressure? And, can he handle the work load of a starting netminder?
I would say the Penguins have been blessed to have Tomas Vokoun as their backup this season, and he's locked up for next season as well. Bernier could come in and split time with Vokoun, perhaps 55/45, or even 60/40. That would give them a pretty good gauge as to how he'll perform as "the man."
And Bernier would be a cheaper option as well. He's a restricted free agent at the end of the season, and I would imagine that L.A. will resign him, then trade him.
But Bernier is not the only player coming to Pittsburgh in this deal.
Anze Kopitar would have to be included as well. He replaces Malkin as the 2nd-line center. Now, most of you will say that L.A. would be giving up a King's ransom (no pun intended) to acquire Malkin. The bottom line here is, the Kings are going to lose Jonathan Bernier no matter what. Malkin will be the best option that they could possibly get in return. So the trade essentially becomes Malkin for Kopitar, Bernier, and a high level prospect or a number one draft pick (the draft pick is almost inconsequential because undoubtedly the Kings will be drafting near the end of round one).
Finances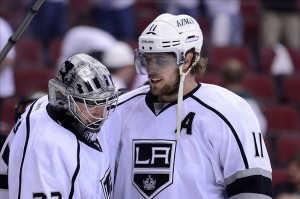 Malkin will sign an extension this season, be it in Pittsburgh or in L.A. If he stays in Pittsburgh, he'll likely match Crosby's $8.7mill AAV (average annual value) on his next contract. Should he go to the Kings, he could command more.
Kopitar comes to Pittsburgh locked up till the end of 2016, with a cap hit of nearly $2 million less than Malkin ($6.8 mil), and as I said, Bernier will be a RFA at the end of this season.
Now what to do with Fleury? Well, Shero could investigate other trade partners. Calgary could be a spot, if Mikka Kiprusoff hangs up his skates. Toronto is another possibility, as they were rumored to be in on Roberto Luongo earlier this season. Phoenix could potentially lose both of its goalies (Mike Smith and Jason LaBarbera), and Florida is not exactly set in net these days. This just names a few.
Or Fleury could become a compliance buy-out. Teams are allowed two compliance buy-outs in June 2013 and June 2014 to help with salary cap issues. If Fleury were to become a compliance buy-out, he would only cost the Penguins cash, but there would be no cap hit against the Pens. Essentially, his salary would come completely off the books, and he'd become a free agent immediately.
A Pipedream
This is all purely hypothetical, and I'm not even saying that it's a good idea. All I am saying, is that perhaps it's worth it for Shero and the Penguins' brass to at least call Dean Lombardi in L.A. to see if he is interested. Only under the parameters listed above would I consider trading Malkin.
Kopitar, much like Brandon Sutter in the Jordan Staal trade last summer, would be a must. Under this scenario, it would save the Penguins some money and help them become salary cap compliant, as well as filling holes created by the possibility of trading Malkin for Kopitar, including Bernier, and either trading or buying out Fleury.
Bottom line, something interesting simply to stir up some debate.
Shameless Self-Promotion
I'm on Twitter Follow @TDT_Pens4Life

Pittsburgh, Pa. Class of 2000 graduate from Robert Morris University with a B.A. in Mass Communications. Full-time objective sports fan.