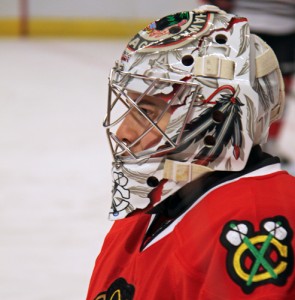 The Chicago Blackhawks have a 2-0 lead over the defending Stanley Cup Champion Los Angeles Kings. You might be asking yourself how that happened. A number of things took place for the Blackhawks for to put the Kings in a 2-0 hole. Let's take a look at a few of the key plays in the series thus far.
Before the 2010 Stanley Cup run, the Blackhawks were known as a 'finesse' team. You hit them enough; they will get off of their game. Most hockey fans may have noticed that during their first round exit last season to the Phoenix Coyotes. This playoff season, things have changed. The Blackhawks are now dishing out the physical play just as much as they can take it.
Dave Bolland is nicknamed "The Rat" because he frustrates opponents so much so that they often retaliate. Those retaliations often lead to power play opportunities for the Blackhawks. Bolland does the little things that do not show up on a stat sheet.
Viktor Stalberg is one of the fastest skaters in the National Hockey League. Before the Western Conference Finals got underway, I said that one of the keys to this series was for the Blackhawks to outskate the Kings due to the reputation for physical play. Puck possession along with solid forechecking can leads to scoring opportunities.
Most Blackhawks fans don't like to give Corey Crawford any of the credit when the team is doing well. If you have ever saw what is said on social media during games and heard what is said about him on the sports talk radio shows, than you already know. If Crawford gives up a soft goal like he did in game six of the Detroit series, the fans will remember  that more than save percentage.The fact of the matter is that Crawford has outplayed Jonathan Quick up until this point. The Blackhawks would be out on the golf course right now if it wasn't for Crawford's play.
Having said all of this, expect the Staples Center crowd to be loud tonight. The Blackhawks will be getting the Kings' strongest effort to date. The first ten minutes will be a doozy.
Evan F. Moore is The Hockey Writers contributing Blackhawks Writer.His work has appeared in the Red Eye,The Checking Line,Gapers Block,ChicagoSide,Extra Bilingual Newspaper, Chicago Now, Time Out Chicago. He resides in Chicago.