In the salary cap world of the NHL, drafting and developing your own prospects is crucial. Drafting well takes a combination of both shrewd scouting and a little bit of luck. The Edmonton Oilers had the privilege of drafting first overall the past three years in a row, adding Taylor Hall, Ryan Nugent-Hopkins and Nail Yakupov to their young roster. This year however, the Oilers improved slightly in the standings, and now find themselves with the seventh overall pick. According to scouts, this is the deepest draft since 2003, but that doesn't mean Edmonton wouldn't consider moving their pick if the right deal came along.
"We've talked to a number of teams about that seventh pick and moving that pick in either direction. I think that's something that we're very amenable to. If we do move that pick back and get an asset that we feel can come in and help the current group, we'd be more than happy to have any of those discussions, and have had many of those discussions with a lot of the managers at this point. In terms of moving up, I've had a couple discussions with managers about moving up." – Craig MacTavish (NBC Sports)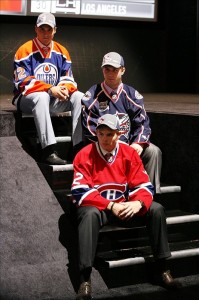 Considering the talent of the top five prospects, who wouldn't want to move up? Assuming the Oilers hang on to number seven, history tells us they may be getting a gem of a player. Or a total bust.
In the year 2000, the Boston Bruins held the number seven pick, and used it to draft Swedish defensman Lars Jonsson. He was most certainly a miss, only having played eight games in the NHL, none with the Bruins organization.
In 2001, the Montreal Canadiens selected defenseman Mike Komisarek. He was a very good player for Montreal, making the All-Star game in 2009. But he signed a rather large free agent contract with the Toronto Maple Leafs and was quite a disappointment. He finished this season in the AHL.
In 2002, the Anaheim Mighty Ducks took forward Joffrey Lupul at number seven. He's a highly skilled played, but had quite a few injury issues over his career, and bounced around a bit. Most recently, he's found a home with the Maple Leafs and is arguably their best player and likely the next team captain
In 2003, the Nashville Predators selected defenseman Ryan Suter. He and Shea Weber formed one of the most dynamic and dangerous defensive duos in the NHL. He signed as a free agent last summer with the Minnesota Wild and proved he can be great without Weber, earning himself a Norris trophy nomination.
In 2004, the Florida Panthers chose center Rostisalv Olesz. He played six seasons with the Panthers but never scored more than 14 goals. He was traded to the Blackhawks but couldn't stick with the big club and most recently played in the AHL.
In 2005, the Chicago Blackhawks selected winger Jack Skille. He has never played a full 82 game season in the NHL, though he has put up solid numbers in the American Hockey League. He's currently a member of the Panthers organization.
In 2006, the New York Islanders took winger Kyle Okposo with the seventh pick. It's taken him a while to really find his game, but Okposo had a very strong playoff series with the Islanders this season and is becoming one of their most important players.
In 2007, the Columbus Blue Jackets took winger Jakub Voracek at number seven. He's big and skilled, but didn't really break out until after a trade to the Philadelphia Flyers. He's one of their most dangerous players, scoring a career high 22 goals in just 48 games this season.
In 2008, the Nashville Predators chose defenseman Colin Wilson with the seventh pick. Wilson has put up decent numbers in his four season as an NHLer, but doesn't really have the makings of a top pairing guy.
In 2009, the Toronto Maple Leafs selected forward Nazem Kadri at number seven. After being a lightning rod for controversy in Toronto, Kadri finally earned a permanent spot in the NHL. He had a fantastic year scoring 18 goals and 44 points in 48 games. He slowed down a bit towards the end of the season, but his skill is unquestionable.
In 2010, the Carolina Hurricanes chose forward Jeff Skinner. He won the Calder trophy as the NHL's rookie of the year and become the youngest player ever to be selected to an all-star game. As long as he doesn't face any more concussion troubles, Skinner may the best seventh pick in a long time.
In 2011, the Winnipeg Jets drafted center Mark Scheifele at number seven. He's been dominating in Junior Hockey, but still needs to get a little bigger physically to stick in the NHL. He's a candidate to make the Jets roster next season, but he's by no means a lock.
In 2012, the Minnesota Wild selected defenseman Matthew Dumba with their pick. Dumba had a strong junior career, but may not be ready to be a full time NHL player just yet. However, he's certainly got the size and skill set to make an impact.
There have been a few solid players at number seven in the past decade, but it's hard to say whether the Oilers will end up with a Suter/Skinner, or a Jonsson/Olesz. Edmonton is used to getting can't-miss prospects. Barring a trade, this year will likely be a little different