Passion. Hatred. History. These are all attributes that are the foundation for any great rivalry in sports.
For the Boston Bruins and Montreal Canadiens, it couldn't be any more true.
On Wednesday night, they will write the 732nd chapter in their nearly 90-year-old rivalry dating back to the days of the Original Six. Many Hockey Hall of Famers including Cam Neely, Jean Beliveau, Maurice "Rocket" Richard, and Bobby Orr have graced their presence in what is without question the greatest rivalry in professional sports.
The modern-day Bruins/Canadiens battles have only intensified the hatred between the two cities. The fan bases hate each other while the players share a disdain for the opposition. It's a perfect recipe for the latest installment of NBC Sports Network's "Wednesday Night Rivalry" series. However, unlike some of their previous matchups which required a contrived notion of a rivalry, Boston and Montreal needs no explanation.
This is indeed the real thing.
Montreal Domination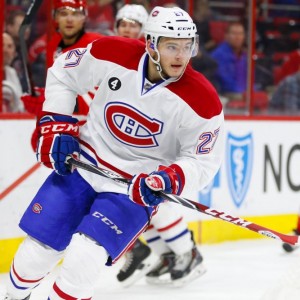 The Habs have given the Bruins fits for almost a century. Boston is 271-348-103-9 all time against their rivals from Quebec. In fact, their .447 win percentage against the Bleu, Blanc, et Rouge is the second-lowest in franchise history ahead of only the Minnesota Wild.
Recently, things have stayed true to form. Montreal has won seven straight meetings with Boston and 12 of their last 13 overall dating back to March 2013. After a season sweep last year, the Canadiens have taken the first two matchups in 2015-16. Lars Eller, Alex Galchenyuk and now-demoted Alexander Semin combined to sink the Bruins 4-2 in Boston back on October 10. Combined, the trio recorded two goals and seven points while Bruins-killer Carey Price faced just 21 shots, stopping 19 of them.
The Black and Gold would have fancied their chances on November 7 heading to the Bell Centre knowing that Price would miss out due to a lower-body injury. Things looked good as the Bruins took a 2-1 lead into the final 20 minutes. That is, until they allowed three third-period goals and found themselves on the wrong end of a 4-2 final. David Krejci took all three Bruins penalties that night, directly resulting in two power-play tallies for Montreal. The game-winner came with just over a minute to go in regulation when David Desharnais put one past netminder Jonas Gustavsson.
Massachusetts native Mike Condon made 29 saves in the victory for the Habs, further extending the Bruins misery at Bell Centre.
How Things Stand
Montreal finds themselves at the top of the Eastern Conference with a 19-6-3 record and 41 points. They are the class of the Atlantic Division with a comfortable six-point gap over the second-place Detroit Red Wings. The Habs have one of the best home records at 10-3-2 but are just 3-3-1 in their last seven games at Bell Centre, including ugly losses against the Colorado Avalanche and Arizona Coyotes.
As for Boston, their 3-2 loss against Nashville on Monday night snapped a streak of eight straight games with a point (6-0-2), vaulting them into a wild card spot. The Bruins have been road warriors this season with the best record in the Eastern Conference away from TD Garden (9-2-2) and third-best in the NHL behind San Jose and Dallas.
In fact, Boston's last road loss in regulation came against Montreal just over a month ago. The Bruins will be keen to make sure that won't happen again.
Star Power
If the Bruins have a chance to claim victory, they will have to contain Canadiens captain Max Pacioretty.
The Connecticut native has torched Boston in his career to the tune of 24 points (13 goals, 11 assists) in 28 games, tied for the most against any team with Toronto. Furthermore, he's etching his name on to the list of "Bruins killers" with nine points in his last six games against the Black and Gold. Pacioretty is coming off back-to-back 30-goal campaigns and is Montreal's most dangerous offensive weapon. He leads the club with 13 goals and 25 points.
http://gty.im/499995414
Tuukka Rask has had a torrid time with Montreal in his career. The 28-year-old Finn is 3-14-3 against the Habs with a 2.76 goals-against-average and a .906 save percentage in his career. If there's a blessing in disguise, it's that Rask has won all three games against the Canadiens in Montreal. In those three victories, he's allowed just two goals with a stunning .978 save percentage. Conversely, Rask has allowed 19 goals in his six losses at Bell Centre with a putrid .880 save percentage.
The Bruins offense is led by super pest Brad Marchand. The winger leads Boston with 13 goals in 24 games and is well on his way to a fifth 20-goal campaign in his six-year career. This year, he has been a new addition to the Bruins' power play and has scored three goals on the man advantage in addition to three shorthanded markers. The Nova Scotia native is earning coach Claude Julien's trust in all three phases of the game and is paying dividends in all areas of Boston's attack.
Stat Trick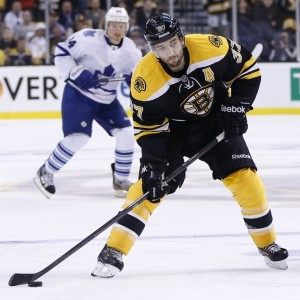 10: The Bruins and Canadiens have combined to score 10 shorthanded goals so far this season. Montreal is tied for the League-lead with six while Boston has four of their own.
18: Boston has scored first in 18 of their 26 games this year. However, they rank just 17th in win percentage when scoring first (.667) and have the second-most losses with six.
14: Patrice Bergeron is tied with Patrick Kane for the League-lead in power-play points through 26 games. The Quebec native had just 14 points on the man advantage in 81 games last season.
For Boston and Montreal, Wednesday night is more than just a game. It's more than two points in the standings.
It's the latest chapter in a historic rivalry that spans over four generations. Can the Bruins temporarily silence the ghosts of Montreal or will the Bleu, Blanc et Rouge get the better of their Black and Gold counterparts yet again?