After his sophomore season at Ohio State University ended on March 26 with a 4-1 loss to Quinnipiac University in the Manchester, New Hampshire Regional Final of the NCAA Tournament, Boston Bruins top defensive prospects Mason Lohrei had a decision to make. Was he going to return to the Buckeyes for his junior season, or bypass it and sign with the team that drafted him in the second round, 58th overall in the 2020 Entry Draft? He chose the latter.
On Friday (March 31), Lohrei signed an AHL amateur tryout agreement (ATO) to finish out the regular season with the Providence Bruins in the American Hockey League (AHL) and also play in the playoffs. This decision is not a surprise, but what it does is it gives the Bruins an interesting option at training camp next season with the Wisconsin native.
Lohrei Impressed at Ohio State
Lohrei is a lot older than most college sophomores at 22 years old. His freshman season was cut short with a knee injury in February of 2022, which required surgery and he attended the Bruins Development Camp last summer, but did not participate. He did speak about his decision to return to Ohio State.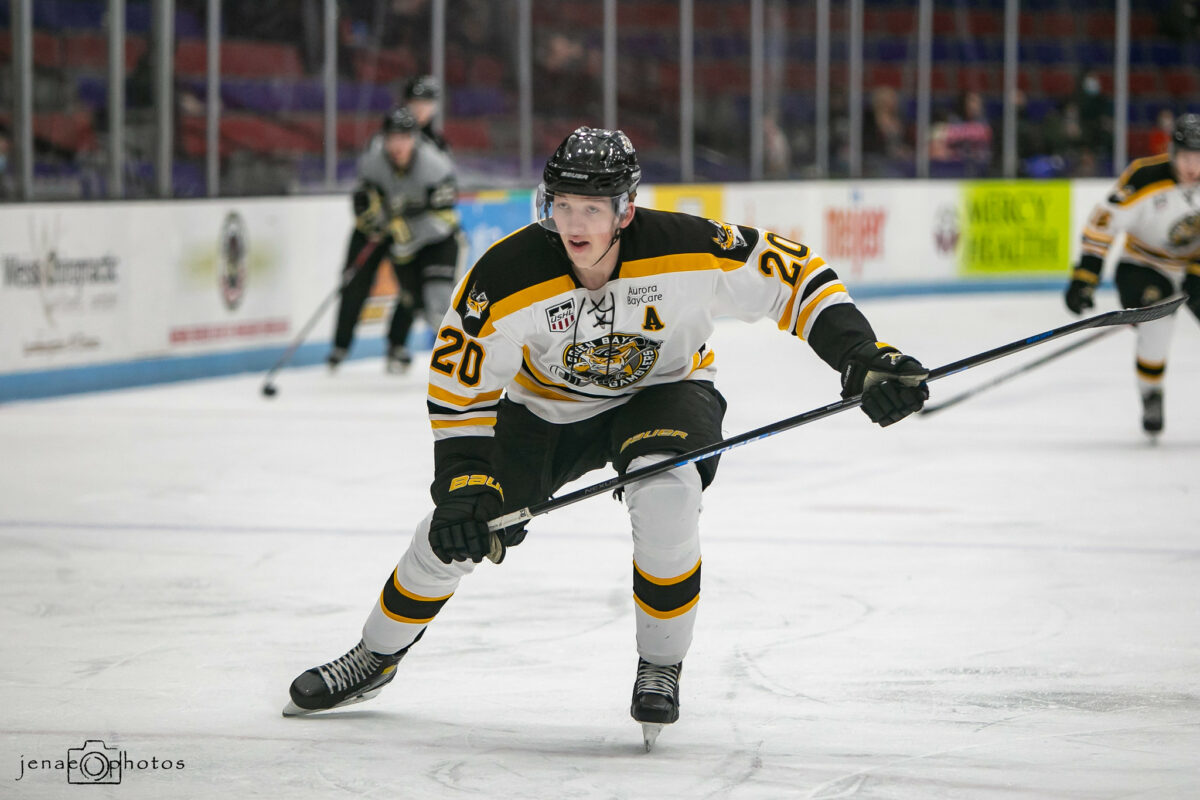 "Going back and just continuing to work on my game and get stronger, quicker, work on my defending, just little details," said Lohrei. "Stuff like that is pretty intriguing to me to go back. I grew up dreaming of winning a national championship. That's the main goal. I'll go back and try to accomplish that this year."
He didn't win the national championship, but accomplished most of what he wanted and then some in 2022-23 with the Buckeyes. He played over 30 minutes a night multiple times and had four goals and 25 assists. At 6-foot-4 and 209 pounds, the left shot had a goal and two assists in the Buckeyes' 8-1 win over Harvard University in the first game of the NCAA Tournament on March 24. Before joining Ohio State, he had 19 goals, and 40 assists for 59 points, which were all USHL highs for a defenseman in the 2020-21 season with the Green Bay Gamblers.
Lohrei is the Bruins' top defensive prospect for a reason. His big frame and long reach have helped him become a shutdown defenseman in college and his offensive game has been getting better and better. There is no doubt that there has been a progression in his game in his two years in college.
Lohrei Offers Intresting Option in 2023-24
The Bruins are currently loaded with talented defensemen in Boston, but there is no doubt that Lohrei will be very close, if not NHL-ready next season. Connor Clifton and Dmitry Orlov are free agents following the season, while Matt Grzelcyk and Derek Forbort will be entering the final year of their contracts and Jakub Zboril is a player that when he does play this season, he's raising his trade value if that's an avenue that general manager (GM) Don Sweeney wanted to go down. How Boston goes about putting their defense together in 2023-24 will depend heavily on how they fare in the Stanley Cup Playoffs this spring.
Related: Bruins Weekly: Pastrnak, Bergeron, Frozen Four & More
---
Latest News & Highlights
---
It's unlikely that Clifton returns to Boston as he is playing himself into a nice payday this summer, something the Bruins will not be able to afford with their cap constraints. Orlov is another player that is playing himself into a payday somewhere, just not in Boston. By signing the ATO, it does not burn a season on Lohrei's entry-level contract that he will have to sign after this season. Of all the Bruins prospects on defense in Providence, Lohrei should move to the top of the list of blueliners ready to make the jump to the NHL, something he said has always been a dream.
"I try not to focus on that stuff too much. But it's exciting," said Lohrei. "You feel yourself getting closer. It's every kid's dream to play in the NHL. Hopefully I can make that jump sooner rather than later."
His dream will become reality in the not-too-distant future and it could be as early as next season.
---
---