By Mike Miccoli, Boston Bruins correspondent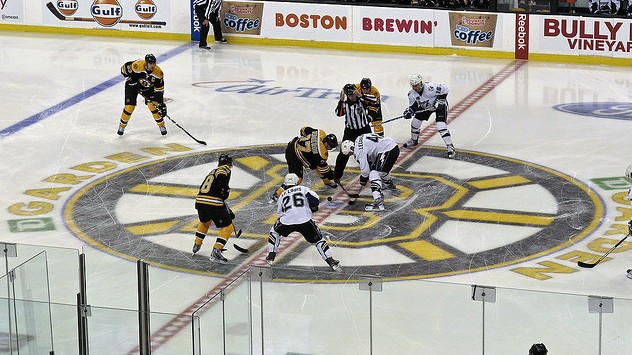 First things first. The Boston Bruins roster, as it stands now, can not be considered as a Stanley Cup contending team. This is perfectly normal. In fact, I can only think of maybe three teams in the entire league that are legitimate threats to win the 2010-11 Stanley Cup; two of which are in the Western Conference. Can the Bruins follow up on their late season success while trying to discard all memories of the four-game collapse against the Philadelphia Flyers in the Eastern Conference semi-finals? That might be a trickier question to answer.
The B's are coming off a season of ups and downs, from their triumphant overtime victory in the Winter Classic that immortalized Marco Sturm's goal-face on every piece of marketing that the Bruins will distribute for years to come, to their prolonged departure in the playoffs. The Bruins will do all they can to combat being associated with the two other teams to lose a playoff series after being ahead by three games. But that won't come very easily.
The players are most important and certain Bruins are sure to make more of an impact than others–whether positive or negative. A young goaltender from Finland usurped the reigning Vezina winner and became the Bruins' starting goalie while a once injury-ridden center became the most important skater on the ice for the B's, earning him a spot on Canada's Olympic team. Here's a look at some players' superlatives for the upcoming season.
The Bruin to Watch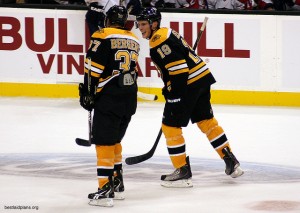 This should be an obvious one. Second overall draft pick, Tyler Seguin will no doubt be fun to watch and grow into the player that he's hyped up to be. Seguin has drawn comparisons to Steve Yzerman, the player for whom Seguin wears number 19, based on his skill, determination and subtle leadership. Jamie Arniel, another B's prospect, compared Seguin to his former teammate in the OHL, Steven Stamkos. Stamkos was the first overall pick in the 2008 Entry Draft and had a mediocre year in his first season (23 goals and 46 points) but skyrocketed with 52 goals in his second season.Until Seguin becomes accustomed to the gameplay in the NHL, set realistic expectations for the rookie. Having 20+ goals and 50 points in his first season could be close to accurate; 30+goals and 70 points would be a very pleasant surprise.
Seguin will have all eyes focused on him in Boston during the home opener against the Capitals on October 21. It's been awhile since Boston has had this good of a prospect on their hands. How he'll transition to the wing and also to the unique Bruin offense has yet to be seen, making Seguin's journey to Boston all the more trying.
The Disappointment
I'll be honest when I say that I was ecstatic when Marc Savard signed his extension in November. The feeling of excitement and pride was apparent throughout Boston when Savard scored the overtime winner against the Flyers in game one, his first game back after the reckless hit from Matt Cooke took out Savard in March. This, of course, preceding the groans when Savard was whistled for that too-many-men penalty in game seven. And then, some were torn up when rumors began to swirl about his departure in June. Is there anyone who knows what emotion Savard will provoke next? I do.
Savard is clearly not the same skater he was since before his injury. The too-many-men penalty that cost them game seven against the Flyers was clearly a misstep for the center. The way he later handled the situation raised many eyebrows, too. When Savard is on top of his game and playing to his fullest abilities, their is no better playmaker for the Boston. If he can't be that player, his role may not be as large as it once was.
Injuries could be catching up to Savard quickly and those seven years could feel like a lifetime if he can't be on the ice producing. Savard is the clear-cut, number one center for Boston but could potentially be heading towards the long-term injured reserve list for the start of the season. With a new target in Nathan Horton, Savard could really get a chance to turn his game around and go back to being the center that Bruins fans believed in. He just needs to get onto the ice first. Who knows when that will happen?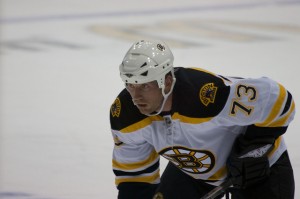 The Grenade
While Seguin will be fun to watch–there will be some players on the opposite end of the spectrum. Take Michael Ryder for example.
Dennis Wideman was last year's scapegoat for the Bruins' poor performances while P.J. Axelsson suffered some harsh criticism in the year previous to that for his inability to shoot the puck when playing alongside Marc Savard. Nonetheless, as there is every season, there will be a player that fans will jump on and take blame for the team's mistakes based on their own poor play. Michael Ryder is going to be the grenade this season
Ryder's cap hit of $4 million is the definition of overpayment. If paid based on his goals alone last season, Ryder made $222,222 for every one of his 18 tallies. Sure, his first three years with Montreal and first year with Boston were promising, but when Ryder wasn't having a good season, he was flat out bad. Another case of a player with a pretty good amount of potential untapped, Ryder is already staring at some grim circumstances this season. With prospects such as Joe Colborne, Jordan Caron, Ryan Spooner and Brad Marchand all dangerously close to making the professional team, Ryder could very well be the odd-man-out if his production does not pick up.
The MVP(s)
In the wake of Savard's absence, David Krejci will no doubt step up in offensive production for Boston. Krejci has shown flashes of greatness with his speed and delicacy when handling the puck and will serve as top-line center while Savard heals. Krejci will most likely have Horton and Milan Lucic as linemates for the beginning of the season–two big targets who can get heavy shots on net. Although injuries and lack of targets may have hindered Krejci's point total last year, the Czech finished strong with four goals and 12 assists (16 points) in the final 15 games of the regular season as well as an impressive run in the playoffs before breaking his wrist. Pencil Krejci in for 70+ points this season, once again breaking 50 assists.
Krejci won't be the sole key to victory for the Bruins as the black and gold will look for Tuukka Rask to follow up on his first year of success. Rask will once again compete with Tim Thomas for the starting gig but should be able to come out on top. Thomas should serve as a quality backup for the Bruins while Rask backstops for the black and gold on a full-time basis. Being able to capitalize on his 1.97 G.A.A., Rask will be starting more games and will be looked upon to serve as the last line of defense for Boston–a role he thrived in last season.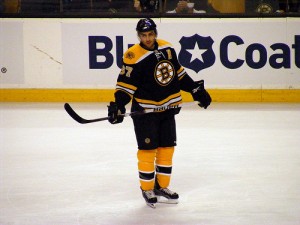 The Face of the Franchise
Turn your heads, Chara-supporters but Patrice Bergeron is the face (and the future) of this Boston Bruins club. No other player sticks out more for the black and gold since the lockout of the 2004-05 season. Bergeron has faced adversity many times most notably after a vicious Randy Jones hit that ended the 2007-08 season for the center. Bergeron bounced back this past season with his best year since his concussion, becoming the model league-wide for defensive-forwards and centermen with his impressive face-off wins.
The penalty-kill specialist is often overlooked in the NHL but came into his own when Team Canada's GM, Steve Yzerman selected Bergeron to the Olympic team this past season. Bergeron is progressing forward offensively to the force he once was and should continue to do so this season. Bergeron's contract is up after this year but will more than likely be a top priority for re-signing along with another upcoming Boston free agent, Zdeno Chara. His leadership is heard both on the ice and in the locker room and is considered one of the true leaders of the Bruins.
Other superlatives:
The 13th Forward: Joe Colborne
The 7th Man: (tie) Nathan Horton/Johnny Boychuk
Mr. Injury: Andrew Ference
Most Likely to Spend Season in the Press Box: Matt Hunwick
First to the Chopping Block: Michael Ryder or (once healthy) Marco Sturm
Prediction: 45-28-9 (1st in Northeast, 3rd in Eastern Conference)
For more Bruins talk, follow Mike on Twitter at twitter.com/mikemiccoli.
Mike Miccoli covers the Boston Bruins for The Hockey Writers and has been a credentialed member of the media for all Bruins' home games for the past five years. As a former player, coach and official, Miccoli has been around the game of hockey since the age of three. Along with his work on THW, Miccoli has also been published in the New England Hockey Journal, Improper Bostonian magazine and on BostInno.