If you're a Kings fan, you've probably resigned yourself to the notion that long-time power forward Dustin Brown is untradeable. And to that end, you may be right.
Brown's Painful Measurables
Consider the headwinds general manager Dean Lombardi faces in trying to move Brown and his absurd contract:
-$5.875 million cap hit
-Signed through 2021-22
-Averaged 12G, 15A over the past three seasons
-Negative plus/minus over the past two seasons
-No longer in the top five of hits leaders
-Almost all teammates had a lower GF/60 with him on the ice
-31 years old
He's a good man and a solid leader who is active in the community and has been reasonably productive for the majority of his career, culminating in two Stanley Cup victories. However, all good things come to an end, and it's pretty clear Brown's offensive effectiveness has done just that.
With the Kings lacking flexibility due to being utterly cap-strapped, they simply cannot afford to pay a 31-year old third-liner an average of nearly $6 million for the next six seasons. For both the team and the player, offloading Brown has to be a priority.
The Bryan Bickell Deal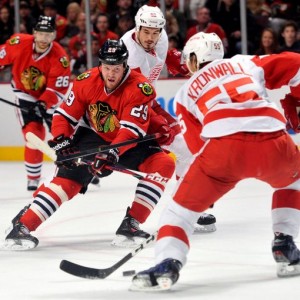 No strangers to cap challenges, the Chicago Blackhawks once again schooled the Kings on how to get rid of a bad contract. Yesterday, they completed a trade with the Carolina Hurricanes in which Bryan Bickell and promising 21-year old forward Teuvo Teravainen were sent to Carolina for a second round pick in this year's draft, along with a third rounder next year.
There's no doubt the trade was costly for Chicago. Selected #18 overall in the 2012 entry draft, Teravainen scored 13 goals and dished out 22 assists in his first full season with the Blackhawks. Effectively, Chicago traded an NHL-ready first round pick at the beginning of his career for substantially lesser assets.
However, that was the price they had to pay in order to get rid of Bickell, who has — like Brown — failed to justify his contract. Bickell's cap hit isn't as bad ($4 million) and his contract is nowhere near as long (expiring at the end of next season), and yet the Blackhawks bit the bullet anyway. With over $65 million tied up in 17 players prior to the trade, their cap situation demanded it.
Down for Brown
The Kings are in the same boat as the Blackhawks, with over $63 million devoted to just 17 players. Meanwhile, the salary cap may remain flat next season, and they've got work to do with a few pending free agents, most notably Milan Lucic.
Any deal involving Dustin Brown is going to have to involve a trading partner with plenty of cap space that needs veteran leadership as well as a forward with a strong physical edge to his game. Given the size and duration of Brown's contract, it seems likely they would have to retain a portion of his salary as well.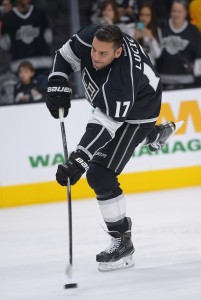 The elephant in the room is the asset they would have to include in order to follow the Bickell blueprint. The Kings would certainly part with Michael Mersch, Nick Shore, or Andy Andreoff to make it happen, but even if all three were included, it's questionable that would be enough. Adrian Kempe would probably do the trick, but man, that's painful.
Of course, Los Angeles could include a productive veteran currently on the roster, but for a team still in the middle of its prime, that would be creating a problem that doesn't currently exist. That's not going to happen.
Bottom line: there are options. Brown would benefit from a change of scenery and the Kings could sorely use additional cap space to add depth to an increasingly top-heavy roster. For both sides, working the phones to make something happen just makes good sense.
Sometimes, the pain is worth the gain. Just ask the Chicago Blackhawks.