Currently riding a three-game winning streak, the Buffalo Sabres aren't exactly in need of any good news. Regardless, they got some anyway, as Josh Gorges returned to full practice on Tuesday at First Niagara Center.
Gorges made it through practice OK & Nolan says his return could be "sooner rather than later."

— Buffalo Sabres (@BuffaloSabres) November 25, 2014
Quick Recovery From Knee Injury
Gorges sustained a knee injury back on November 11, during a 6-1 loss to the St Louis Blues. At the time, Sabres head coach Ted Nolan feared that the defenceman was "weeks away" from returning to action.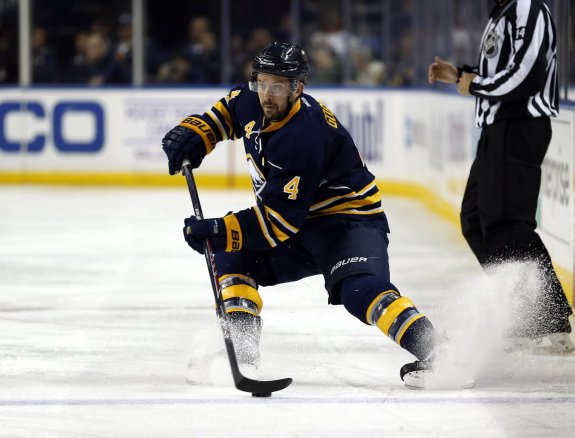 The prognosis didn't look much better when Buffalo placed the alternate captain on injured reserve several days later. Fortunately however, he now appears to be ahead of schedule in his recovery.
Gorges spent Monday skating by himself, and was not expected to spend much time on the ice during Tuesday's practice. However, he surprised everyone by remaining for the duration, and taking part in most drills alongside Andre Benoit as the fourth pairing in defence.
Eager to Face the Montreal Canadiens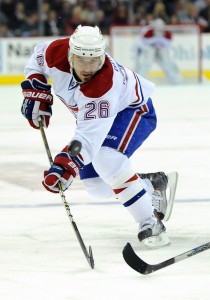 Gorges discussed his eagerness to return to action with the Buffalo media: "As a player and as a competitor, you want to be out there. There's nothing worse than sitting on the sidelines, watching your team go to battle without you."
Another part of the reason for the determination of the 30-year old is likely the opportunity to play against his former team. The Sabres face the Montreal Canadiens in back-to-back games this coming Friday and Saturday.
Gorges has spent the majority of his NHL career with the Canadiens, so you can understand why he is so enthusiastic to return to action this weekend. The Kelowna, BC native enjoyed a successful tenure in Montreal, which included going to the playoffs in five of his seven full seasons with the team.
Traded to the Buffalo Sabres
All signs pointed to the undrafted defenceman remaining in Montreal for the long haul, especially after he signed a six year $23.4 million extension at the start of 2012. However in a surprising move, he was traded to the Sabres at the conclusion of the 2014 season for a second round draft pick in 2016.
Gorges will be the first to admit that he has struggled so far this season, with just one point in 17 games, together with a plus/minus of -8. However with the Sabres recent improvements, he is hoping to be in a position to show the Canadiens that they made a mistake in trading him away.
'Armed' with a journalism degree, I have covered numerous NFL, MLB, NHL, MLS, CFL & NLL events for the BBC, TO Sports & Blue Toro, while being fortunate enough to interview various sporting personalities, including Rogers Goodell. Throughout it all, the one message I have for anyone in this industry is to never take it for granted.