After a disappointing 2011-12 season, the Buffalo Sabres went into the off-season with some pressing needs. General Manager Darcy Regier addressed those needs through the draft, free agency, and trading.
The Draft – One of the biggest needs Buffalo had going into the draft was size in the forward corps, especially up the middle. They managed to fill that need in the first round of the draft by selecting two big centers in Mikhail Grigorenko at No. 12 and Zemgus Girgensons at No. 14.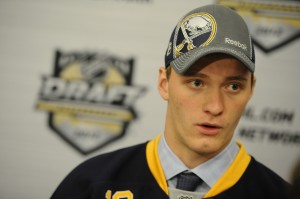 Mikhail Grigorenko – He's one of those rare mixes of size and skill. The 6'3″ 200 lb native of Russia is not only big, he's also fast, dazzling with his hands, and has the vision of an elite playmaker. These qualities earned him a top-5 prospect ranking for most of the season. However, a month before the draft he slipped outside of the top-10 due to a poor performance in the QMJHL playoffs, allowing the Sabres to grab him at No.12. It was later discovered that Grigorenko had mono throughout the postseason and was not playing at 100% during that time. So the Sabres essentially were able to get a top-5 quality prospect outside of the top-10. With Grigorenko's elite abilities, it is very possible that he will earn a spot on the Buffalo lineup as early as this season, if the season ever begins.
Zemgus Girgensons – Zemgus may not be the elite talent that Mikhail Girgorenko is, but he is still a force to be reckoned with on the ice. He plays a well-rounded game, and has superb two-way skill. Yet, what is most noticeable about Girgensons is his toughness, tenacity, and physical style of play. He's that warrior that always has his nose in the dirty areas and will also punish opponents with his checks. Girgensons playing style has often been compared to Dustin Brown and Ryan Callahan. If the first Latvian born player ever to be taken in the first round turns out to be at all like Callahan or Brown, the Sabres should be thrilled. Big physical players are exactly what they need.
Draft Grade: A
Free Agency – Despite a disappointing season and missing the playoffs, Darcy Regier did not make a huge splash in free agency. In fact  he hardly made a ripple, signing just John Scott, Kevin Porter, and Mark Mancari, while losing Brad Boyes and Jochen Hecht. Yet, this lack of activity may have been a good thing for Buffalo. The Sabres will have seven restricted free agents next off-season, which include Cody Hodgson, Jhonas Enroth, Luke Adam, T.J. Brennan, Brian Flynn, Mike Weber, and Drew Schiestel. A good number of those players will be looking for raises next year, and by saving money in free agency this year, the Sabres will be able to pay for those raises and keep their young players next year. Many free agents were also overpaid this off-season. If the still-to-come new CBA lowers the salary cap, the teams who overpaid and are closer to the cap will be in dire straits, while Buffalo will be right as rain. Plus the Sabres already have enough overpaid players, i.e. Ville Leino. Regier couldn't afford to make that mistake again, and obviously made sure not to this year. In the end though, despite how small the signings, he did address the teams needs, and without overpaying.
Additions
John Scott – Scott brings the size and toughness the Sabres so desperately need. At 6'8″ 270 lbs, even hard-nosed Milan Lucic will have a difficult time running Ryan Miller with Scott lurking around the corner. He can play forward and defense and will likely be the teams new enforcer in the bottom-6, next to Patrick Kaleta and Cody McCormick. With a $600,000 contract he was not overpaid for either. A quality addition for the Sabres.
Not even tough-customers like Derek Dorsett stand a chance against the monster heavy-weight.
Mark Mancari – Originally drafted by the Sabres back in 2004, Mancari drifted around the AHL after leaving Buffalo. He has now returned on a two-way contract. Mancari is a career minor leaguer, and he will likely not see anytime with the big club this season.
Kevin Porter – After a few unimpressive seasons with the Colorado Avalanche, Porter signed a two-way contract with Buffalo. He will likely serve as a 13th forward, splitting time between the NHL and AHL.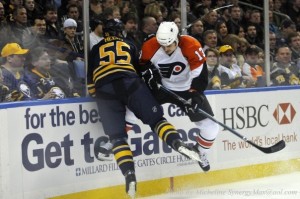 Departures
Brad Boyes – The veteran scorer had one of his worst seasons ever last year, scoring just 23 points in 65 games. He also made it clear that he disagreed with longest-tenured coach Lindy Ruff's coaching style. With his inability to work in Ruff's system and last years lack luster performance, Boye's departure should not be a huge hit to the teams scoring. His leave will also allow younger players like Mikhail Girgorenko, Marcus Foligno, and Luke Adam, to get more much needed time in Buffalo's top-6. Boyes will play with the New York Islanders this season.
Jochen Hecht – The 35 year old forward missed 60 games last season and may be one big hit away from calling it a career. Instead of re-signing Hecht, the Sabres chose to round out their bottom-6 with bigger and younger players, which was probably the smart decision.
Free Agency Grade: C
Trades – Buffalo had only one trade this off-season, but it was an important one. Buffalo departed with slumping veteran center Derek Roy in exchange for forward Steve Ott and defenseman Adam Pardy of Dallas.
Steve Ott – Perhaps the most important addition to Sabres lineup this off-season, Ott is the type of player the team has been desperately searching for. As a grinder and one of the leagues best agitators,  Ott will make the team much harder to play against. He's also an elite face off man and has enough scoring touch to play in the top-6 if needed.
Ott is already "blood-brothers" with Sabre defenseman Mike Weber, and will likely build chemistry with the rest of the team quickly.
Adam Pardy – Pardy is a clear-cut depth defenseman. With his addition the Sabres now have more than enough NHL ready defenseman and are one of the deeper teams in the league on the blue line.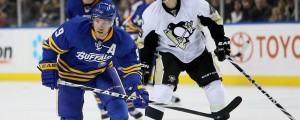 Derek Roy – Losing top-6 forward Derek Roy won't be a huge hit to the team. Roy had one of the worst seasons of his career last year and was also clashing with head coach Lindy Ruff. Roy's role on the team was also already filled before his departure. Young Cody Hodgson, acquired from Vancouver at the trade deadline last season, was likely brought in to serve as Roy's replacement at center.
Trade Grade: B
Looking Forward – Almost every Sabre had an uncharacteristic down year last season. Top-sixers Derek Roy and Brad Boyes were shells of their former selves and young stars Tyler Ennis and Tyler Myers missed a combined 61 games. With Ennis and Myers healthy, and guys like Hodgson, Grigorenko, Foligno, and Adam ready to step up and fill Roy's and Boyes void, this season – if it ever starts – should be a different story. The addition of multiple centers will allow Ville Leino to play the wing – where he is more suited – and the additions of Ott and Scott should make the team harder to play against, perhaps reducing the number of shots on Ryan Miller (last year the Sabres tied for 4th in the league in most shots against). The Sabres still lack right handed shooters, especially on defense, as well top line power forwards who will go to the dirty areas of the ice. These problems could be solved with Buffalo's abundance of defensemen, as they could be valuable trading assets with teams that lack defense, as many do.
The Sabres are a younger team than last year, and have seemingly no where to go but up.
Off-season grade: B