With a little more than one-third through the 2012-13 season in the Quebec Major Junior Hockey League (QMJHL), four teams are clearly distancing themselves from the pack. Without any surprise, the Halifax Mooseheads, led by top prospects Nathan MacKinnon and Jonathan Drouin, as well as the Quebec Remparts, loaded with talent up front with players like Mikhail Grigorenko, Anthony Duclair and Adam Erne are at the top of the rankings.
The other two teams enjoying a lot of success so far this year are the Blainville-Boisbriand Armada, the best defensive team in the league, as well as a young Baie-Comeau Drakkar team led by Petr Straka, acquired earlier this season from the Rimouski Oceanic.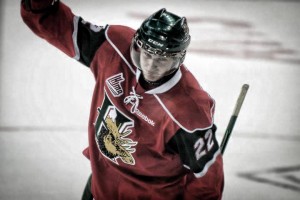 The Halifax Mooseheads are practically unbeatable this season with a 20-2-1 record to go with a +60 goal differential. Led by über-talented forwards Nathan MacKinnon and Jonathan Drouin (both are top-5 material for the 2013 NHL Entry Draft), as well as dynamic netminder Zachary Fucale, Halifax is the team to beat in the Q this season and they are serious contenders for the Memorial Cup.
Through 23 games, MacKinnon has scored 19 goals and 21 assists for 40 points with a +21 plus/minus rating. Having missed a few contests due to an injury, Drouin has the best point-per-game ratio this season with 15 goals and 23 assists for 38 points in only 17 games (2.24 PPG).

Beautiful goal by Jonathan Drouin
As for Zachary Fucale, he is ranked 2nd in the league with a 2.62 GAA to go with his impressive 16-2-0-1 record in 19 games. Drafted 49th overall by the Detroit Red Wings in 2012, Martin Frk has picked up the pace offensively and has shown a better work ethic recently. In 21 games now, he has recorded 10 goals and 19 assists for 29 points; he even has a +5 rating, which is surprising for the offensive-minded Czech.
Meanwhile in Quebec City, NHL Hall-of-Famer Patrick Roy will coach his 500th game tonight behind the Quebec Remparts' bench when his team host the lowly Sherbrooke Phoenix. Earlier this week, Roy, who is also the general manager, solved his 3-European players problem by trading RW Nikita Kucherov to the Rouyn-Noranda Huskies for RW Denis Kamaev and a 2nd round pick in 2013. Then Roy moved Denis Kamaev and the team's 2014 Euro 1st-rounder to Sherbrooke for the Phoenix's 2014 Euro 1st-rounder and a 2013 5th round pick.

Adam Erne destroys Habs' prospect Olivier Archambault with a clean hit
The move allows the Remparts to dress Mikhail Grigorenko and Nick Sorensen every game until the end of the campaign. Grigorenko, drafted 12th by the Buffalo Sabres in 2012, is off to a great start with 20 goals and 20 assists for 40 points in 22 games. Grigo is supported offensively by a trio of 2013-draft-eligible players: Sorensen, an 18 year-old winger from Danemark, has recorded 21 points in 18 games, while Adam Erne, a lanky American from Connecticut, has notched 16 goals and 18 assists for 34 points in 23 contests. Finally, Anthony Duclair, a native of Montreal who missed 13 games due to a right-ankle sprain, has 14 points in only 10 games.
At the other end of the 40 highway, the Blainville-Boisbriand Armada is also enjoying plenty of success this season. So far, the Armada and the Remparts have pretty similar records of 18-5-0-2 (38 points) in 25 games and 18-5-0 (36 points) in 23 games, respectively. The best defensive team in the league with only 60 goals allowed in 25 games for a 2.40 GAA, the Armada can count on the excellent goalie tandem of Etienne Marcoux and rookie Storm Phaneuf to hold the fort. Marcoux, who played in the Subway Super Series, boasts a great 2.10 GAA and a .917 save percentage to go along with a 10-3 record. Phaneuf, who turned 17 earlier this month, is a serious candidate to be drafted in 2014 by an NHL team. The netminder with one of the coolest names ever, has posted an excellent 2.26 GAA and a .904 save percentage to go with 8-2 record in 10 games with Blainville-Boisbriand.
Thanks to a very balanced attack, the Armada can also score plenty of goals with talented forwards such as Christopher Clapperton (15 g, 18 a, 33 pts in 24 gms), Marc-Olivier Roy (11 g, 18 a, 29 pts in 23 gms), Tommy Giroux (13 g, 15 a, 28 pts in 25 gms) and Cedric Paquette (10 g, 17 a, 27 pts in 23 gms). This quartet is supported by veteran defenseman Xavier Ouellet, who has been drafted in the second round of the 2011 NHL Entry Draft by the Detroit Red Wings. With 25 points in 24 games and a strong showing during at the Subway Super Series, Ouellet is a strong candidate to make Team Canada at the U20 World Championship.
Other the other hand, Stefan Matteau Jr who was off to a poor start and had been suspended one game for checking from behind an opponent earlier this season, is finally picking up his play. Drafted 29th overall by the New Jersey Devils in 2012, the rugged Matteau, who played for US National U18 Team last season, before joining the Armada in the off-season, has now 12 goals and 9 assists for 21 points in 22 contests.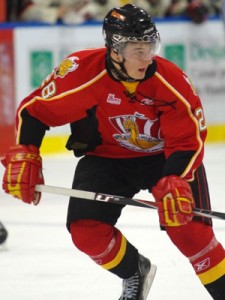 Looking for a 16th consecutive game without a loss in regulation, the Baie-Comeau Drakkar finally hit a wall earlier this week when the team fell 6-2 against the powerful Mooseheads in Halifax. After a difficult start, the Drakkar has the wind in its sails and is currently ranked fourth in the league with a 16-5-1-2 record behind the three above powerhouses.
Minnesota draft-pick Raphael Bussieres took matters into his own hands in November, collecting 10 points in only 3 games from Nov. 12 to Nov. 18 and being named one of the Telus three stars of the week. Bussieres now has 33 points in 24 games with Baie-Comeau. His linemate, Petr Straka, is the team's leading-scorer with 21 goals and 15 assists for 36 points in 20 games. Straka, who was drafted 55th overall in 2010 by the Columbus Blue Jackets, was acquired from the Rimouski Oceanic at the end of September for a third round pick and a sixth round pick.
Rookie Valentin Zykov has also been dynamite so far for Baie-Comeau with 26 points (16 goals and 10 assists) in 24 games. The 17 year-old Russian is currently ranked 3rd behind MacKinnon and Drouin among the QMJHL's prospects for the 2013 draft in the CSS's latest North American rankings.
Follow me on Twitter for more updates on the QMJHL and hockey in general.