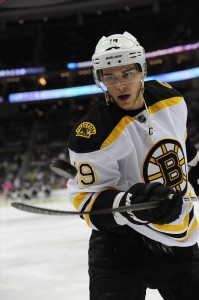 Even hut-dwellers in N'Djamena, Chad are keenly aware that social media has revolutionized how we communicate. Moreover, it allows us a glimpse into the unsolicited, unfiltered minds of celebrities and sports figures, a phenomena rarely available before the advent of Twitter. We've gone from not enough information to almost too much in a blink of the virtual eye.
In this piece, we take a look at a random sampling of some of the tweets sent out by current and former hockey players as they pertain to pretty much anything, but keying in on the ongoing labor dispute, now in its sixty-ninth day with no immediate end in sight. Furthermore, we'll attempt to decipher them, as clumsy as our analytical skills in this effort may prove to be. As always, be aware: objects in mirror may be closer than they appear.
Jeremy Roenick
On camera, Roenick is one of the most outspoken hockey analysts on television today. He may have been an utter failure in his single season as a Los Angeles King, but his career as a whole certainly wasn't, and despite an outward "hey, dude" persona, he'll stand his ground. Check out this now-infamous altercation with Mike Milbury over the Dustin Brown hit on Michal Rozsival during last season's playoffs:
Likewise, Roenick can be a little grandiose on Twitter as well. He certainly makes his political views known, and raises the stakes even a couple of notches with this tweet:
I'm ready to roll up my sleeves joint office position of President of US and Commissioner of NHL. Get this shit fixed!!

— Jeremy Roenick (@Jeremy_Roenick) September 27, 2012
Even Kings fans with bitter memories of Roenick's disastrous season with the team in 2005-06 (9 goals, 13 assists in 58 games) have to like his heart-on-the-sleeve attitude. In previous tweets, he says what the rest of us have already thought and said a dozen times over: force both sides in a room together and bar the door until they've hammered out a deal. With this tweet, he's playing everyman as well, saying (essentially) hey, dudes: the world wants hockey, so let's just get this $#@! figured out — now.
Tyler Seguin
He may drop the occasional f-bomb in his tweets as if he's been paid by the word, but the kid seems to be a believer in the power of positive thinking. There isn't one tweet that talks about how the league has made all the effort and that the NHL is holding up making a deal. In fact, Seguin rarely mentions the lockout whatsoever. Furthermore, he seems to genuinely be trying to make the best of his situation. To wit:
https://twitter.com/tylerseguin92/status/264509635044728832
We'll put up with the salty language as long as he keeps putting the puck in the net — whichever side of the pond he's on.
Erik Johnson
Coming off his best season since his rookie year with the St. Louis Blues in 2009-10, the now-Colorado Avalanche defenseman exhibits what is undoubtedly the most common stance amongst the players with this tweet:
I respect fans just want hockey, so do we. The fact is, players have made significant concessions towards the League without reciprocation.

— Erik Johnson (@6ErikJohnson) November 21, 2012
Given the incomplete information leaked to the press, it's difficult to say with any degree of certainty whether or not the league has made any significant reciprocal progress towards the players. However, from a purely arbitrary perspective, it does seem as if the players have done the lion's share of the heavy lifting toward reaching the middle ground in this dispute. Johnson very clearly believes this is the case.
Kevin Westgarth
Westgarth is a middleweight fighter for the Los Angeles Kings who only dresses when Darryl Sutter feels he needs all-hands-on-deck physicality for a particular game. I've never seen a fighter who can get his ass kicked so thoroughly and yet emerge from the fight — blood streaming down his face — ebulliently clapping his hands and celebrating the battle as if he'd just won an Olympic welterweight gold medal. Clearly not one to mince words, he goes a step further than Johnson by accusing Commissioner Gary Bettman of lying:
Bettman's characterization of our proposal is false. We achieve 50% in every option presented.Over $1B/5yrs in concessions from #theplayers

— Kevin Westgarth (@KWesty19) October 18, 2012
It's undeniable that the players are itching to get out on the ice. With that leverage point in the league's favor, they are far less nuanced than the NHL's spin machine when it comes to laying it all out there. Much like Westgarth's fighting style.
Theo Fleury
Opponents hated his agitating style, but the man could play, averaging a point-per-game in 1,084 NHL games. This was an amusing tweet, because he's either exhibiting an extremely dry sense of humor, or Theo took one too many blows to the head during his long NHL career:
Leafs favoured to win the Stanley Cup if NHL starts. Argos in Grey Cup Jays World Series favourites. What's happening in Toronto? Wow

— Theo Fleury (@TheoFleury14) November 18, 2012
That sound you hear is a pin dropping.
Bobby Ryan
As a Kings fan, I have no great affinity for the 25-year old star forward for the Quacks, but you have to respect his four 30-goal seasons. You have to also respect his sense of humor:
https://twitter.com/b_ryan9/status/266219732447920128
Followed immediately by this:
https://twitter.com/b_ryan9/status/266220054356574208
It's a 51/49 world we live in today.
Dustin Penner
In some respects, Dustin Penner has rivaled Roenick in terms of on-ice production in Los Angeles. On the other hand, he scored the game-winning goal in game five of the Western Conference Finals, so all is well. In fact, let's watch it, shall we?
Further, Penner coined a new verb with this tweet:
What a joke. @AmericanAir just bettmand my flight. This guys everywhere! #thxgary

— Dustin PREM-SINGH-Penner (@Dustinpenner25) November 4, 2012
'Nuff said with that one.