One of the hottest debates within hockey circles is whether or not the shootout belongs in the game. The biggest knocks against the shootout is that it is far from a true representation of the game and is nothing more than a glorified skills competition. There may be no better supporting argument for this statement than the Buffalo Sabres.
The Cream Rises to the Top?
Thanks to their anemic offense, The Sabres currently find themselves at the bottom of the NHL standings, but when it comes to the shootout they are one of the League's best performers.
The team holds a 6-2 record when the game is tied after overtime. In comparison, the team is a pitiful 7-29 in games decided in regulation or overtime. That's a difference in win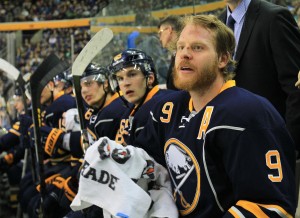 percentage of .550.
But, what's the reason for such a discrepancy? With the likes of Zenon Konopka, Matt Ellis, Steve Ott and Brian Flynn the Sabres are a team made of third and fourth line players and their stats reflect that.
The Sabres are by far the worst offensive team in the NHL. They only manager to muster up 1.61 goals per game. The next worst team is the Calgary Flames who average more than a half of goal more than the Sabres at an average of 2.17.
What the shootout does is reward the Sabres for their inept scoring ability and simply holding on through overtime.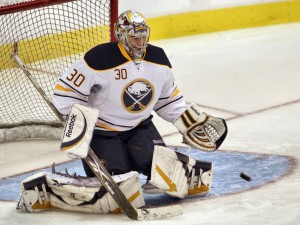 What these numbers also affirm is that the Sabres must be good defensively or more correctly, are getting exceptional goaltending. Ryan Miller may very well be the best player on the worst team. In spite of playing behind a suspect rag tag cast of characters, Miller is putting up a Vezina-worthy campaign and making a case to start in goal for Team USA during the Olympics.
While facing the second most shots of any netminder, Miller has compiled a .928 save percentage. Over his last 10 games, the Sabres starting goaltender has a .950 save percentage and has been playing out of his mind, including this dandy in D.C.
The Sabres have been able to scratch out 4 wins with Miller in net, while scoring a single goal in regulation.
If it weren't for Miller and the shootout, the Sabres would be historically bad. To put the impact of the shootout into perspective take a look at the next worst team in the NHL the Edmonton Oilers. The Sabres are four point behind the Oilers with four games on hand. However, the Oilers at 13, have six more regulation and overtime wins than the Sabres.
Jhonas Enroth said it best when he quipped, "It's tough to win with this team." But, the shootout makes it a little easier.