I have an important question for Edmonton Oiler fans. What if Connor McDavid was a member of the Buffalo Sabres, or the Toronto Maple Leafs? Would you still be so adamant that he deserves the Calder trophy? Everything else being equal, same amount of points and games played, would he still be your choice if he played for another team? Take a moment to answer that honestly before continuing to read.
I write about the Oilers, but I didn't cheer for them growing up, so I have no rooting interest here. I don't have a horse in the Calder race; I just want to see the best and most deserving player win. The official criteria for the rookie of the year is that the player must be under 26 years old (way too old), and can't have played a full pro season in another league. The NHL doesn't consider the KHL a pro league, because Artemi Panarin has played several seasons there, and he's likely the prohibitive favorite at the moment. Number of games played shouldn't be a factor according to the official rules, but voters tend to place value upon that, hence why Ryan Nugent-Hopkins didn't win in 2011.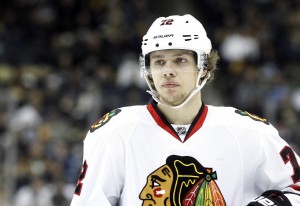 The voters won't take into consideration that Panarin has already played against men, and came into the league with the defending Stanley Cup champs. If they favor point totals, they won't care that he's played the entire season with the league's top scorer in Patrick Kane. They won't even consider his age, because he still falls under the limit. When I think of a rookie, I think of a fresh-faced kid, just drafted, with no pro experience under his belt. I don't think about a 24 year-old whose numbers may be inflated due to his surroundings. But rules are rules. And Panarin is statistically the best the first year player.
But this isn't simply a two-horse race. There are a lot of outstanding rookies in the league this season, not the least of which is Flyers defenceman Shayne Gostisbehere. He has played a huge role in helping his team into the playoff race, and he's a defenceman, notoriously one of the hardest positions to find success in right away. Ghost is far and away the best rookie blueliner. He may not win, but he deserves to be nominated. I put a lot of stock into a player's ability to dominate such a difficult position.
Panarin leads the way in terms of goals, assists and points among rookies, and he's played in nearly all his teams' games. Sabres rookie Jack Eichel is right behind him, and he's suited up for every game so far. But what's remarkable is that Connor McDavid is in forth place, having played just 43 games. That's by far the least amount in the top-20. He has the best points per game average. He's only got 15 goals, however. Gostisbehere, who has played in just 59 games, has 16, and he's a defenceman. Then again, McDavid is playing on a dreadful team, and has managed to turn around Jordan Eberle's season almost single handily. He would be among the league leaders in points had he stayed healthy.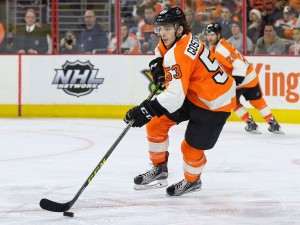 But therein lies the problem. He didn't stay healthy. It sucks that he got injured. It's really disappointing. He probably would have won in a landslide otherwise. In what has been another disappointing season in Edmonton, McDavid has been the only shinning light. He is a true beacon of hope for the future. We're not just talking about another first overall pick. We're talking about a generational talent who can change the course of a franchise. Oilers fans want to celebrate him. They want him to get all the accolades he deserves. They're proud of him, and proud to have him. They want to see him honored, and I can't blame them.
Panarin is now 11th in league scoring. That's impressive. The next best rookie is 20 points behind him. That's a big margin. It's going to be very hard to overlook. If the race was really tight, that's one thing. But Panarin is so far ahead, he almost has to win, doesn't he? Do I view him as a true rookie? No, I don't. But according to the rules, he is. If he had entered the league at age 18 with no pro experience in Russia, would he be putting up these numbers? Consider this. He wasn't a KHL regular until the 2011-12 season, after bouncing up and down from the Russian Junior League for three seasons. When he finally did reach the KHL for good, he scored 13 goals and 31 points in 50 games. That's scoring at a 0.62 points per game clip.
His goal totals improved once he found a home with SKA Saint Petersburg, having his best season in 2014-15, scoring 26 goals and 64 points in 54 games. When the Blackhawks signed him, he was described as "standout" after playing seven (!) professional seasons in Russia. His smallish build was likely the reason more teams didn't show an interest. In any case, can you even put him in the same category as a guy like Connor McDavid, who came to the NHL straight from junior, with zero experience playing against men, who overcame a broken collarbone to earn rookie of the month honors three times? I wouldn't, and although Panarin is statistically the best rookie, I honestly don't know if I could choose him. The voters don't have to care about his age and his experience, but I do.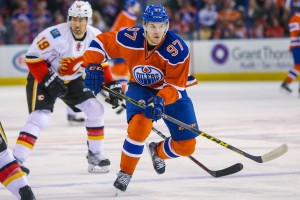 Rules can be unfair sometimes. Under the current constraints of the Calder Trophy, Panarin has every right to win. Injuries are really unfair. When McDavid crashed into the boards against Philadelphia, his Calder hopes likely crashed with him. If he doesn't win, it shouldn't be considered robbery. Goals and points are valued very highly in this league, and if Panarin wasn't so far ahead, maybe it would be easier to justify not giving it to him. But it's not just the bread man who McDavid has to contend with. Gostisbehere is high on my list of candidates, because of the position he plays, the minutes he plays and the impact he's had on the game.
I don't know who the voters will choose. McDavid has the higher points per game, but that's in a much smaller sample size. Like it or not, games played will be a factor. Some people feel scoring more points in fewer games makes the player superior. Others feel that the ability to play a full season is more important. At the end of the day, the parameters of the Calder Trophy eligibility should be re-visited. As we sit here today, though, debating whether Panarin should be considered an actual rookie is a moot point. Connor McDavid may not win, but that doesn't mean he isn't the best rookie in the league. It just means that he's not the only player who has been impressive.
Marcy, a former hockey player, is a hockey correspondent on CTV News and TSN radio. She began her career as a Sports Journalist in 2009 and has been part of The Hockey Writers since 2010, where she is currently a senior writer and editor.