Demetrios Koumontzis, pronounced KOO-moan-zees, is a true freshman committed to playing NCAA hockey with the Arizona State Sun Devils. Before even suiting up in their jersey, he's making history for them. This June, he became the highest-selected Sun Devil in an NHL Draft when he was drafted No. 108 overall by the Calgary Flames. But before Koumontzis gets too deep in his NHL dreams coming true, he has to focus on what's next, and that's the NCAA. With that, ASU has a lot to look forward to this upcoming season with him in the Maroon and Gold.
Who is Demetrios Koumontzis?
At age 18, Demetrios Koumontzis stands at 5-foot-10, 183 pounds, a height/weight combo that shouldn't put him at any disadvantage in this day and age of the game.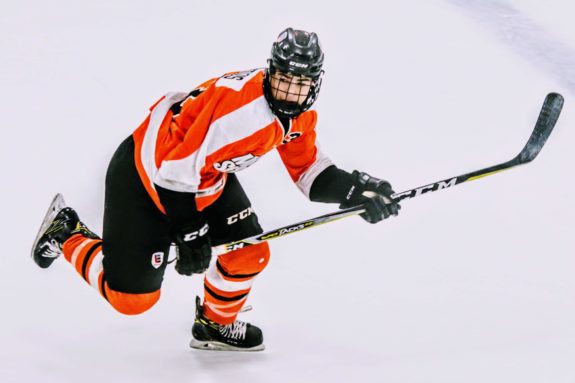 The winger has spent much of his junior career between Minnesota and Arizona, and it was during his first season in Phoenix as a Jr. Coyote that he committed to Arizona State—he was only 15-years-old at the time.
Koumontzis' claim to fame came during his seasons in 2017-18 with Edina High and Team Northeast in the USHS-MN (United States High School-Minnesota) and UMHSEHL (Upper Midwest High School Elite Hockey League) leagues respectively. With Team Northeast, he led the league in every offensive category with 49 points (16 goals and 33 assists).
While he was ranked No. 4 on Edina High and No. 41 in the league for points, he was nominated for the Minnesota Mr. Hockey Award. He didn't claim the award as his own, but he joins NHL alumni Jake Gardiner, J.T. Brown, Anders Lee, Tyler Johnson, and Matt Niskanen among others who were also named as finalists but not recipients of the award.
Given his list of achievements, it's not surprising an NHL team called his name on draft day.
"We're very proud of Komo," said Sun Devils head coach Greg Powers in a press release. "We've known him for a long time as he grew up playing hockey right here in Arizona. It's always great when local players get drafted and to have it be a Sun Devil is icing on the cake. We can't wait to get him in the Maroon and Gold."
With the 2018 NHL Draft behind him, Koumontzis will enter the season as ASU's big-name player, even trumping the status of Mario Lemieux's son Austin who redshirted last season. But Koumontzis doesn't exactly see himself as the man. Since he was born in Pittsburgh he watches film on Sidney Crosby but doesn't dare compare himself to Crosby. He, very humbly, sees himself as a role player.
"I would say that I'm just like a playmaker is probably the best way to describe myself. I love making plays, I love hitting people with the puck, getting them the goal," Koumontzis told the media after a day of the Flames' development camp, "Just kind of a skilled forward that likes to grind it up as well. I mean, I can be any role."
And Koumontzis isn't just hyping himself up, he put his skills on display in a scrimmage during the Flames' development camp. In his highlight from the scrimmage, he pulled off a sneaky behind-the-back pass to Mathias Emilio Pettersen, who netted it.
The Koumontzis-to-Pettersen goal from today's #FlamesDevCamp scrimmage. pic.twitter.com/MNX9uC4DZO

— Torie Peterson (@ToriePeterson) July 8, 2018
While it comes during a scrimmage, Koumontzis's skills shouldn't be taken lightly. The way he positioned himself between the puck and the defender shows a great thought process in which he purposefully protected the puck and also prevented the defender from seeing any wrist or stick movements that might indicate what his next move will be.
It's the little things in a player's game that hint at the ceiling the player possesses. If Koumontzis is working that hard on the little things like protecting the puck, he has a lot more in store.
What Koumontzis Means to the Desert
Arizona State is still a young program trying to find its way, and it is evident by their numbers. They ranked near the bottom in goals for, goals against (as in they let up some of the most), power-play percentage, shots on goal and shooting percentage. It is then no surprise that their leading point-getter in defenseman Brinson Pasichnuk only tallied 26 points (eight goals and 18 assists)).
ASU could use a player to come in and be the man for them. And while Koumontzis doesn't seem himself as that, he might just be able to be slotted into that position. He's young and he's talented and could really improve with some other new recruits coming in.
Fellow winger P.J. Marrocco will be joining the Sun Devils at the same time as Koumontzis. His production and numbers are high as well and he has a great work ethic, as expressed by head coach Powers. Friendly competition to take the reigns on the program would be a nice outcome for these two players heading into the year together as they could push each other to become better players. Or maybe they could wind up being a skilled duo together–neither is a bad outcome.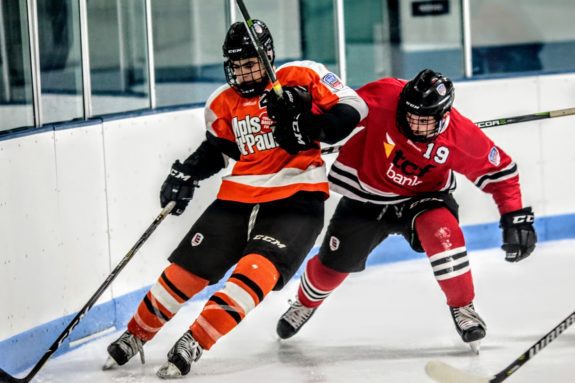 If he doesn't wind up with Marrocco, he would also fit well alongside Jax Murray, a late commit who is coming in 2019 and is one year older and played in some of the same leagues as Koumontzis in Minnesota. Murray was listed as "a crafty playmaker. Strong in his skates with a quick stick. Puck does not slow and he processes all his options at top speed," via a tweet from Neutral Zone. The two together could be a real one-two punch, especially if they can get a sniper on their line to further boost their projected numbers in the NCAA.
What puts him slightly ahead of his possible linemates in being ASU's go-to man is the elephant in the room that Koumontzis was already picked by an NHL team and has a high chance of playing some form of professional hockey because of his status of being a drafted player. Naturally, that heavily weighs things in his favor for him to be ASU's man.
Koumontzis has all the makings of being part of the new age that will send ASU heading upward in the standings. He's talented, he's crafty, he's young and best of all, he's got the NHL experience from the Flames development camp. Five other Sun Devils also gained similar experience at camps this year, so combine his young raw potential with that of the older, more developed players, and you have the perfect situation to build up Koumontzis to help lead the Sun Devils in a new, better, direction.