After another subpar effort Tuesday in a 4-1 loss to the Tampa Bay Lightning, the Detroit Red Wings fell to 14-15-4 and are hovering around the bottom of the Atlantic Division standings.
The Red Wings have lost five of their past six games, allowing four goals in each of their past four games.
However, despite barely edging Toronto by one point for seventh in the Atlantic, the Red Wings are just five points out of a playoff spot. That's how bad the Atlantic Division is.
Special Teams Struggle
Against the Lightning, the Red Wings were dominated on special teams. The Lightning were two of six on the power play, and the Red Wings were 0 of 5, registering just five shots on five opportunities.
Winging It In Motown's Prashanth Iyer shared his thoughts on why the Red Wings are struggling on the power play, which is now last in the league at 12.4 percent:
https://twitter.com/iyer_prashanth/status/811394367718047745
Iyer hits the nail on the head — the Red Wings set up in their umbrella power play with the defenseman "quarterbacking" the power play from the point, two players on the half boards, a player in the high slot and the last one down low for the net-front presence.
The problem is the players rarely move from those spots, other than for puck retrieval. There's no urgency, no speed, no misdirection, no attempt to get the defense out of position and chase in order to open up shooting lanes. Opposing defenses can defend their net with very little movement or effort, often blocking shots and clearing the puck.
The Red Wings struggle to score as it is, but it's even harder for them to score on the power play, where they have just one goal in their past 32 opportunities (3.1 percent).
Overreliance on Luke Glendening
Detroit coach Jeff Blashill has come under fire from the Red Wings faithful for questionable decisions. Last season, Blashill was hesitant to give prospects Anthony Mantha and Andreas Athanasiou any significant ice time, despite the latter being one of the team's most productive forwards last year, and the former being one of the most productive this season.
Blashill also has a tendency to over rely on fourth liners, namely Luke Glendening. Again, Iyer noticed how Blashill doled out the ice time late in Tuesday's game.
https://twitter.com/iyer_prashanth/status/811406312567357440
https://twitter.com/iyer_prashanth/status/811411720090558465
Down 4-0 in the third period, it makes no sense to increase Glendening's and Ott's minutes. Increasing their ice time late in the third period in order to protect a lead is one thing — although I'd argue that isn't a good decision as well, as neither are particularly strong defensively — but to put a fourth-line grinder in Glendening on the ice for 5:49 in the third and limit Tomas Tatar — who scored a hat-trick the last game — to 2:51 is unforgivable. Glendening and Ott have a combined three goals this season. They aren't the answer when you're looking to make a comeback.
Granted, Glendening did have 2:34 of short-handed time to 3:18 of five-on-five time thanks to Drew Miller's double minor, but that's still more even strength time than short-handed time.
What's Next for Red Wings?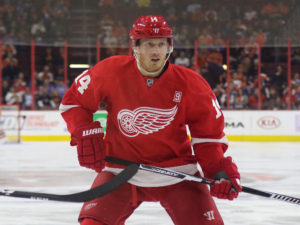 The Red Wings can still salvage this season, but it's not in their best interest. They could very well get over this recent stretch of bad play, go on a mini streak, pick up some points and sneak into the playoffs for a 26th consecutive season. However, their playoff experience will be short lived. They'll draw a tough opponent and likely lose in the first round for the fourth consecutive season.
And if they make the playoffs, that will only hurt their draft selection, and they'll have to go yet another year picking outside the top 10. The Red Wings need to embrace a rebuild and start collecting draft picks to build for the future. The team, as of now, is not talented enough to make a Stanley Cup run. The problem is, Detroit has a lot of bad contracts on the books, which will be hard to move without eating some salary.
Tomas Tatar and Gustav Nyquist are good players, but they aren't the elite players that Henrik Zetterberg and Pavel Datsyuk were. And signing players like Drew Miller and Steve Ott is keeping young prospects from getting playing time and developing.
There are a lot of holes on this roster, and sneaking into the playoffs year after year will only prolong the inevitable rebuild.