Strong goaltending is great, but inconsistent efforts and poor defensive accountability will eventually start to cost any team victories and the Flames are no exception. Emotionless play at the beginning of many games has plagued the team causing them to drop three of their last four games after riding a six-game win streak up until the middle of December.
"The more emotionally involved we are in our hockey games, the better we play," said Head Coach, Glen Gulutzan in an interview with the Calgary Herald. "We design certain roles within our group that help us be engaged in games."
Still, even though the Flames showed more intensity and had a better start in their most recent game versus San Jose on Tuesday, it only lasted for one period. After the intermission, the Flames again came out flat again giving up four goals in just under eleven minutes before falling to a superior Sharks team by a score of 4-1.
Improving Team Defense & Discipline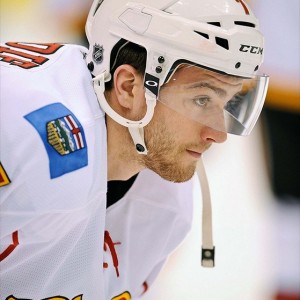 One of the most glaring negative statistics on the Flames' roster this season belongs to defenceman T.J. Brodie, who logs well over 20 minutes in ice time every game. His plus-minus rating is currently the league-worst at minus-19, and while a lot of the blame for that horrible statistic lies with his faltering defensive play this season, it also must rest with his teammates at even strength.
This includes Sean Monahan, Johnny Gaudreau and Troy Brouwer, who all have a plus-minus of minus-10 or lower. In short, some of the Flames' best forwards aren't playing well defensively this season, and when you combine that with the fact the Flames still are the most penalized team in the NHL, it's having a negative impact on the whole squad.
But Brodie isn't doing himself any favors either. The advanced stat PDO measures the sum of a player's shooting percentage with the save percentage of the goaltender while he is on the ice. It's an indicator of how the puck bounces at even strength, and in the case of Brodie, it shows that his shooting percentage has declined from 9.61% to 6.67% this season while the save percentage of the goalie while he is on the ice has also declined from 90.66% last season to 88.75%.
This may indicate that Brodie's performance both offensively and defensively so far this season has declined, which is bound to be worrying to the Flames' management. However, it's too soon to consider moving him given his age at just 26 and his exceptional skating and puck-moving skill. Still, if a key player were to be moved to bolster the Flames rebuild, it's not completely out of the question that Brodie's name could come up in conversations with other general managers around the league, but the asking price should probably be very high.
Playing Meaningful Games in December
This time of year is particularly difficult for NHL players to remain focused. The midpoint of the 82-game NHL schedule is not quite in sight. It's also the holiday season and many teams have players that are feeling fatigued with the World Cup of Hockey starting the NHL season off a bit earlier this year. That's why the Flames' recent six-game win streak and the fantastic play of goaltender Chad Johnson, who at one time had a .946 save percentage over 13 starts, should have been taken with a grain of salt. After all, other teams are feeling the grind of the NHL season too and Johnson himself is now looking more like an average player with three straight losing starts against Tampa Bay, Columbus and San Jose where he has given up twelve goals.
"Especially this year, it's tough to play every game," Johnson said in an interview with NHL.com before taking on San Jose. "The schedule's so condensed. For me, you take what you can from watching. … You can analyze plays. I'm always ready and always engaged, even when I'm on the bench. It's good to watch and sort of regroup and get rested for tonight's game."
Being ready and engaged is good advice that the Flames could stand to really take to heart the rest of this season to raise their compete level. Their poor defensive play combined with occasionally casual efforts from some players and a lack of scoring depth doesn't leave them with much room for error and they are not improving in these areas quickly. But, when they play like every game matters they tend to perform better on the ice. A good example was in Monday's game against Arizona when the Flames awoke with a start in the second period after Jamie McGinn elbowed the oft-injured Kris Versteeg in the head.
That's when Deryk Engelland took matters into his own hands to fight McGinn on his very next shift. This sparked the entire team and even though it was a seesaw battle, the Flames looked like a completely different squad for the rest of the game. Their new attitude helped set the table for Versteeg's return where he scored the game winner on some beautiful passing on the power play.
Now as they return home to Calgary with one game remaining against the Canucks on Dec. 23 before the holiday season, the Flames will be looking for consistency and a stronger will to win in order to be successful. Reaching the playoffs is still a possibility but the problems related to their compete level, defensive play and overall team discipline will need to be resolved quickly if the Flames are to reach this goal.
The question for the Flames management will be how long they choose to wait to find answers internally this season or whether it fits with their long-term rebuild plan to make significant roster moves that will improve the team more immediately.