The Philadelphia Flyers' lackluster 3-1 loss in Sunrise to the Panthers on Monday night not only ended a seven-game point-earning streak, but it also left the team and its fans with bad tastes in their mouths.
After all, the Panthers are a team that is unquestionably going through a lengthy rebuilding project. A nine-game losing streak from late October into November cost Kevin Dineen his coaching job, and his unenviable position was turned over to Peter Horachek.
However, the Panthers have responded well to the changing of the guard, improving to 4-4-1 under Horachek with a win over Philadelphia.
It has become very obvious just how overlooked the Panthers have been. They may only have seven victories, but they have sneaked up on talented teams numerous times. Each time, Florida took advantage of inevitable overconfidence in its opponent.
However, when we dig deeper, an interesting pattern develops: the team that fell into the "Rat Trap", if you will, learned its lesson, and they learned it quickly.
Flyers Not the First Metropolitan Victims
It is hard to be utterly shocked at the result of a regular season game in a league with as much parity as the NHL, but that is what happened on October 11 when the Panthers played host to the Pittsburgh Penguins.
Pittsburgh decided to use a seemingly inferior opponent as an incentive to give rookie goaltender Jeff Zatkoff his NHL debut.
The Panthers were none too impressed by the gesture, lighting up the Penguins and Zatkoff for six goals, including two power play tallies in the middle frame from youngsters Jonathan Huberdeau and Aleksander Barkov, in dispatching Pittsburgh 6-3 at BB&T Center.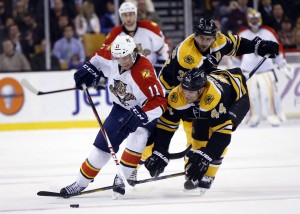 The Penguins entered Florida with a 3-0 start to their season and thoughts of an extended runaway from their Metropolitan division competitors. The pesky Panthers put a wrench into those plans, but Pittsburgh showed its valor in the days that followed.
Pittsburgh followed up that dud with four straight victories, including a resounding 4-1 win at the hands of the Flyers in Philadelphia on October 17. The Penguins scored 16 goals over the four games and raced out to a huge standings lead in the Metropolitan, just as many had predicted.
Like the Flyers, West Teams Also Fell into the Florida Trap
Florida has not been welcoming to its Western Conference foes either. While they certainly are not going to be competing for a Cup this season, the Panthers have never been an easy out.
Just ask the surprising and upstart Minnesota Wild. Led by the fantastic comeback story of Josh Harding, Minnesota has raced out to a 15-6-4 start, landing them in third place in a very competitive Central Division.
However, their season might not have gotten to this current high point without, you guessed it, a lesson learned in Sunrise.
While the Panthers did not surprise Minnesota on the score sheet, they did walk away with a 2-1 shootout win on October 19. At the time, Minnesota fell to 3-3-3 on the season, and coach Mike Yeo's seat was rumored by some disgruntled fans to be hot in St. Paul.
#fireyeo "@Russostrib: Horrible…Shanked shots, turnovers. Unreal by a team gripping its stick into sawdust"

— Tom Freeman (@Tom_Freeman) October 20, 2013
Since that very night, a game that ended a sour-tasting 1-3 road trip for Minnesota, the Wild are 12-3-1, with wins over star-laden teams like Chicago, Montreal, Toronto, and Ottawa among them.
Minnesota garnered much of its steam with a three-game win streak that immediately succeeded the Florida loss, including an impressive 5-3 defeat of the Blackhawks at the United Center on October 26.
Not to be outdone, another upstart squad, Patrick Roy's Colorado Avalanche, have bit the dust of the Panthers. After dropping a 4-1 decision to Florida at home, no less, it appeared that the Avalanche might be coming back down to earth.
After all, nobody could have predicted that the team with the top pick in this past June's draft would be 12-1 through 13 games under a coach who has never been behind an NHL bench (except to tell a certain team President he would never play for them again—but I digress).
That 12-1 start became 14-2, before Colorado dropped three straight to Carolina, St. Louis (both on the road) and then Florida.
Once again, though, the team that Florida sneaked up on, the victims responded in the aftermath. Colorado has won three straight since the debacle in Denver, including a resounding 5-1 win over Chicago just three days later.
Can the Flyers Learn the Lesson?
Clearly, there are a lot of numbers and data that can be chalked up to laws of averages and many other statistical misconceptions. This also is not to say that every team that loses to Florida magically learns a lesson after losing to an inferior opponent. Case and point: Vancouver, a team that has lost two of its last three after capping off a five-game losing skid to Florida last week.
However, if the Flyers want to be talked about again in a positive light the way Pittsburgh, Colorado, and Minnesota have gone about their business, perhaps the disappointing performance in Florida can be a new springboard for a new point streak in the City of Brotherly Love.
Ryan Smith is a proud graduate of Penn State University, having attained a degree in broadcast journalism. His experience in hockey is extensive, having covered PSU Men's ice hockey for USCHO.com as an Arena Reporter for its first NCAA season in 2012-2013 while also serving as Penn State Athletics' voice of women's ice hockey home games. He was also the sports director for Penn State's ComRadio, a student based radio station endorsed by the College of Communications. In that position, he broadcasted Penn State hockey since for four years. He can be followed on Twitter @RyanSmithHockey.