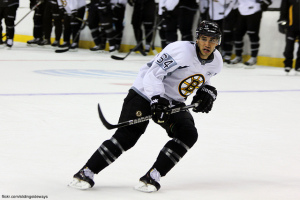 In the second period of Tuesday night's game against the Islanders, Bobby Robins muscled the puck from center ice and carried it deep into the offensive zone before attempting to pass it in front of the net to linemate Jordan Caron. It was, as a matter of fact, the second time in the game that Robins gained zone entry with possession of the puck to create a scoring opportunity.
This may not seem like an unique occurrence. Robins' 220-pound frame is strong enough to carry the puck into the zone and make the transition from defending to attacking. What was unique was that other Bruins players, namely Loui Eriksson and Jordan Caron, would use the dump and chase technique numerous times near the blue line to gain entrance into the offense zone, ultimately with the puck ending up on the Islanders' sticks.
Why is this important?
Because it's the little things that Bobby Robins does that have been sticking out. Because the expectation is that Bobby Robins doesn't make the Bruins team. Because the opportunities and chances he's taking when on the ice might be an exception to the expectation.
Age and inexperience aside (Robins, 32, has never played in an NHL game), there are numerous reasons why Robins may not make the Bruins main roster. Bruins General Manager Peter Chiarelli has commented that he wanted the fourth line to go in a different direction than years past, signaling the end of the toughness and grit factor that came billed when Shawn Thornton was on the team. Robins plays a similar game as Thornton. Though he doesn't have as strong or as accurate of a shot, Robins' game centers around being physical. He's not afraid to hit and he's certainly not afraid to fight, as evidenced by his combined 687 penalty minutes in three seasons with the AHL's Providence Bruins.
If the Bruins wanted to replace Thornton's "grittiness" and "toughness," Robins would be the guy. That's not the case. The Bruins need more than an enforcer or a fighter to be on their fourth line. Problem is, Robins' most effective game this preseason was one where he didn't fight at all.
"It's no secret, the game I play," said Robins after the Bruins' Tuesday night preseason loss to the Islanders. "It's a hard-nosed game. I'm being physical, getting in on the forecheck, just trying to open up space for my linemates and teammates. And I've been doing that down in Providence. That's the way the organization likes me playing, and nothing was going to change when I came up here."
Robins played at the college level, ECHL, AHL and bounced around Europe for the majority of his career. He signed his first professional contract, a two-way deal with the Bruins, last season. On Tuesday, his first ever game playing at the TD Garden and his second preseason game, Robins registered a team-high seven hits with one shot on goal. While his 9:24 TOI was the fewest of any Bruin, Robins made the most out of each shift, looking in different to stick out and make an impact.
And he'll need to. In front of him for that fourth-line RW spot are Jordan Caron and Justin Florek, two players with NHL experience that are familiar with Boston's gameplan. They'll have the edge based on the versatility of their overall game, being able to slide up and down the lineup and take shifts on the special teams units, but there's got to be a reason why Robins is still in camp while others have already been cut.
"I see a better player," said Bruins coach Claude Julien when asked about Bobby Robins' progression. "I think he's certainly making a case for himself. When you see what he brings and how hard he works and the energy that he gives our team, and everything else that we know about him, I'm certainly not ready to write him off yet."
Robins isn't afraid to take the extra stride to protect the puck. He's not very good in the defensive zone but has shown signs of improvement since last season. Even though the "fighter" M.O. is sure to follow him around Boston, he can do more.
"I think dropping the gloves is something he does, that he's known for," said Julien. "I think the fact that he defends his teammates all the time and that he's a good team player. Then you add his work ethic and his commitment to playing hard every shift he's out there, those are certainly things that gives him an opportunity to be looked at closely and gonna make our decisions tough.
"I think we have to be honest here, there's some spots open. Some guys are taking advantage of it and really making a case for themselves and some others haven't. It's one of those kind of things, at the end of the day you've got to sit down and decide who you want to keep based on merit."
The expectation is that players like Caron and Florek might be able to coast to a spot because they're guys Julien trusts. The opportunity for Robins to play his best possible hockey could be enough for him to steal a spot.
While he may not start the season with the Bruins, it wouldn't be a huge surprise to see Bobby Robins play in his first NHL game, at 32 years old, this season in Boston. If anything, he's consistently worked for it.
Follow Mike on Twitter for more Bruins updates, news, and commentary.