Coming into their Saturday night game with the Montreal Canadiens the Vancouver Canucks find themselves in a familiar spot. They are one point behind St. Louis for the Western Conference lead. What is not familiar however, is the point production from Henrik and Daniel Sedin.
Cancuksfans have been spoiled watching the twins over the past several years as they have exploded to be two of the premier scorers in the NHL. But something is amiss this season.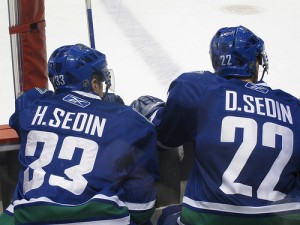 Over the last three seasons both brothers have been a point per game player, or better. They have each won the Art Ross trophy as the top league scorer. This year?
This year Henrik has 66 points and Daniel has 64. That is below a point per game and they are on pace to have a regression in scoring. There has been a lot of discussion as to what is wrong with them. Is it fatigue? Are they not motivated? Are they just waiting for the post season? Have the lack of power plays resulted in fewer points?
As with most trends in sports, it's hard to point to one reason for a player, or a team's performance. The Sedins' struggles this season may be part to all of the reasons above. But it might also have to do with the conference they play in.
As of Friday night Henrik is ninth in the league in scoring and his brother is 11th. That seems low after back-to-back Sedin Art Ross wins.
They just happen to play in the toughest conference from a defensive standpoint. They play great defense out West and it just might be hampering the twins. While they are ninth and eleventh in the league scoring they are first and second in Western Conference scoring.
Seven of the top ten defensive teams (from a goals allowed standpoint) play in the Western Conference. That includes the Canucks who are currently 6th in goals allowed. That leaves five other teams that Vancouver has faced 22 times this season. Those teams are St. Louis, Los Angeles, Detroit, Phoenix, San Jose and Nashville.
In those 22 games Vancouver has averaged 2.68 goals per game. That is a bit lower than their 3.04 goals per game average overall. This doesn't even take into consideration that the teams ranked 12th through 15th in goals allowed are Dallas, Calgary, Minnesota and Colorado. More Western Conference teams and three Northwest teams.
This has caused a dip in the Canucks team scoring and the scoring of their top two offensive weapons.
Focusing in on the 22 games that the Canucks have played against the top defensive teams in the West both twins see a dip in their production. Daniel has picked up 18 points and Henrik 17. That equates to a .81 points per game for Daniel and a .77 points per game for Henrik.
This is down from Daniel's .95 and Henrik's .97 overall. Would these numbers be higher if they played in the Eastern Conference, where only four of the top 15 best defensive teams reside?
In Daniel Sedin's Art Ross winning season last year only three Western Conference teams cracked the top ten (excluding the Canucks who were the league's top defensive team) in goals allowed.
The notion that it is harder to score against good defensive teams is hardly rocket science, but you have to wonder if the improvement of defense in the West has had a larger effect. Can and has this hurt their flow or their confidence? Coming into Saturday's game with Montreal they have combined for only one point over their last five games, four of which were against Western Conference teams that were in the top 15 in defense. Is their confidence waning? Or has the constant grind of the Western Conference caught up with them? Or is all of the above?
The good news?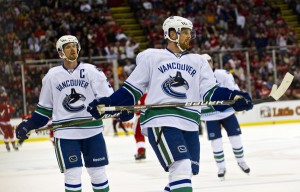 The good news is that in those 22 games the team has gone 12-6-4, which says a lot about the scoring depth the Canucks enjoy.
Of these top defensive Western teams only Los Angeles and San Jose are not locks to make the playoffs. This means Vancouver is going to face some tough defense in the playoffs this year. The season the Sedins are having hopefully will teach them that if they keep grinding away they can overcome good defense.
An ugly, gritty win counts just as much as a five goal blow out.