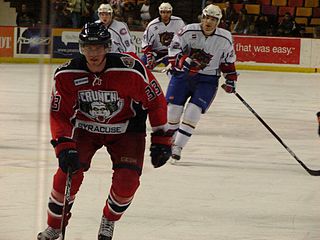 They say two's company and three's a crowd. Who 'they' are, we may never know but one thing is certain, the hockey ice in the Latvian capital of Riga is crowded with the Redlihs trio. Brothers Jekabs, Krisjanis and Mikelis have played together for Dynamo Riga of the KHL for the last two seasons.
Unlike the Vancouver Canucks twin duo of Henrik and Daniel Sedin, the Redlihs clan does not share the same birthday. However, their careers have taken similar paths. In 2008, middle brother Jekabs joined the other two on Latvia's National Team, where he made a seamless transition. "They have helped not so much from a hockey standpoint but in making me feel welcome," Jekabs said of his siblings in 2008. "With the team they have made me feel like one of the guys so it has been great."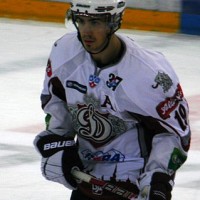 Jekabs, a defenseman, was selected 119th overall in the 2002 NHL draft by the Columbus Blue Jackets. He made his professional debut four years later as a member of the Syracuse Crunch of the AHL. For two seasons Jekabs spent time with the Crunch and their second-tier affiliate the Dayton Bombers of the ECHL before returning to Europe.
Like Jekabs, the eldest Redlihs, another defenseman, Krisjanis, was also selected in the 2002 NHL draft. He was taken 25 picks after his brother by the New Jersey Devils. He spent four seasons with the Devils AHL affiliate, the Albany River Rats. New Jersey called up Krisjanis at one point in 2006, however he never skated for the Devils.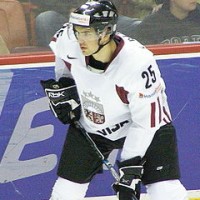 The youngest of the trio, Mikelis, a forward, was never drafted by an NHL club. In fact, he has spent the majority of his 11 year professional career in Europe, aside from two seasons in North America's Eastern Junior Hockey League.
Saturday, the brothers will play Game Seven on the road in their first round playoff series against second-seeded Torpedo. Upset-minded Riga staved off elimination with a 3-1 win in Game Six, a game in which Jekabs opened the scoring. In the playoffs thus far though, it has been brother Mikelis who has dazzled. He leads the league in playoff points (10), assists (8) and plus/minus (6). So if two's company and three's a crowd, the Redlihs brothers sure hope the visitors locker room is crowded in celebration after Saturday's decisive game.